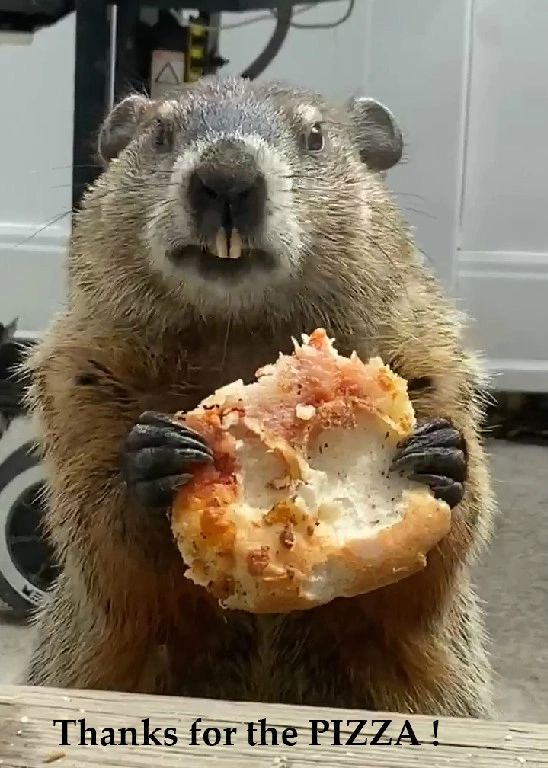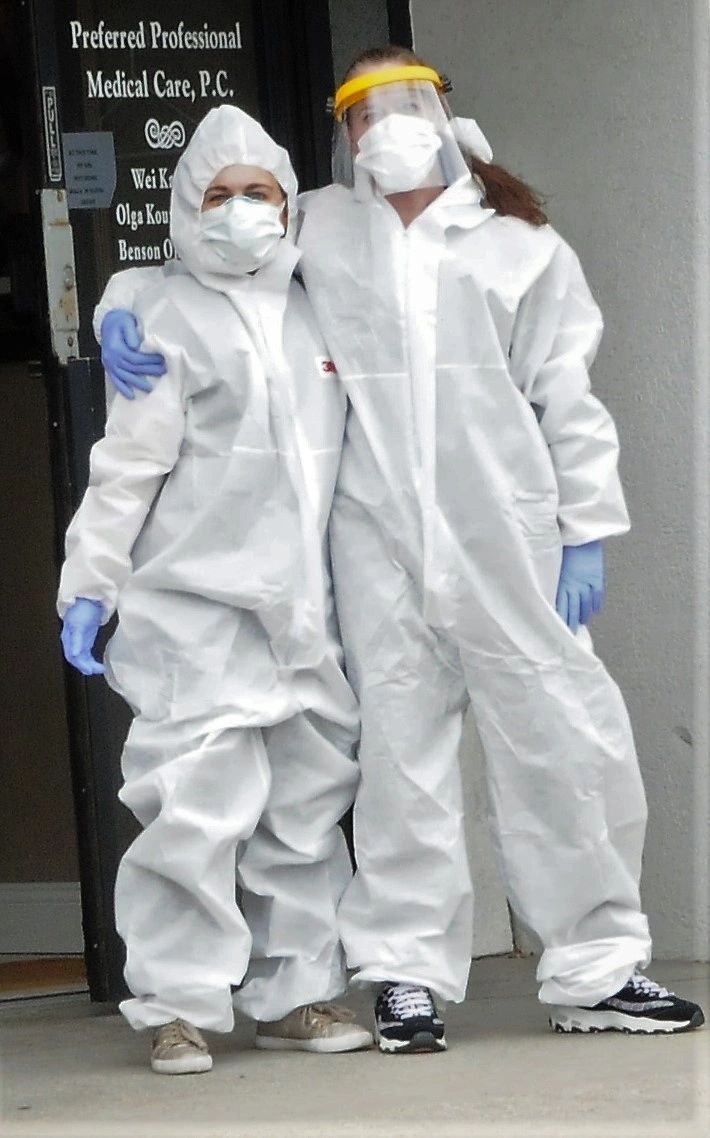 No words can express the Appreciation from people all over this globe we share together to those determined to make life better for strangers unselfishly . From the children helping their families , essential workers providing services to provide items needed, Scientists, and all health care workers focused on better days ahead for each one of us.
Not to forget even the maintenance workers creating a clean environment day in and day out for workers to be able to relax momentarily and have meals and relax. For the animal foundations who too are making sure the pets are not forgotten. If there is anything not to forget.....We ARE all in this TOGETHER and we are hoping we're ALL focused making right decisions to see an even better world for our children's children Tomorrow ! Success is never an easy thing but determination makes it ALL WORTH WHILE !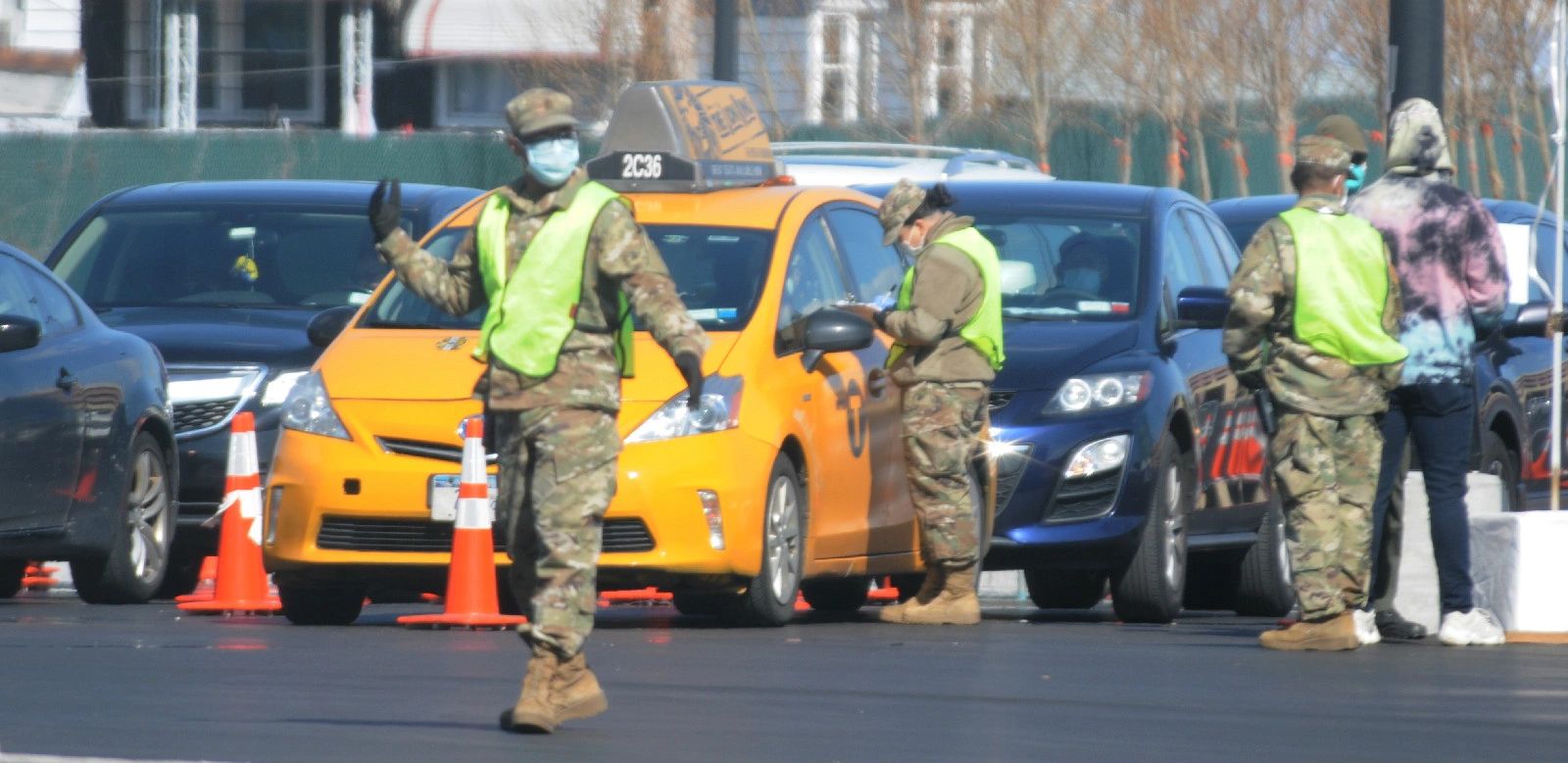 The Empire State Building in New York City has it's own zip code. It has become a sign of expressions with light displays. You could tell which team it was routing for by the teams colors displayed. But here is a color in it's wildest dreams ever thought it would be displaying. A RED Pulsating WARNING about the seriousness of this Corona Virus. The Emipre State can be seen as far East as the water tower at Wantaugh Pkwy x Ocean Pkwy at Long Islands, Jones Beach. The warning reaches millions even as high as the Space Station orbiting around the globe.


STOLEN !

TUESDAY night the Image of Holtsville Hal was ripped off and stolen off the Welcome to Holtsville sign (below). Its not the first time grown men have taken signs from here. It's sad to think that anyone would do anything to destroy an event created for children, many of which have been devastated by 9-11, Hurricane Sandy, and now this Virus. Apparently
these individuals have no children, have no concept of GIVING back to them. These men think this is funny to have something that will NEVER mean what it does to children to look forward to. Congratulations to you . This will remain here till we find out exactly who you are.
It was taken prior 11:15 PM Tuesday April 7th ! Someone may have seen the vehicle parked behind the sign as men with battery operated drills and a crow bar ripped the image off.

The stolen image of Hal is below here that is what was stolen ! That is the token of appreciation these people have for the community this is what they come up with now, how sad is that !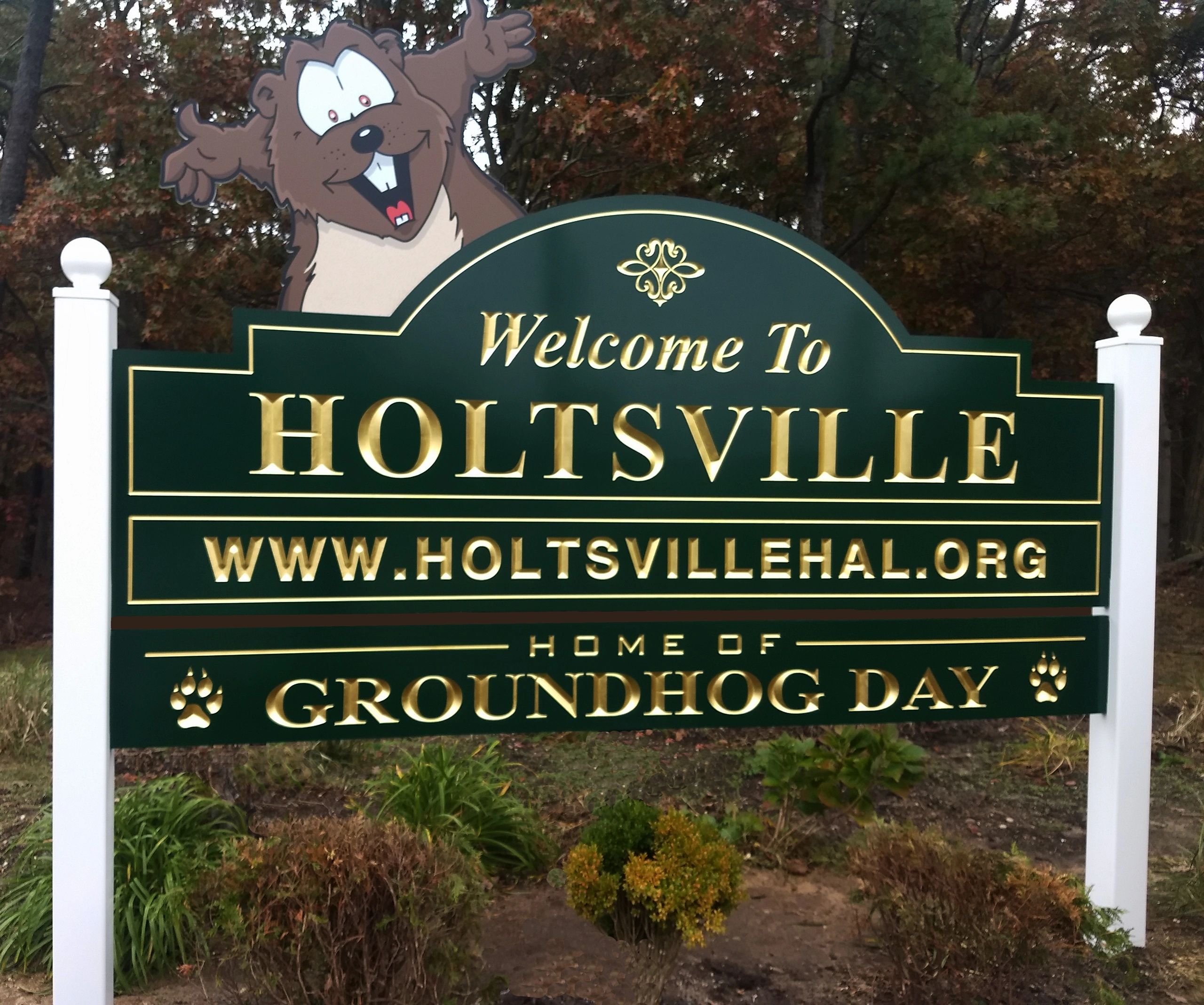 * Punxitawney Phil......Early Spring as it was.....snowing on the spectators.
** Holtsville Hal..." Totally Overcast ! " No - Possibility of a Shadow....

" EARLY SPRING "
Did you see YOUR Shadow ?! No

Warmest Winter Ever..and yet the roads Are Absolutely horrible...why ?
***Melverne Mel.....saw shadow...6 more weeks of Winter....in Nassau County " Only " Lol !

****Woodstock Willie, Woodstock Illinois..
Where Groundhog Day the Movie and the Jeep commercial were filmed ! The night before it was windy and snowing ! By morning the wind was gone leaving 9" of snow on Groundhog Day and the crews cleared the way for Willie to Say.....6 more weeks of winter.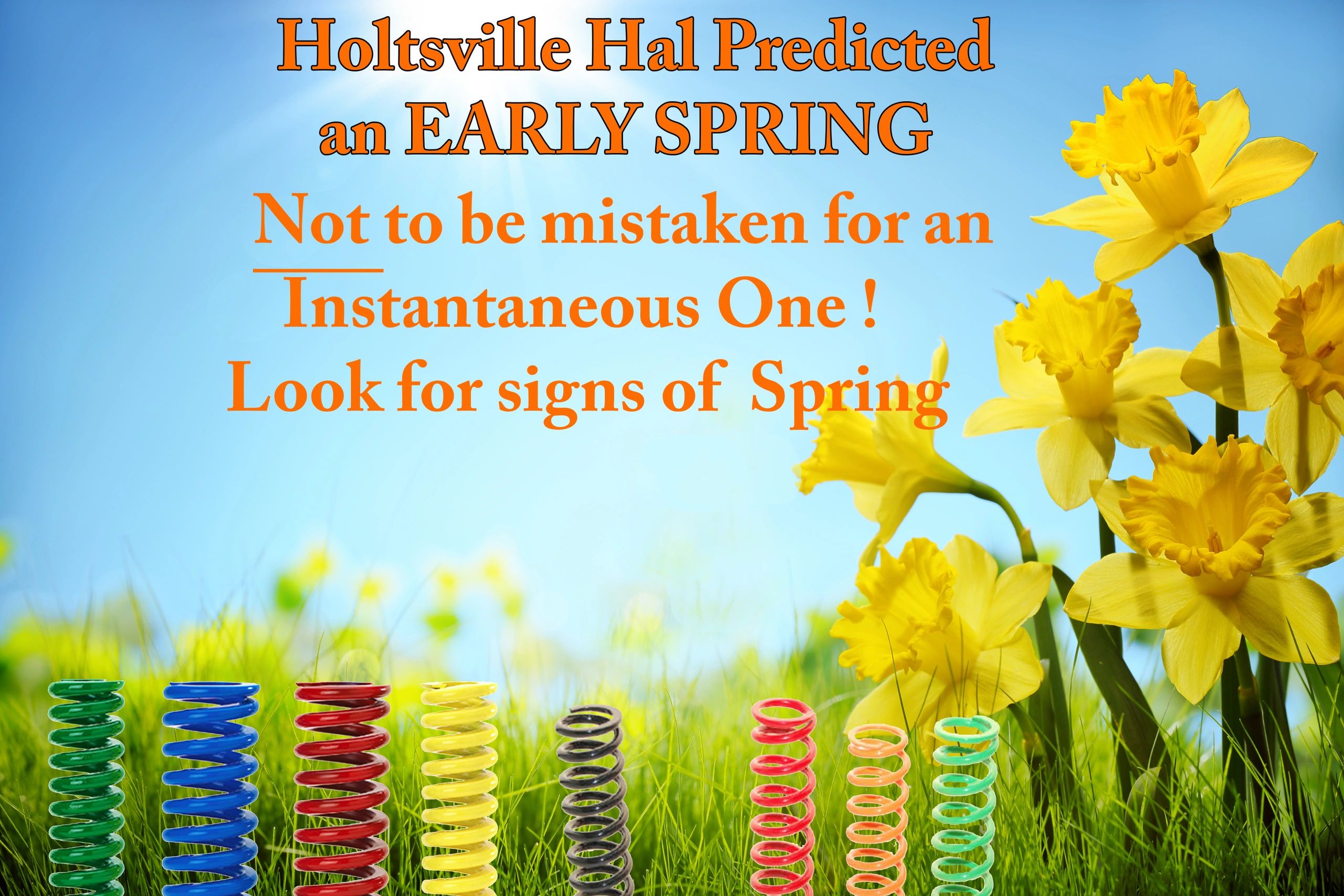 END THIS POLITICAL CORRUPTION ...in taking over this children's event in Holtsville, from the Town Resident that Created it for 25 years, 365 days of building it and then have the Parks Manager April & HER BOSS Dan Losquadro stand falsey before you on a stage and crowd I created for the children and my town. Any polititian, etc. standing on the stage That Morning should be ashamed and embarrassed they have done nothing to STOP IT . Standing on the stage because you feel " OBLIGATED " by Association is pretty sad when you know this is Absolutely WRONG. There's no self dignity in being controlled . How on one hand you KNOW this is Wrong and on the other stand next to it ?! Ask April where hundreds of gallons of the finest paint used to paint the " Entire Center " interior prior the Garden Show and extension Ladders and paint brushes, and over $600.00 exterior wood sealer for the rotting railings and base disintegrating railroad ties in the zoo, came from...ME ! The very best Benjamin Moore for the zoo wood railings the Scouts built and put in now Rotting away. Ask where hundreds of pounds of red stone came from for a cage, ask where the LED Christmas Tree lights came from and regular prior C9 lights or thousands of candy canes, and all the flags, banners, clocks, billboards, or how the New York Carousel got there, etc. Then ask her how now after 25 years she can turn her back .....morally. A Picture says a thousand words ! and there are THOUSANDS !! Telling the Truth From Now......UNTIL FOREVER !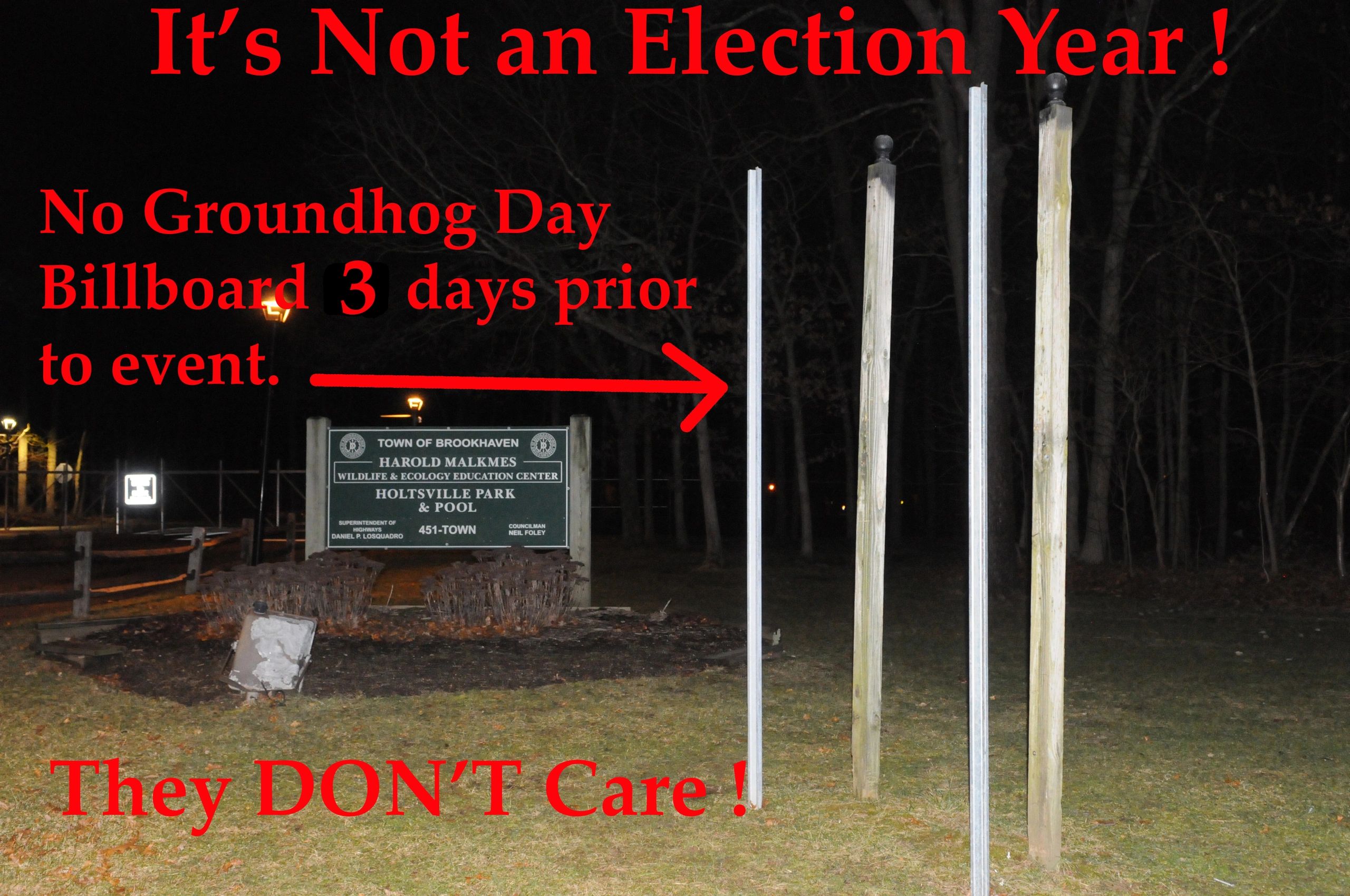 After this was exposed one appeared the next day.....


Let's NOW..watch the GAME.....................
" The .. Kitty & Puppy Bowl XVI Games .. " that is....LOL !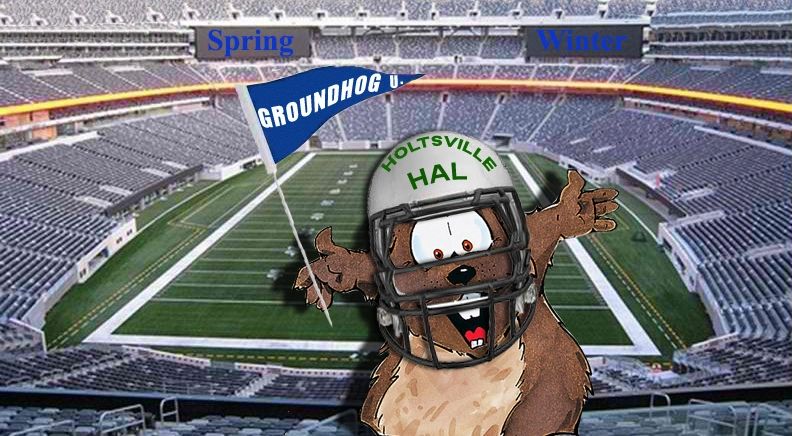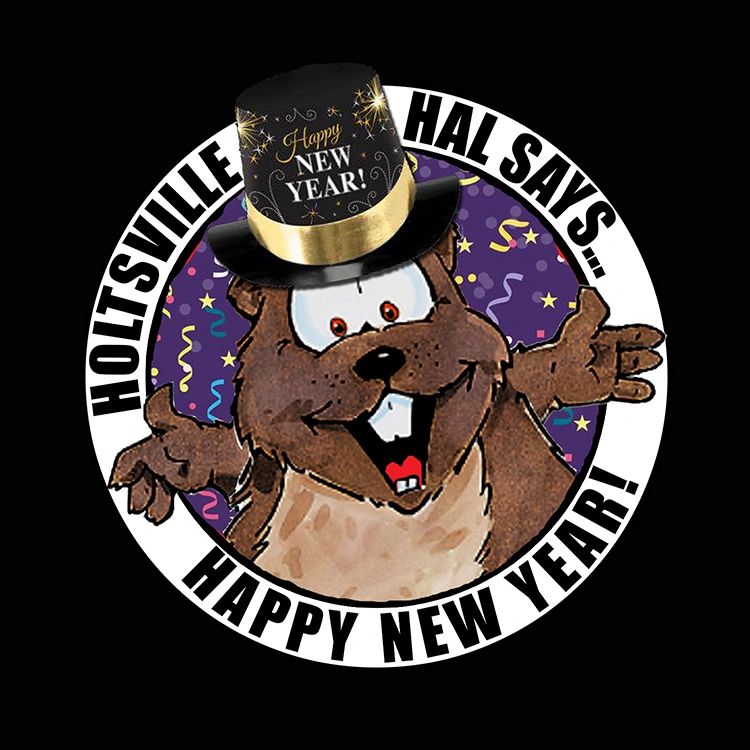 Below is the sign I have been upgrading and creating " Every Single Year " ... for the past Quarter Century (25 Years ! ). Does this in ANYWAY.... look Defaced to you ? ! The wood plywood board, I bought, the Dark Brown outdoor Benjamin Moore paint, I bought, the paint brushes, router bits for the corners, materials, flags, hardware, printing, design, globe post tops etc. I bought. The pressure treated 4 x 4" posts it even stands on...…. I bought.... mine also !
I have made sure everything always looked the best it could. If you notice.....NOTHING in anyway was LABELED with Names or Titles to use as a vehicle for any expensive controlling Selfish Political purpose. It's not about insecure Political Male Ego, now ( outlawed, banned, in Nassau County by Laura Curran County Executive, saving " thousands " of Tax Payer Dollars yearly ! ) This is a Clear abuse of Entrusted power for personal gain. With me, it's All about creating a fantastic children's event in a Park in the town I live in, that was

almost closed by Politicians

of which I was the speaker at the Park Rally and at Brookhaven Town Hall and created mass awareness. Laura Curran made it Perfectly clear, the Parks are ….. NOT Owned by the Politicians to use for their own Selfish EGO Promotional Business Card " BRANDING BOARDS " at the expense of the " Tax Payers.....Who DO...OWN the Parks and Roads. " They are the Peoples Parks & Roads not the polititicans. " Groundhog Day was developed by me for the Children, for the families, who fought to Save " OUR " Park from Closure By Politicians and for most, my town and all those who come to enjoy...It's not a Vehicle for Politicians to abuse for their own purpose of Selfish Promotion at tax payer expense.
Much like the Security Cameras needed after several park break-ins, of which the horses were let loose and the White Wolf was targeted and stolen from a " SECURE CAGE "....with no clue of who, when, how many people, male or female, young or old and exact time of day. The Huge BOMBASTIC signs now depicting Security Cameras to me is a slap in the face to every good honest resident to have to now be confronted with. They're Smaller at Rikers Island ! The size screams a subliminal message completely in a way unnecessary. It's down right " DISTASTEFUL ". So on the phone without warning I was threatened with police for defacing this public property that I bought . Isn't that against the law to " set up " a phone call with other unknown people, then spewing false threats, and accusations, intimidating and looking for reaction to create a scenario for an intended take over gain of something ?? It's Been a Pleasant Child's Event .....and not created to …

"

MEET YOUR ELECTED OFFICIALS " SURELY You Jest ! They're Children ! ….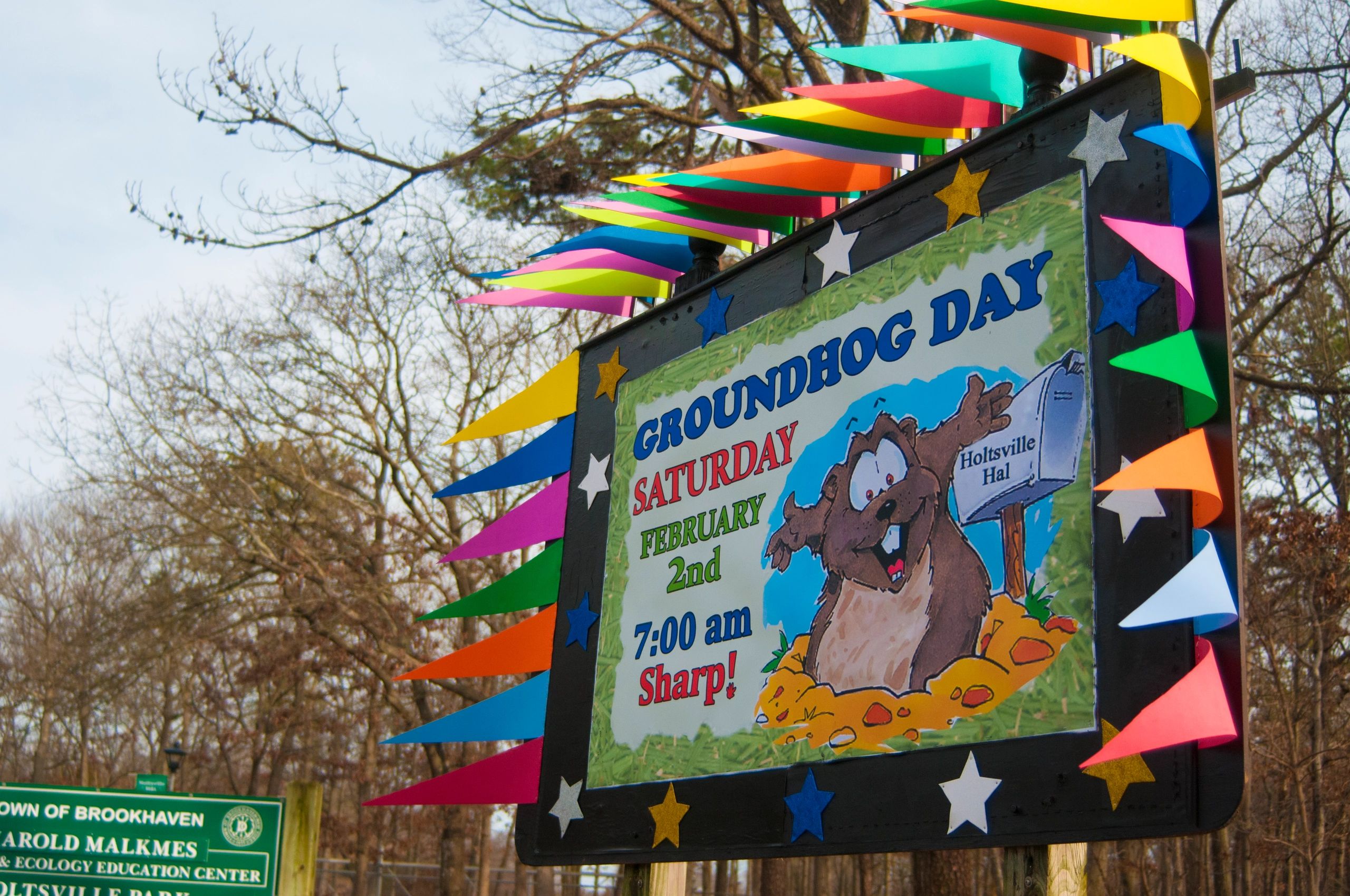 ABOVE IS THE SIGN I created, on My board at my expense, on My 4x4" posts topped with My globes, painted by me, at My expense that I have been doing for 25 Years and WAS Actually ACCUSED OF DEFACING....The previous was Torn, Worn and a mess. Also photographed prior by me. This sign above was Actually...……" Taken Down " ……. " " Because " " it wasn't plastered with Dan Losquadros name all over it for " Voters " and his male ego to see…...and was replaced at Our Tax Payers EXPENSE by the " Self Centered " Vote for me , one below ! Dan Losquadro has created none of this, I created ALL OF IT ! He and others want YOU to believe they created Groundhog Day
They DID NOT ! That's an Absolute LIE ! Holtsville Hal and Groundhog Day in my town is now an International reconized event. People as far away as Austrilia, France, Spain, England etc. look to see what Holtsville Hal has said on Groundhog Day. I made it so …not anyone else. Fact !

Below is the sign that actually " REPLACED " MY " EVENT " Sign above with flags, stars etc. That they even used the groundhog image of mine I've been using for some 20 Years ! Obviously they couldn't create their own, and apparently had A "" lot of Taxpayers time "" ....Colorizing MINE to sadly take FALSE credit for, At Our EXPENSE !! They also Stooped so low to ask me for Hal's Prognostication from me A Week Ahead of time ! How Diabolical is that ! No one has ever asked in all these 25 years....and they never got it either.....Only on the day of the event does Hal know that answer.....What's Next stealing Easter Eggs and the stage from the Easter Bunny after making another Self Centered Promotional sign Smearing that too with Political Rhetoric...?!
The Park is " OUR " park the " Tax Payers "…..if any names should be on it....it should be ALL of OURS ! Including the thousands of Political BRANDED flyers that went to all the school children to bring home to their voting parents. The sign above.....is By the People, ( FREE ) with no subliminal message.....and BETTER Looking too...…!
Harold and Ralph I have made Hal's Guardian Angels and never once forgotten them.
Now if we can get PARKS DEPARTMENT to Take Over the Park that they should Already be responsible for and Get Highway to Focus on Fixing the Pot Holes and Skim Coated streets in Selden etc. instead of continuously wasting tax payer money on " Political Graffiti " Self Promotional signs, and Flyers handed out to school children to take home to their voting parents. By No Mistake Groundhog Day looks like an " After Thought " How Sad ! at the Expense of the Tax Payers over and over...$$$$$ And find your own
Groundhog images...stop "" Using "" and Colorizing mine .
Now lets Return '''' HOLTSVILLE """" ...……..to the words " The HOLTSVILLE TREE LIGHTING ". Brookhaven Town Hall Tree Lighting FAILED.....that doesn't give the right to Now RE LABEL OUR successful Town ( Hamlet ) Tree Lighting....to be switched to be now known as Your successful one ( Holtsville is successful without you stealing our stages to Self Promote ) and Eliminate Holtsville to The Brookhaven Town Tree Lighting....why didn't you go to Farmingville's Tree Lighting and do it there ??? It's the Same Town ?!



Absolutely Pathetic......the " Dan Losquadro Show "....................he stole after years of me creating. Gee where have we seen that Groundhog image before over the previous 25 years ?! Another exposed Pot Hole " fixed wrong " at our expense ! How sad....aren't you ashamed ?!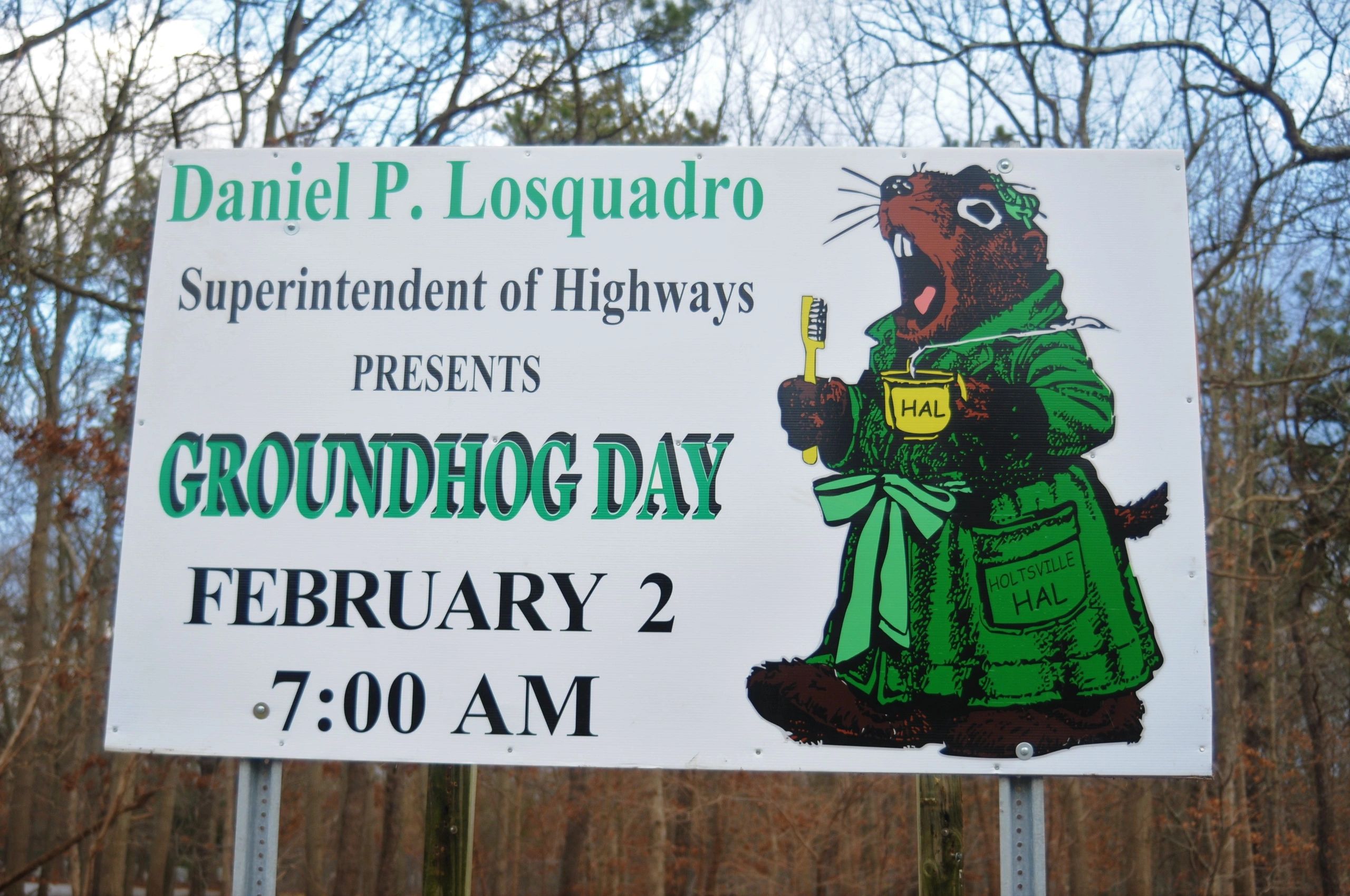 WHAT EVER HAPPENED TO THE " HOLTSVILLE'S TOWN " TREE LIGHTING ?! WASN't The BROOKHAVEN TREE LIGHTING AT TOWN HALL ? Did That FAIL ?????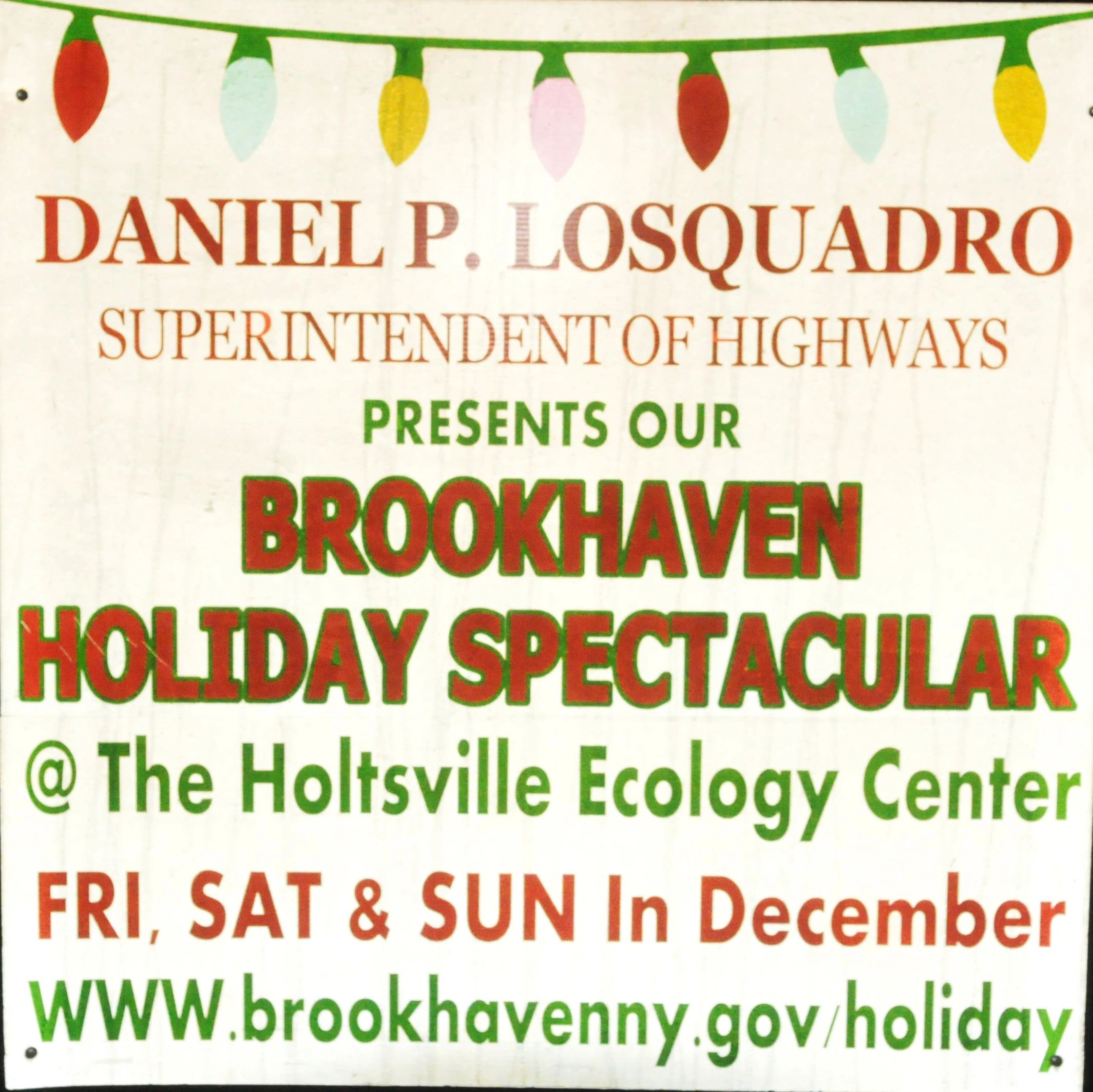 Now End This Selfish ABUSE in Brookhaven Town ..And Save Tax Payer Money.
Plus.....since Brookhaven TOWN HALL'S Christmas Event " FAILED " stop claiming the Town of Holtsville's....yours. It belongs to the residents of Holtsville....why did you SKIP OVER FARMINGVILLE's where Town Hall actually IS !...not a big enough stage ???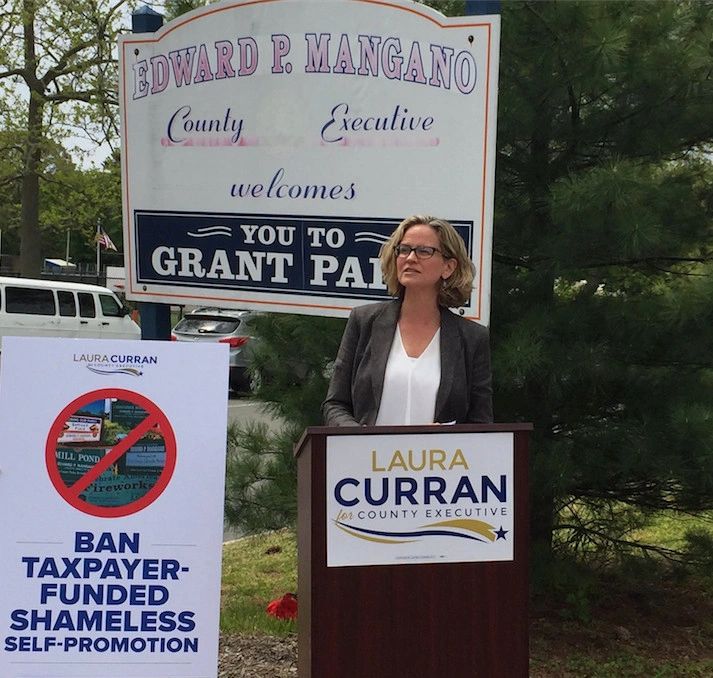 The Thousands of Flyers Below, were handed out to school children at their schools to bring home to their ( voting ) parents plastered with the quite clear UNNECESSARY Subliminal Totally Self Centered Promotional calling card message ( it's ALL About ME ) Remember me on " Election Day " again at the Expense of the Tax Payers can you spot it ?! This is WHY Nassau, County Executive Laura Curran has stopped it. The Taxpayers in Brookhaven are paying for this..... Why ?!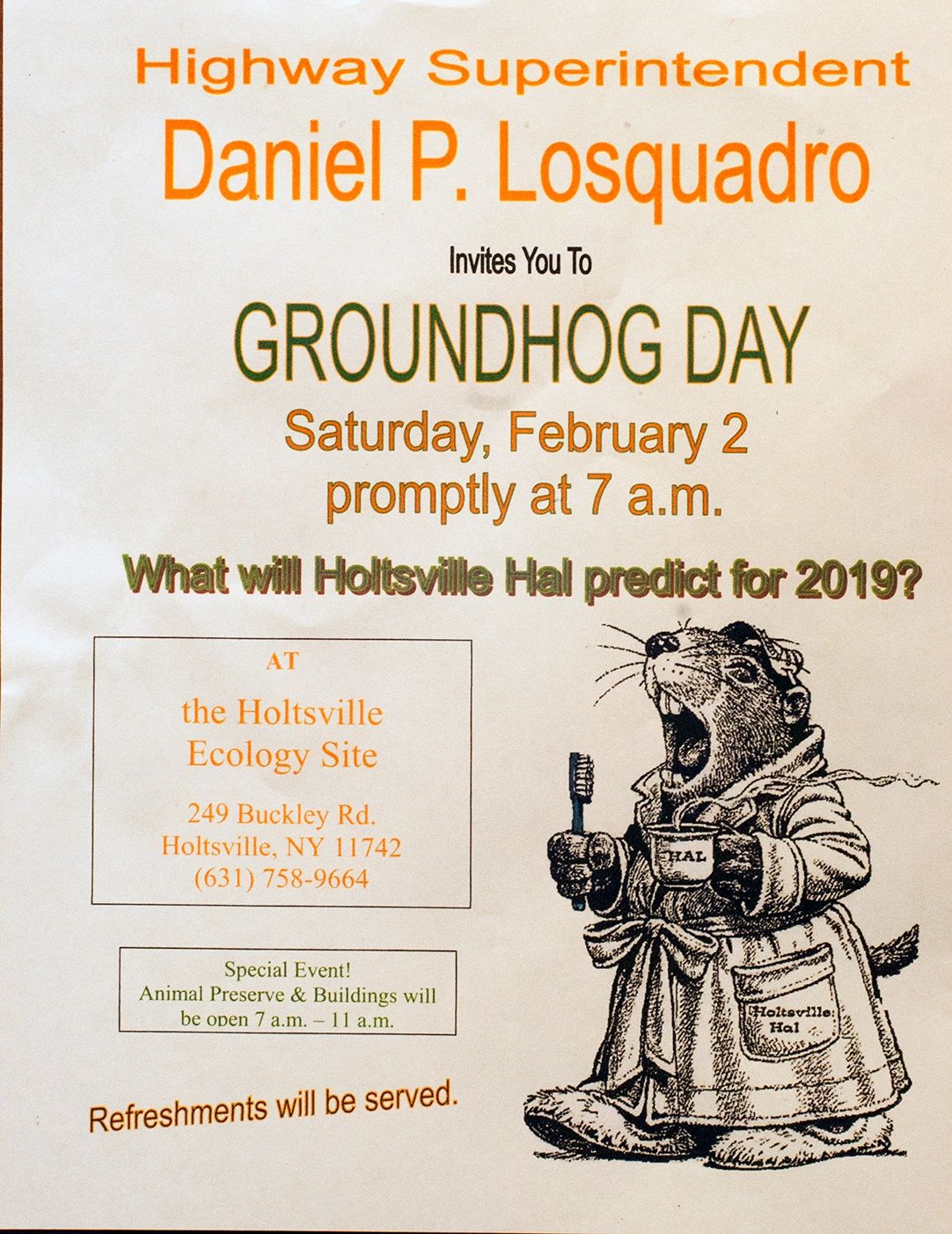 Bobby Cozzie of Executive Architectural Millwork in Ronkonkoma NY has a

whole new look on life. Effected by the pandemic and his wife a health care
worker in a Suffolk County hospital it didn't take long to find another calling
to produce Face Shields for the lack of them needed urgently. Determination
and the heart of gold, Bobby went to work producing face shields for the Health Care providers. This proves good comes from bad, and my own daughter and her other health care workers now have their protective face shields they didn't have. Another nice thought.....these people are making these items in the United States of America with real Heart Felt PRIDE and DETERMINATION to help get Humanity back on track. It's certainly a twist from Architectural Millwork that he's an expert in his trade for sure....But proves once again We WILL get through this " Together ". As long as people help donate towards the materials needed Bobby says he'll be proud to be fulfilling the need to make dedicated Health Care Workers safer. Call Bobby at ( 631 ) 234-1090.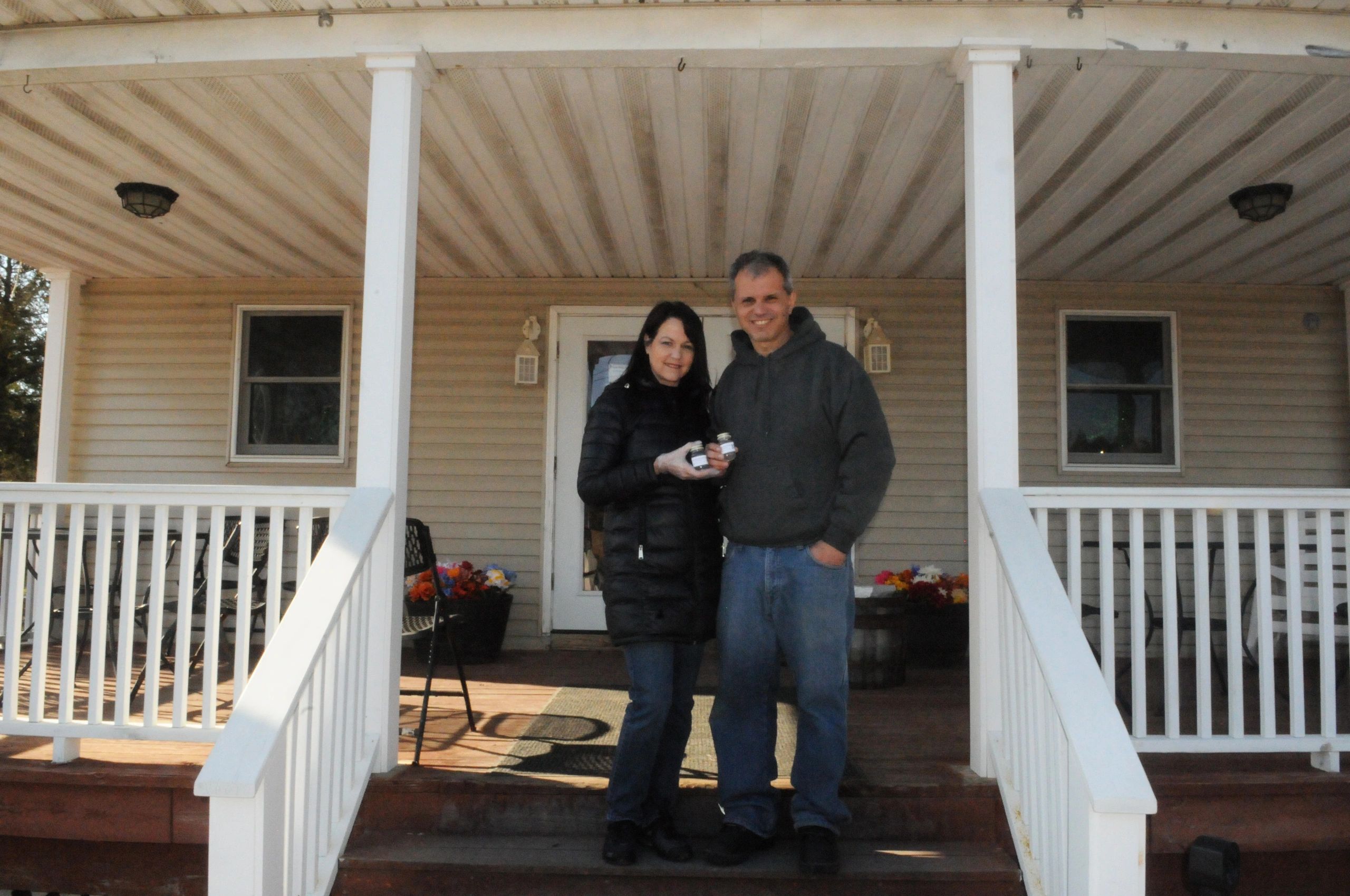 Patty and Joe

Cunha

four years ago started " Twin Stills Moonshine " at 5506 Sound Avenue Riverhead, NY 11901. Producing fine liquors, in a quaint friendly home town rural setting. But recently their community minded spirits took an historic turn they never in the light of day thought remotely possible to switch to Helping Save their love to the community they have always given back to. A communication came from the government that they are in a position with the right enviroment,
and tools to now switch from Moonshine to HAND SANITIZER manufacturing . These two without hesitation revamped their lively hood to help their fellow man. Open only Fri. Sat. Sun. 12 - 5:00 PM they are handing out ( one per person ) small bottles of government approved Hand

Sanitizer

they are making there. They are a small business with a Huge Heart...and after talking with them there I will reach out to you to consider this where even YOU CAN HELP ! !

The plant Aloe is a key ingredient, it can make or break their Community Minded " Giving Back "
manufacturing. If you wish to donate ALOE you have or can purchase it would be a great help
to them. Give them the tools, to produce longer and make healthy smiles happen !
Now a note to People everywhere: THANK YOU, for going to essential jobs, to help your fellow
citizens. Thank YOU to the responsible citizens simply staying home and not making foolish decisions putting others in harms way. Going

Stur

Crazy is a small price to pay for your and Hal's
saftey. Cleaning and organizing your home will make your life so much nicer...After all...IT's a perfect TIME FOR Spring Cleaning !
ALOE Vera helps Produce Kindness
" Let's help ".. let's Give Back, let's help create Smiles !
Call Patty & Joe at (631) 779-3199
https://www.liooldtymer.com/hour
CLOSED: Monday thru Thursday

Open Hours: Friday, Saturday, Sunday, 12:00 - 5:00 PM

Tell'em Holtsville Hal sent you...who's also HIBERNATING......LOL ! Saftey......FIRST !
Wash Your hands sing Happy Birthday to Hal two times before stopping. Kids......He's Listening !



Hats Off to your continuous " COMMUNITY SERVICE " May the community help gather your needed Liquid Aloe Vera and
keep you pumping out bottles of Sanitizer !
We Will Get Thru This...................." TOGETHER " !


WHERE'S the Stolen WOLF, Who let the Rescued Animals loose at night ?! Who ransacked the office etc.....No Answers ?! Because
You refused to again " listen to reason 2 YEARS PRIOR " We already had.. the Money ( Ed Romaine said ) for the cameras ....TAXPAYERS MONEY, Not Yours.............and only after an article was written did you have to do THE RIGHT THING................
WHO STOLE THE WOLF ?......or will we try to forget she's still in the hands of a Thief right this minute ! Great Management...
When will the Parks Department be in charge of the PARK.....because this management is filled with POTHOLES !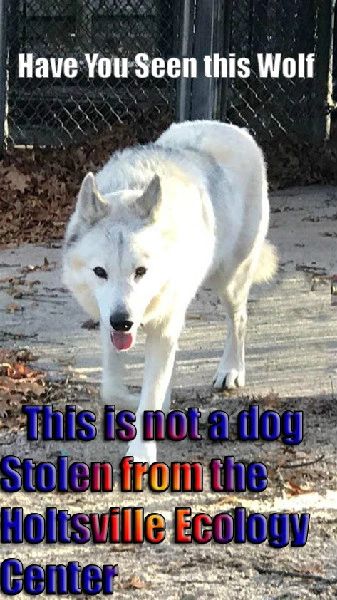 INSTEAD of worrying about attaching names to other peoples Years of dedication and hard work and
highly successful 1/4 Century
accomplishments to the residents Tax Payer OWNED town park you should of installed the security cameras " I requested " to Town Hall and Ed Romaine who then stated " We Have the Money " for them....and still nothing was done by poor management ! Fact ! Not only was a video spotted on social media of people in the zoo at night but the Horses and many other rescued.. animals
were let Loose
from their cages and corral to roam free, or worse left unprotected and confused and the buildings were
Ransacked
and worse this wolf was stolen from what Suffolk County 5th Precinct said was a "
SECURE CAGE
" and …...
ONLY... someone who Knew how to open it could have, Lt. Michael Lutz Suffolk County Police said..
(
NICE !
) Jennifer Mc Logan Channel 2 news said "
If it Was an " INSIDE JOB ".
..Nikita could be anywhere now "...and again there were NO CAMERAS after I requested them
2 YEARS PRIOR
!!!
It's Time for all new Management at the park
!!!! But the Groundhog sign above missing an Ego Self Centered Polititians Name Branding.. at Taxpayers Expense is apparently far
more important
on the
" AGENDA
" then getting the cameras...to actually protect over 100 defenseless rescued animals.. that without reservation
TRUST US
to do right by them...
" 2 years prior ".
Secure cage.....?! Inside Job ?!...No Clues....because there were still
No Cameras
. It's Time for New Caring, not Burnt Out, Old School Tenure, 9 to 5 Management. The
Parks Department
should be in charge of The PARK
! So are the cameras working.....Yes, and a group that broke into the Zoo were recently spotted on those cameras and police immediately surrounded them. As for the Hybrid Wolf NIKITA...
It's Long Gone ,
due to an inactive Independent Politician that
refused to listen to common sense ! Time for new caring management . Roy Gross the Chief of Suffolk County SPCA the day of offered a $5,000.00 Reward to find the wolf.
To this very minute she is still missing ! Proving it was in fact a job well executed and carefully planned by someone who Knew how to get in ! Plus
felt REAL Comfortable with the Security Cameras and System they knew wasn't even in place since the Park first Opened ! Why haven't management
been replaced....it can't be that you can't Immediately find better...…! Why must our taxpayer dollars be subjected to pay salaries for Failures ? ..Tenure ?

July 16th, 2019....at the Quogue, (Long Island) Wild Life Refuge (https//quoguewildliferefuse.org)
Also now has had their 35 year old "rescued " Bald Eagle " Sam " who can not fly was stolen and because they had in place security cameras...saw a person leaving the park at 4:15 AM with a bag. A $17,500 reward and rising is in place. Please....lets find these defenseless animals get the word out and put an end to this.


I want you to know, Holtsville will ALWAYS be Known as the HOME OF GROUNDHOG DAY, and the Sign entering Our Town will Always Proudly say that. It was created for Children, nothing else. Holtsville will always be Proud of this History it is from the Heart. I just Hope Brookhaven Town Supervisor Ed Romaine takes me up on the vision I suggested of adding " GROUNDHOG DAY " on the Tourist signs now on the Long Island Expressway in both directions at exit 62 . In the words of Dave Wilmont Suffolk Life Newspapers...…" And Why NOT ! "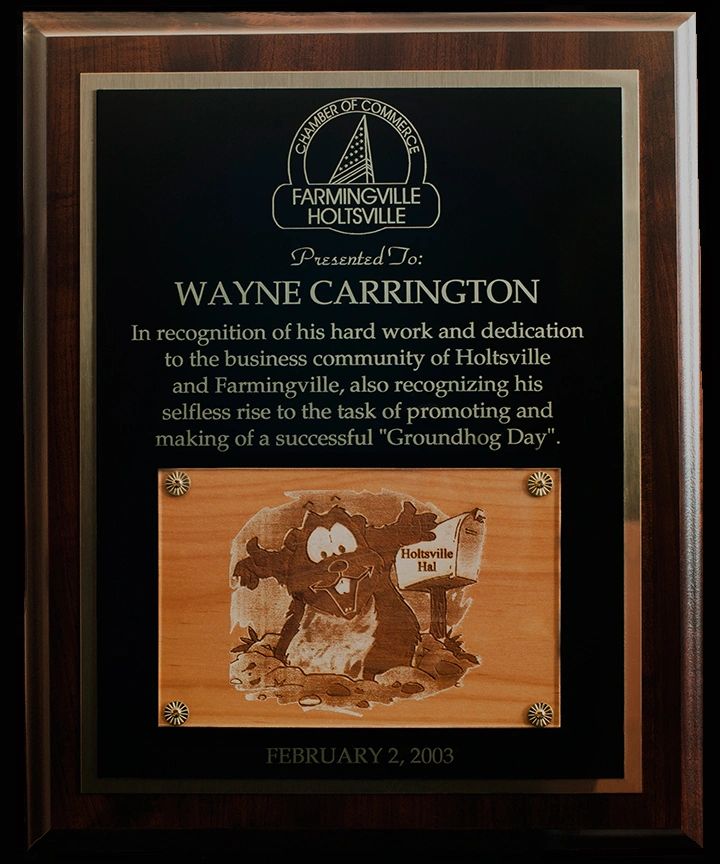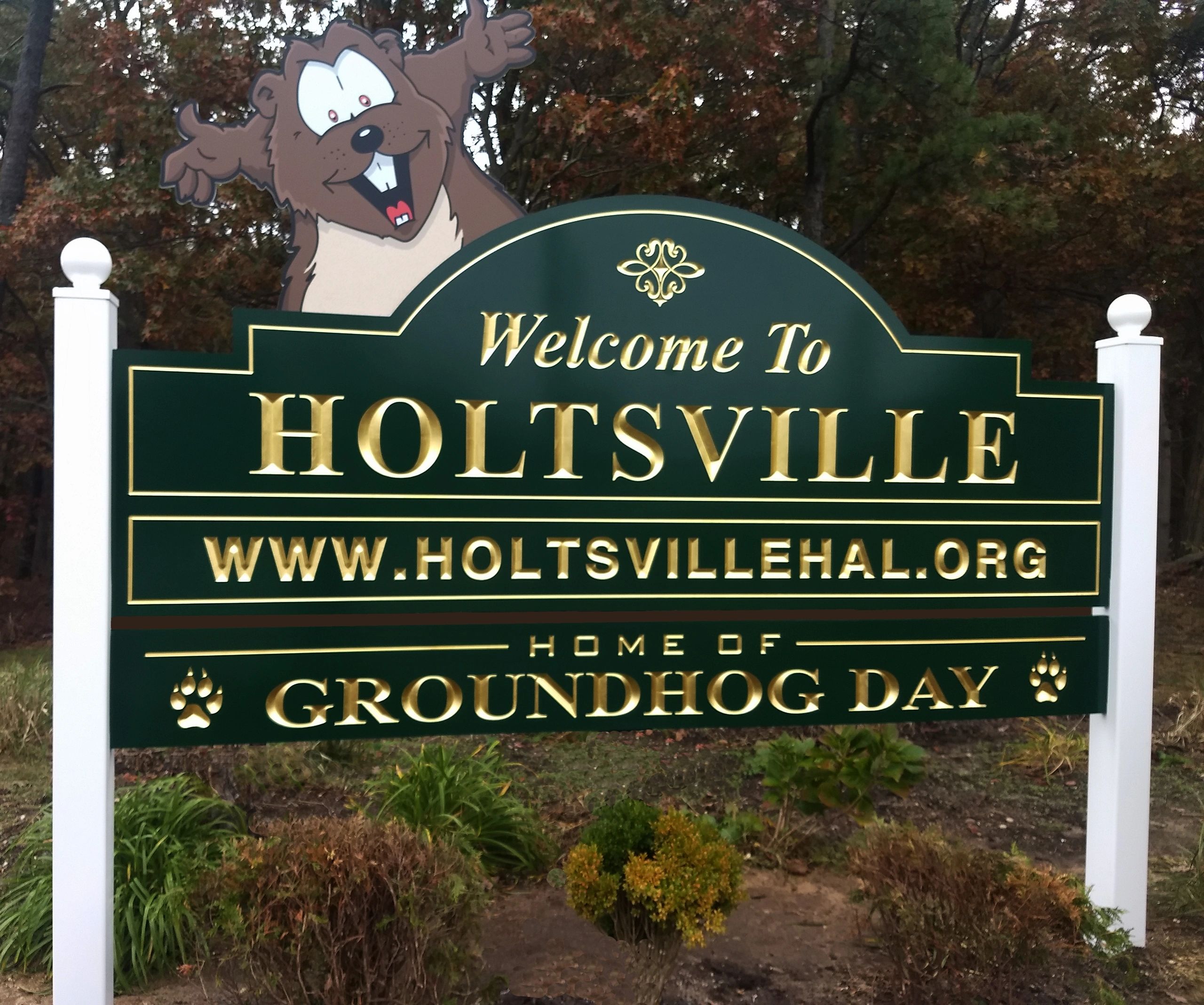 I would like to also Thank Mr. Edward M. Rubio lll, a gentleman I've known for years. Ed then the Chief Pyrotechnician with the World Famous Felix Grucci First Family of Fireworks who traveled the entire world amazing people with precision Fire Works displays for so many years at his command. Even once at the Ecology Center and Yes, Bald Hill. I had the honor to be on the barge on the river in NYC with the first Macy's Day 4th of July Fireworks after 9-11. Ed this year approached me that he too wanted to give back to the community and help celebrate my 25th year with a quiet sparkler display and colored smoke display ....I was excited, the kids were in for a great added treat making another life long Family Memory once again...…….DENIED
Ed then offered again a Professional Lazer display of
Holtsville Hal to be displayed on the Showmobile ceiling...…….Denied
Ed, we tried, we gave it our best shot....Thank You !
You are......A Good Hearted Community Friend ! Tomorrow is yet another day and if I have my way...…..YES !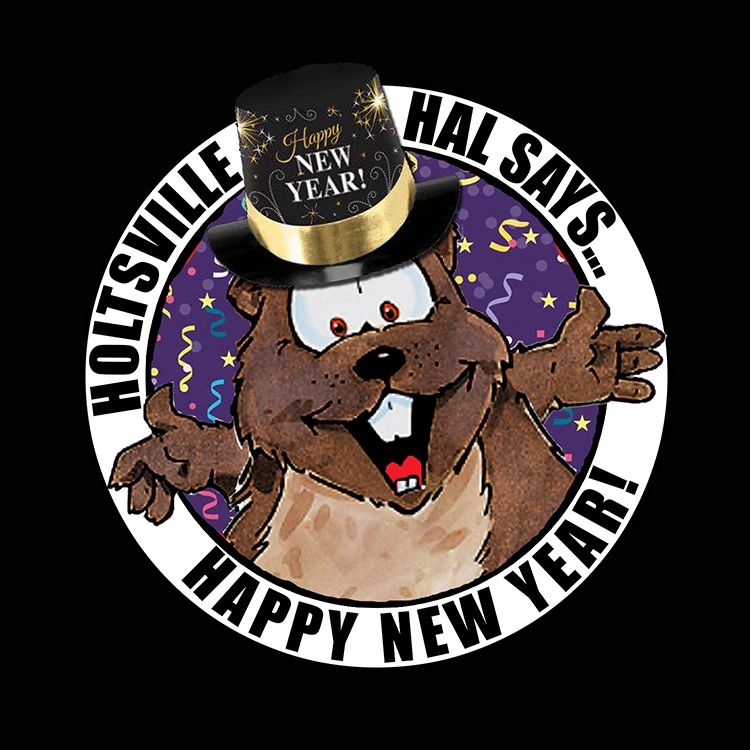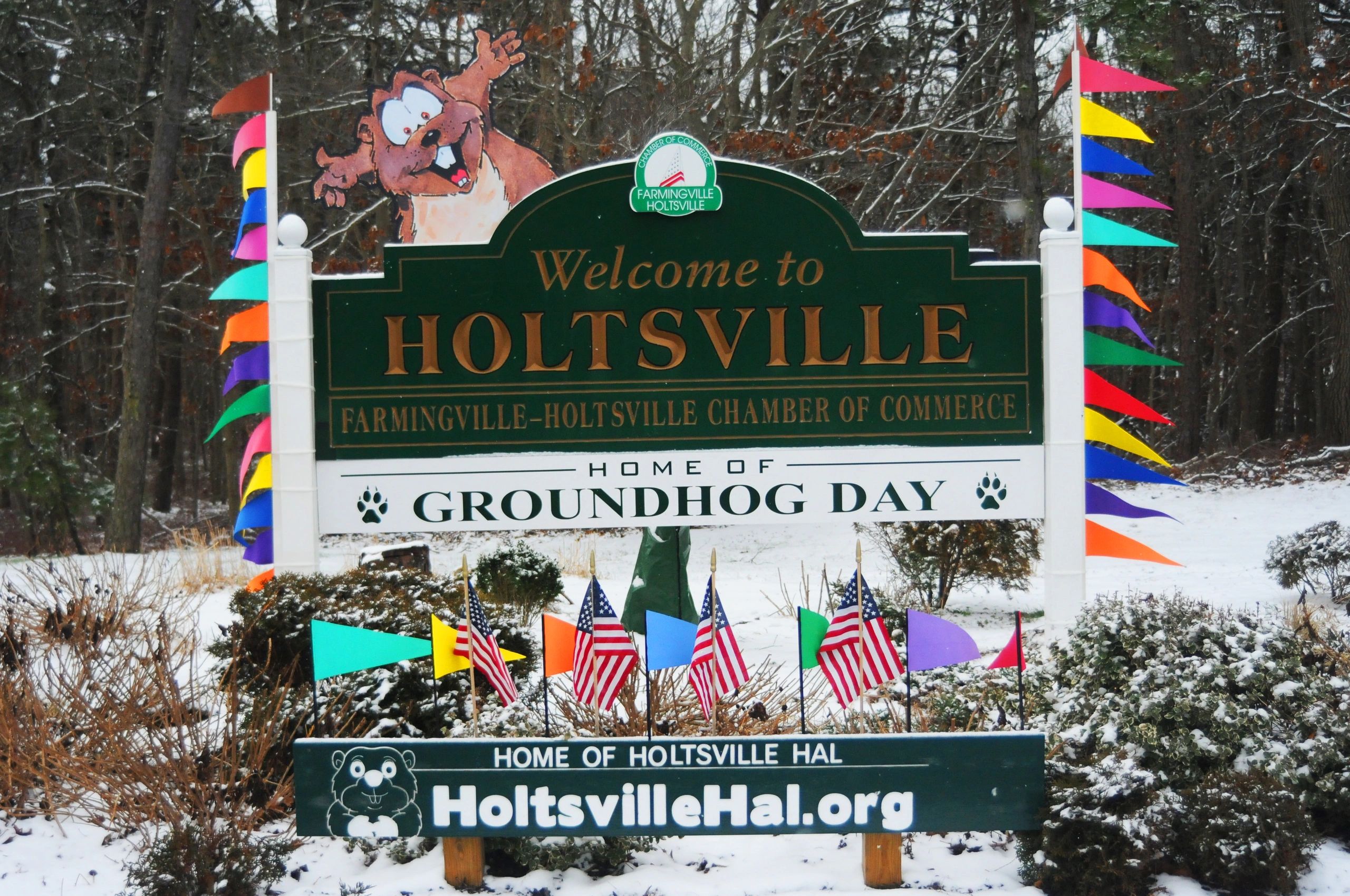 In the words of Brookhaven Town Supervisor Ed Romaine last year 2018 to a reporter at the Groundhog Event....." If It WASN'T for This Man ( Wayne Carrington ) This Event WOULD NOT BE HERE TODAY " .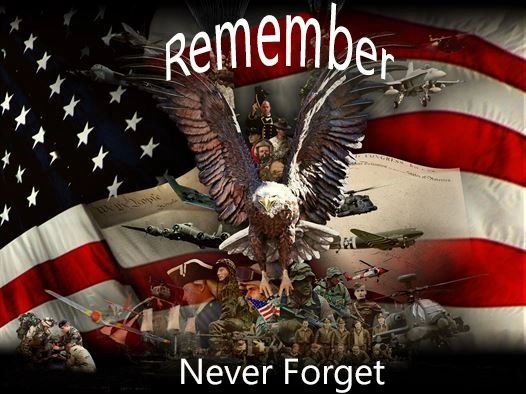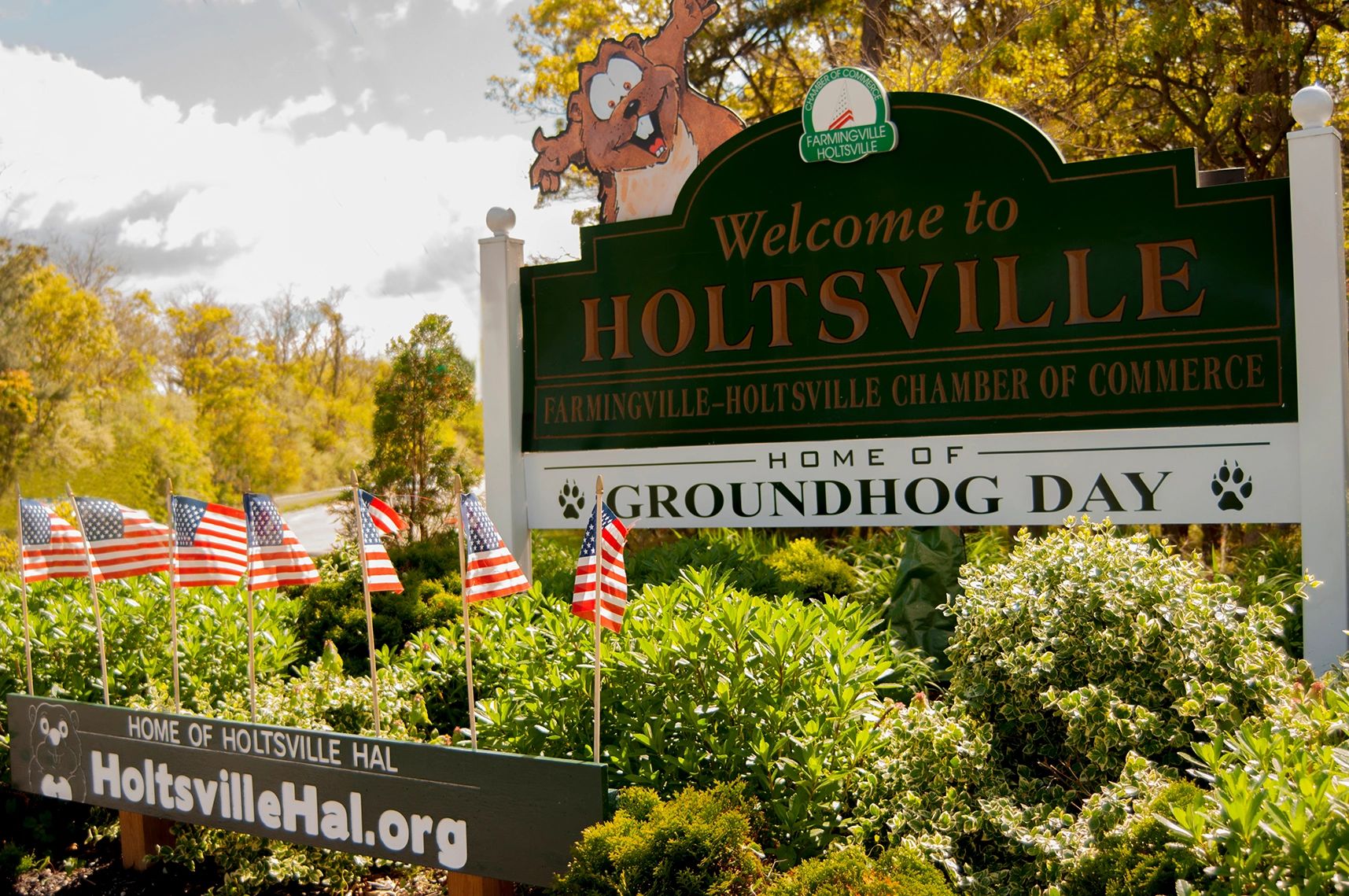 So...……...Where's Hal ? Better Yet Where's the " Welcome to Holtsville " sign ?! Ok are you sitting?....A few weeks ago a driver not familiar with the area was using a GPS to get into Holtsville. You know those perfected map devices that have successfully sent drivers down rail road tracks, into dead end alleyways, and probably off cliffs ? Well the
GPS said turn on Washington Avenue off the South Service Road of the Long Island Expressway....But said it just as the driver was passing it ! Instead of going to the next block to turn, decided to turn anyway....and like a bowling ball made the perfect Strike....right through all the signage stopping finally at a tree that refused to move 15 feet directly behind and past the back of the sign ! Minor injuries except to the car..a job for a few gallons of Bondo ! Where have you heard this before.... " I'll Be Back " ! You just can't make it up !
And Back and Better then ever ! Now please turn off your GPS Entering Holtsville !!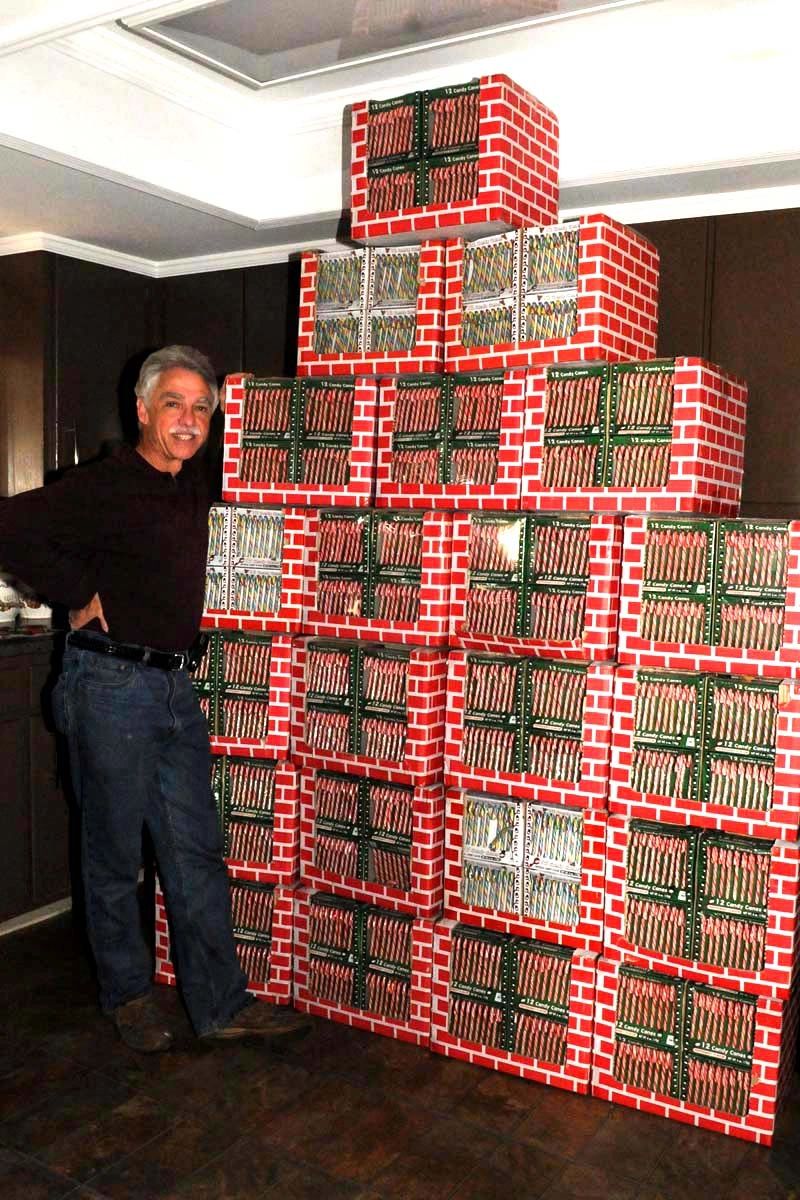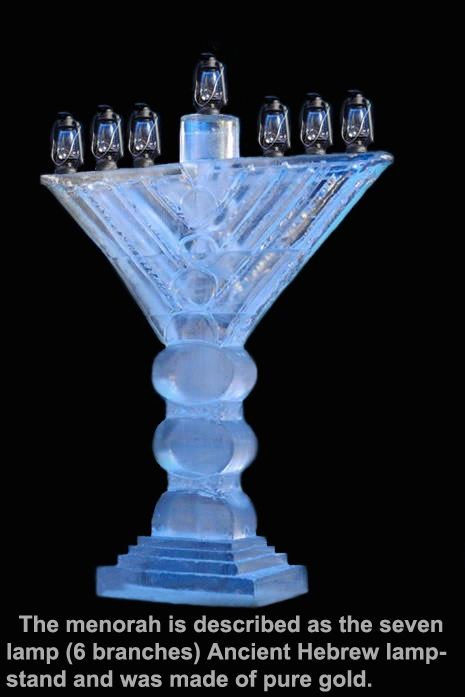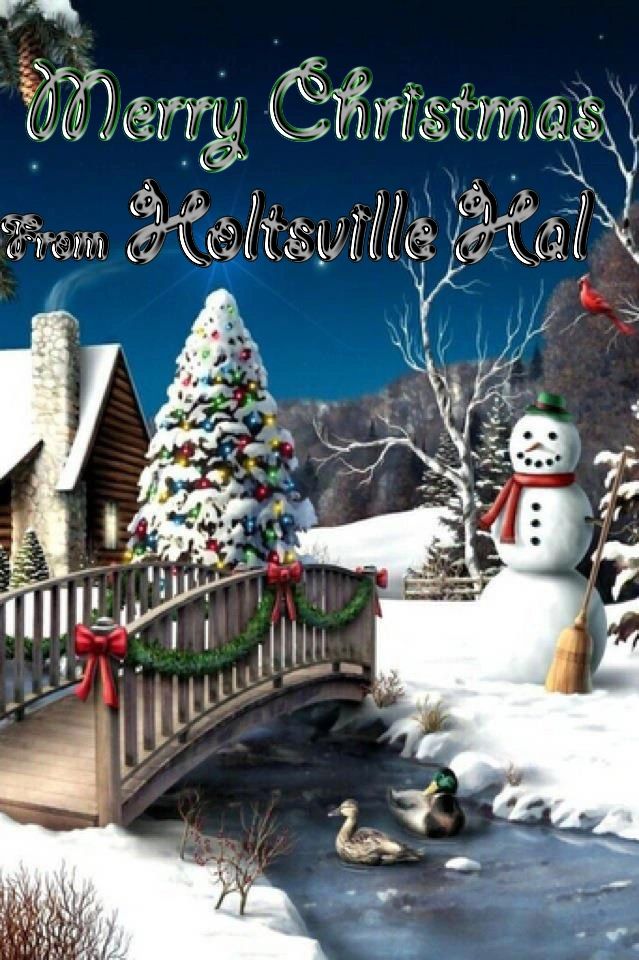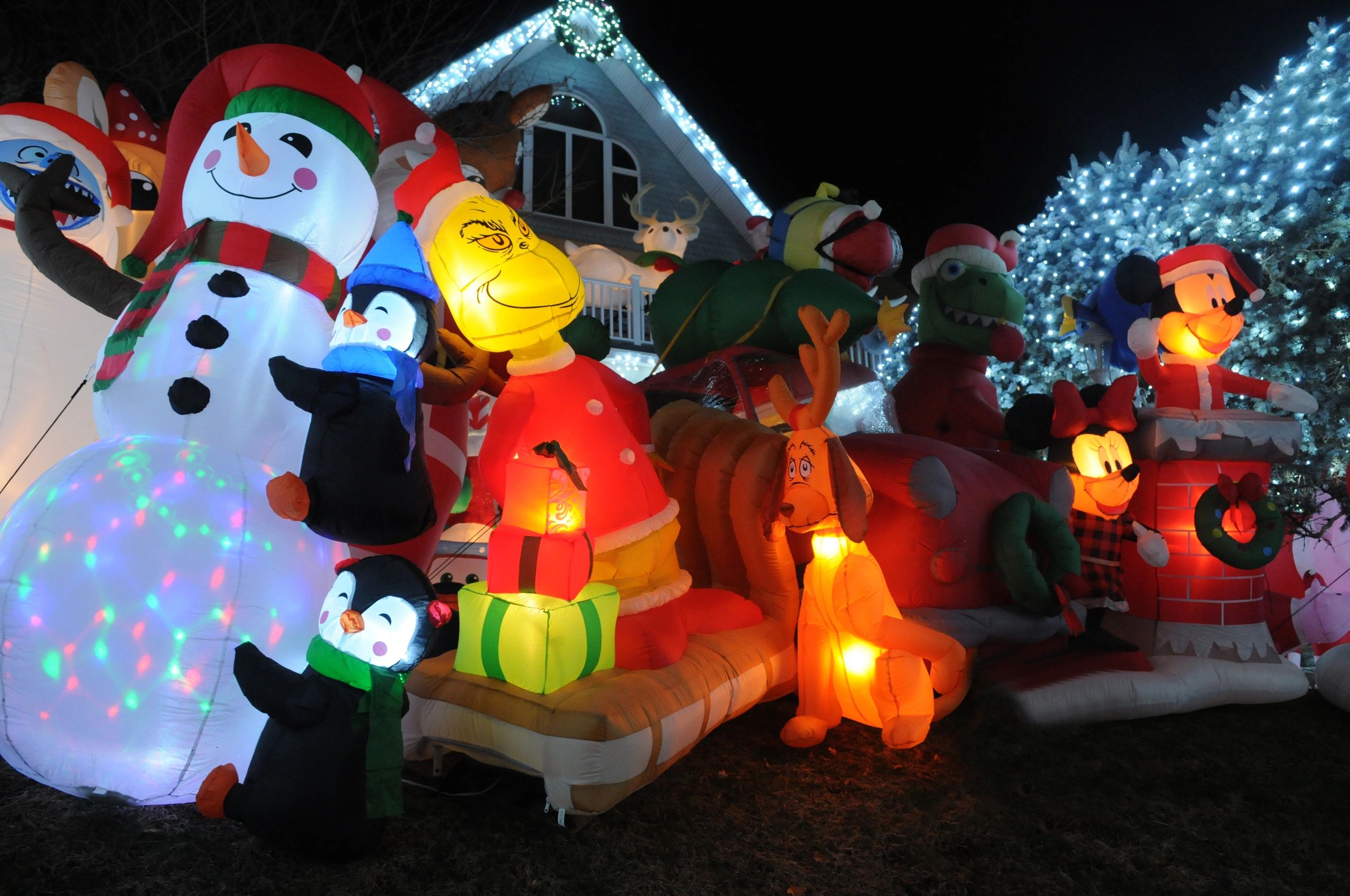 This year before the crowds in Holtsville NY, Hal predicted that " Ole Man Winter " started right off giving it his all. Hal saw Ole Man Winter
was definitely getting weaker and would Not be able to keep up with the winter weather. Hal was right again, almost immediately the weather turned to warmer, and warmer....and the warmest days in calandar history for our area. Better yet.....Washington DC where tourists go for the beautiful Cherry Blossoms......will be disappointed this year if they arrive the same time they've done over past years......
why ?!.......Because the Cherry Blossoms.....
have Bloomed already
..and it's the 1st of March ! Spring Has Sprung....
A MONTH EARLY !
Ok March......Stop already....are you kidding April 2nd too !! , In January & February we were putting out the lawn chairs !
Must Be that " GLOBAL WARMING " !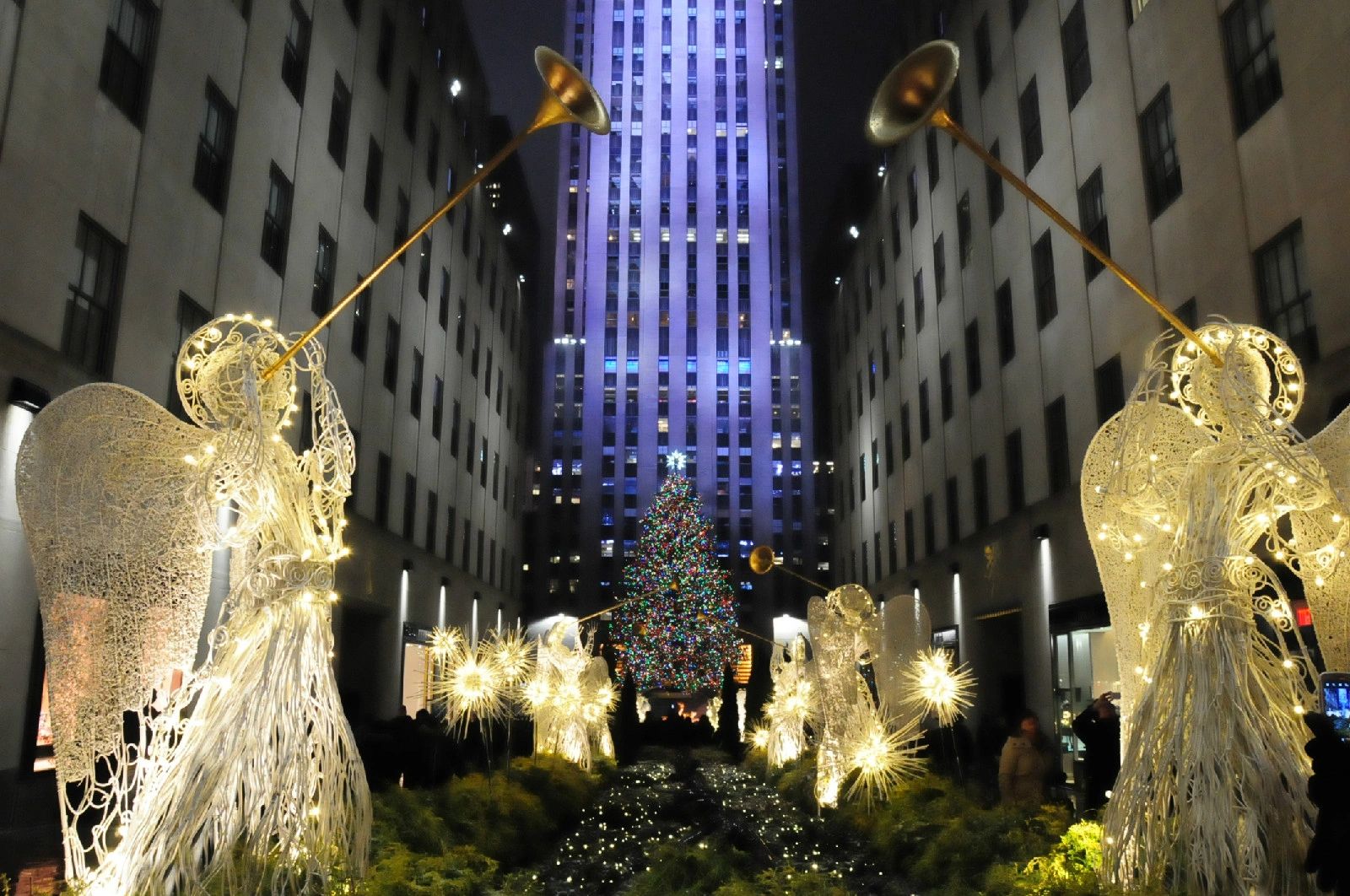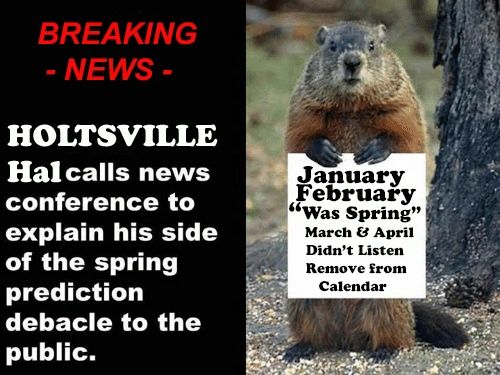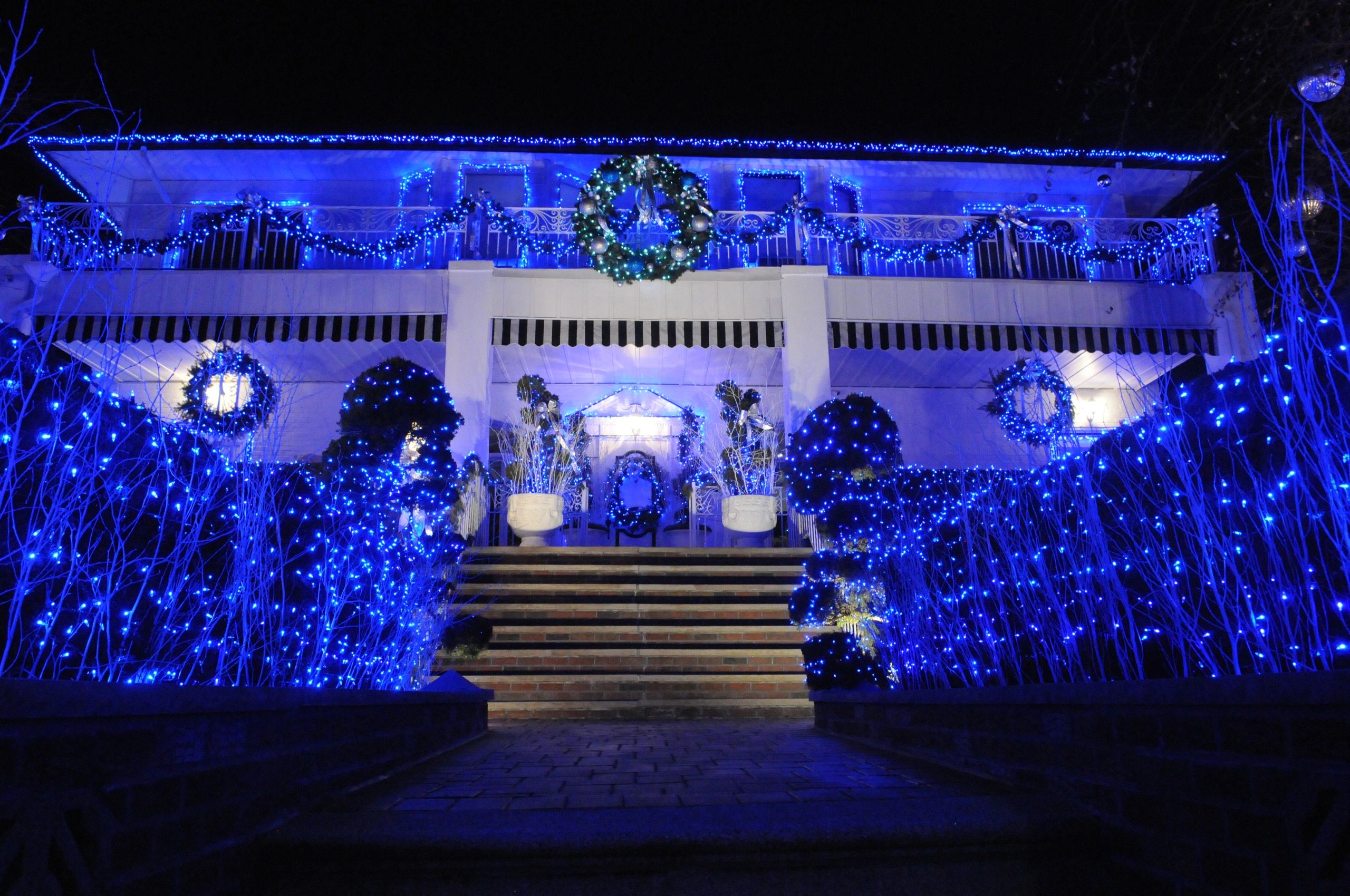 Victoria seen here is waiting to see you at the Holtsville Ecology Center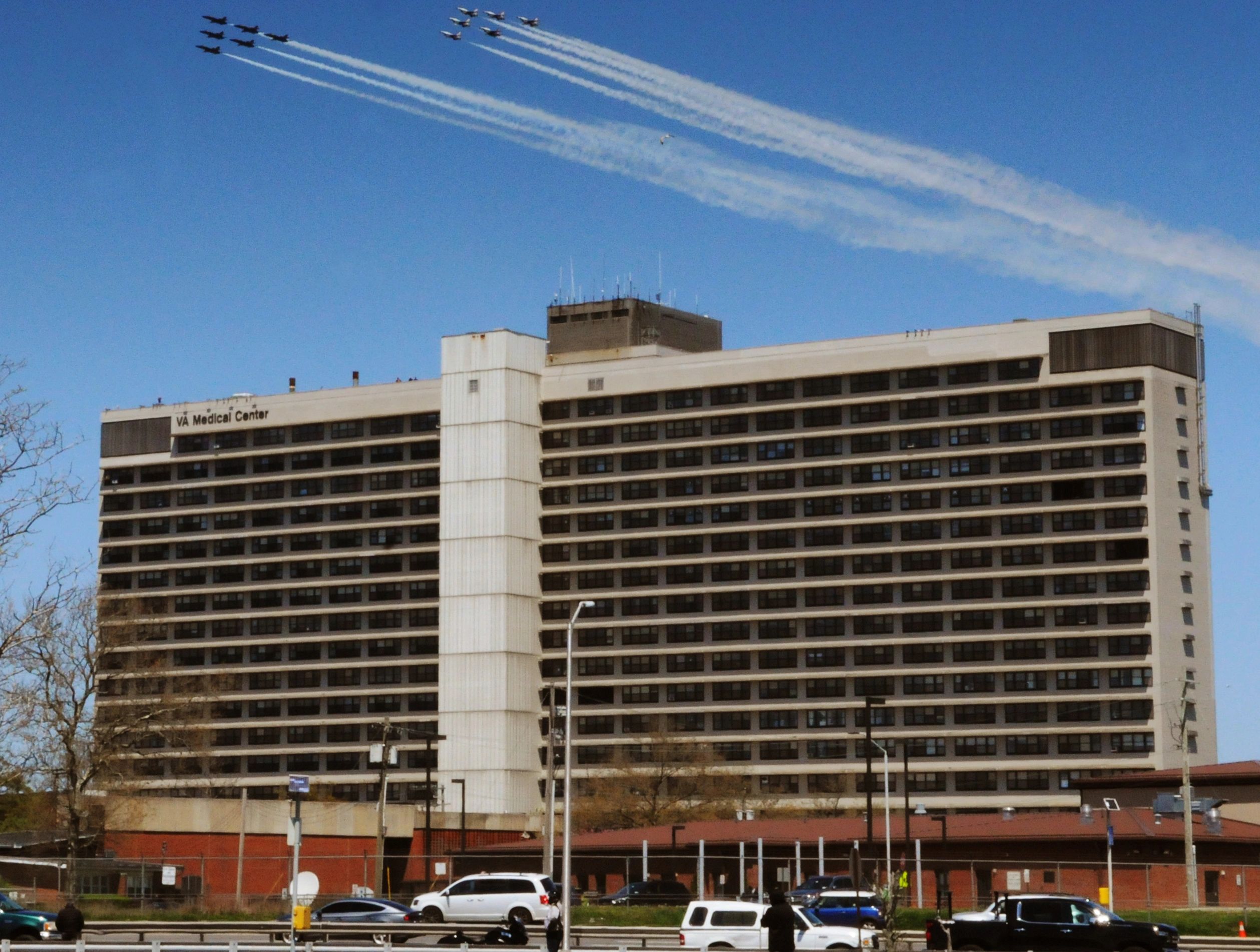 Tuesday April 28, 2020 starting at 12:00 PM The BLUE ANGELS along with the THUNDERBIRDS flew over hospitals in NYC and Long Island and then over

Philadelpha

,Pa.

to show solidarity to the Health Care Workers on the front lines fighting the Corona Virus to save lives. The Blue Angels got their name in 1946 doing a show in New York and one of them read the New Yorker Magazine article about the Night Club Blue Angel between Lexington Avenue and 3rd on 55th Street. The Thunderbirds was influenced by the strong native American culture and folklore from Southwestern United States. Here I captured them flying over the Veterans Medical Center in Brooklyn by the

Verazzano

-Narrows Bridge they then headed to Philadelphia Pa. They can get around faster now because....even up there....there's much less traffic ! Since 1946 The Blue Angels have been privileged to represent the U.S. Navy and Marine Corps. The Thunderbirds represent the US Air Force since founded in 1953 and today six F-

16C

Fighting Falcons and two F-160 Fighting Falcons, based at Nellis Air Force Base, Las Vegas, Nevada. The Blue Angeles since 1946 their now 74th year. What many did not see was, one plane drifted away from the group....That is the "Missing Man Formation to salute the memorials of all the innocent fallen victims of this virus . These two teams showed without doubt, We are all living this for the first time in our lifetime Together and never believe that you are alone, we are All experiencing this for the "first time" Together. Our actions and decisions are key and effect us all across the entire globe.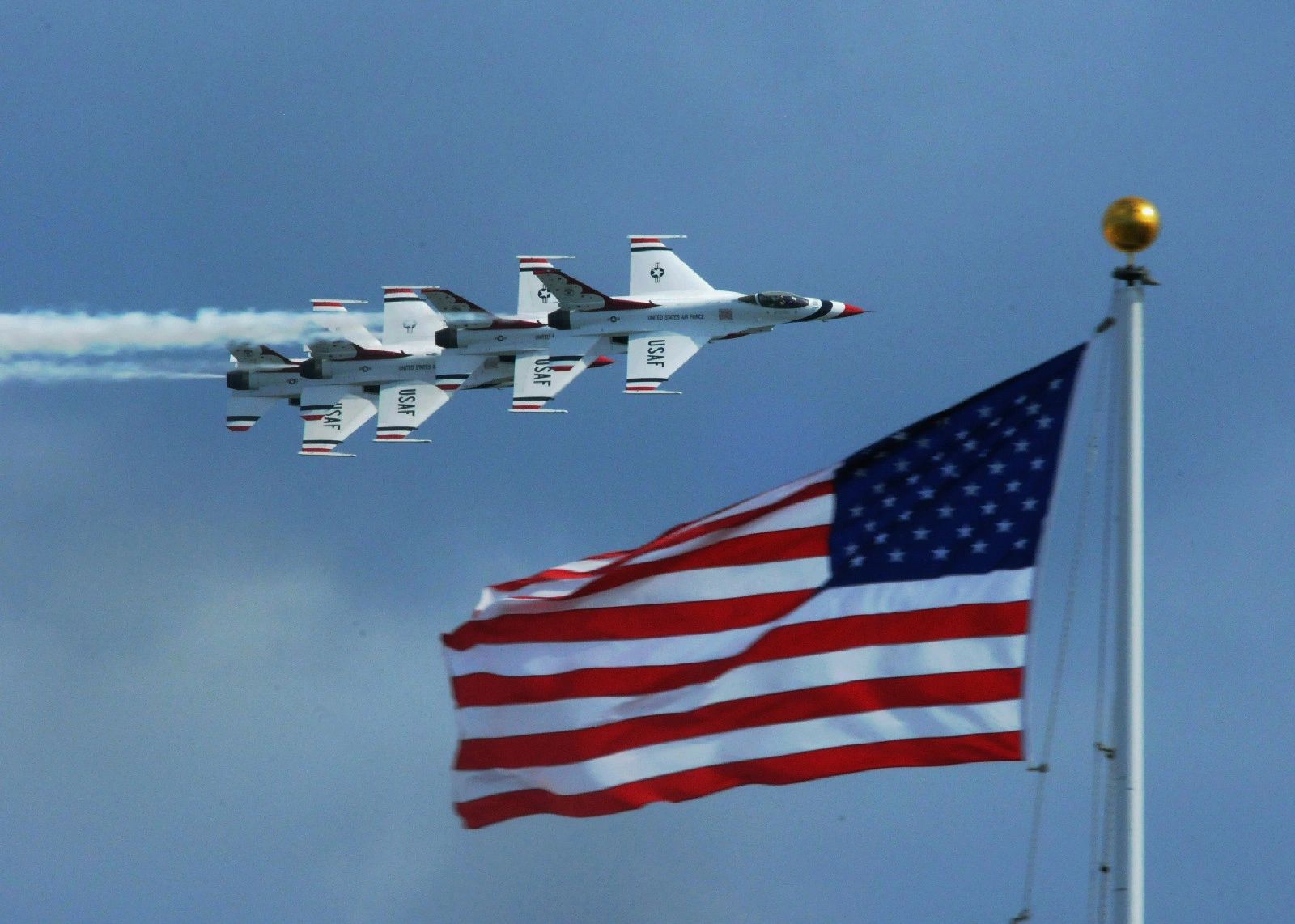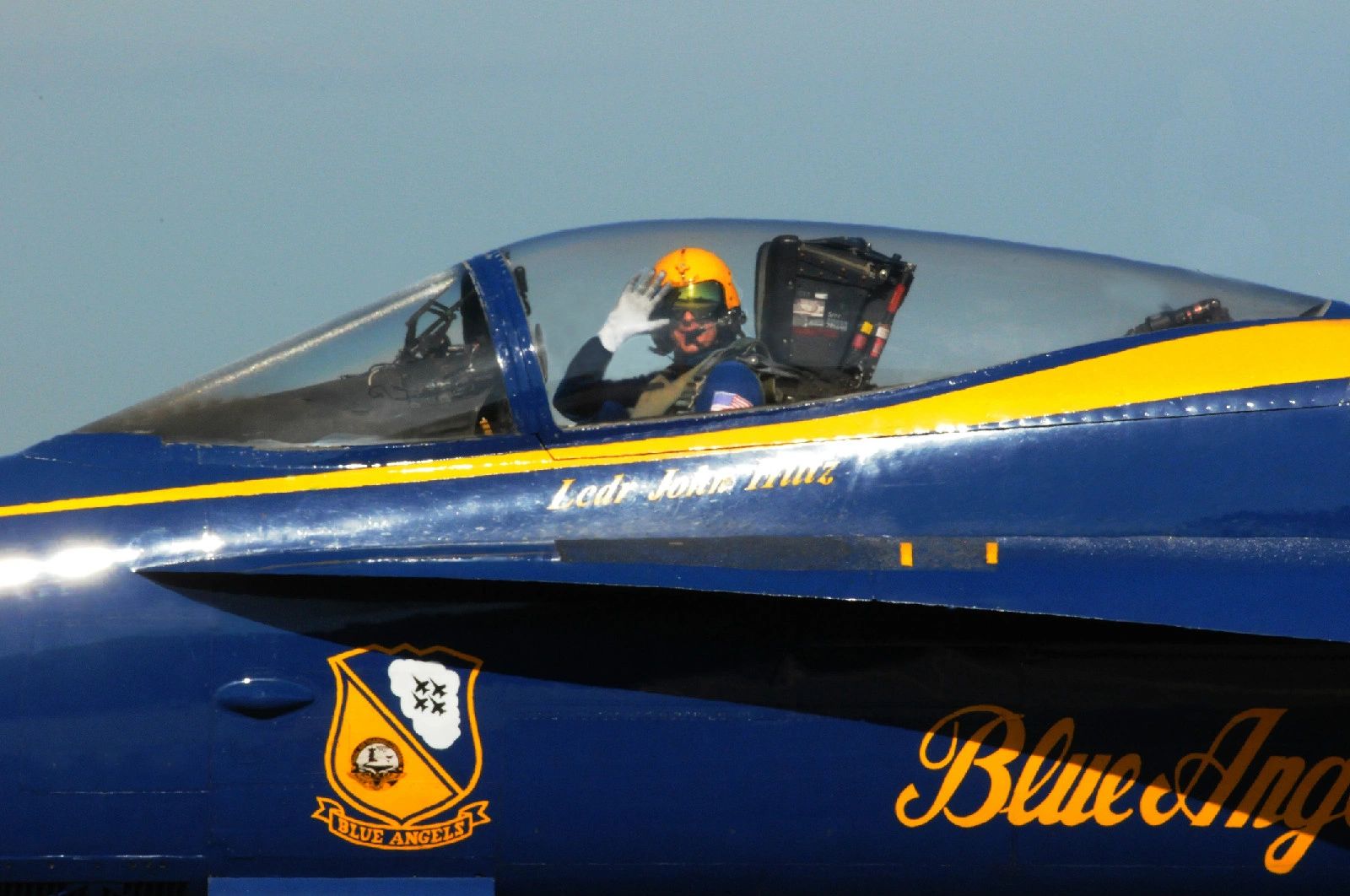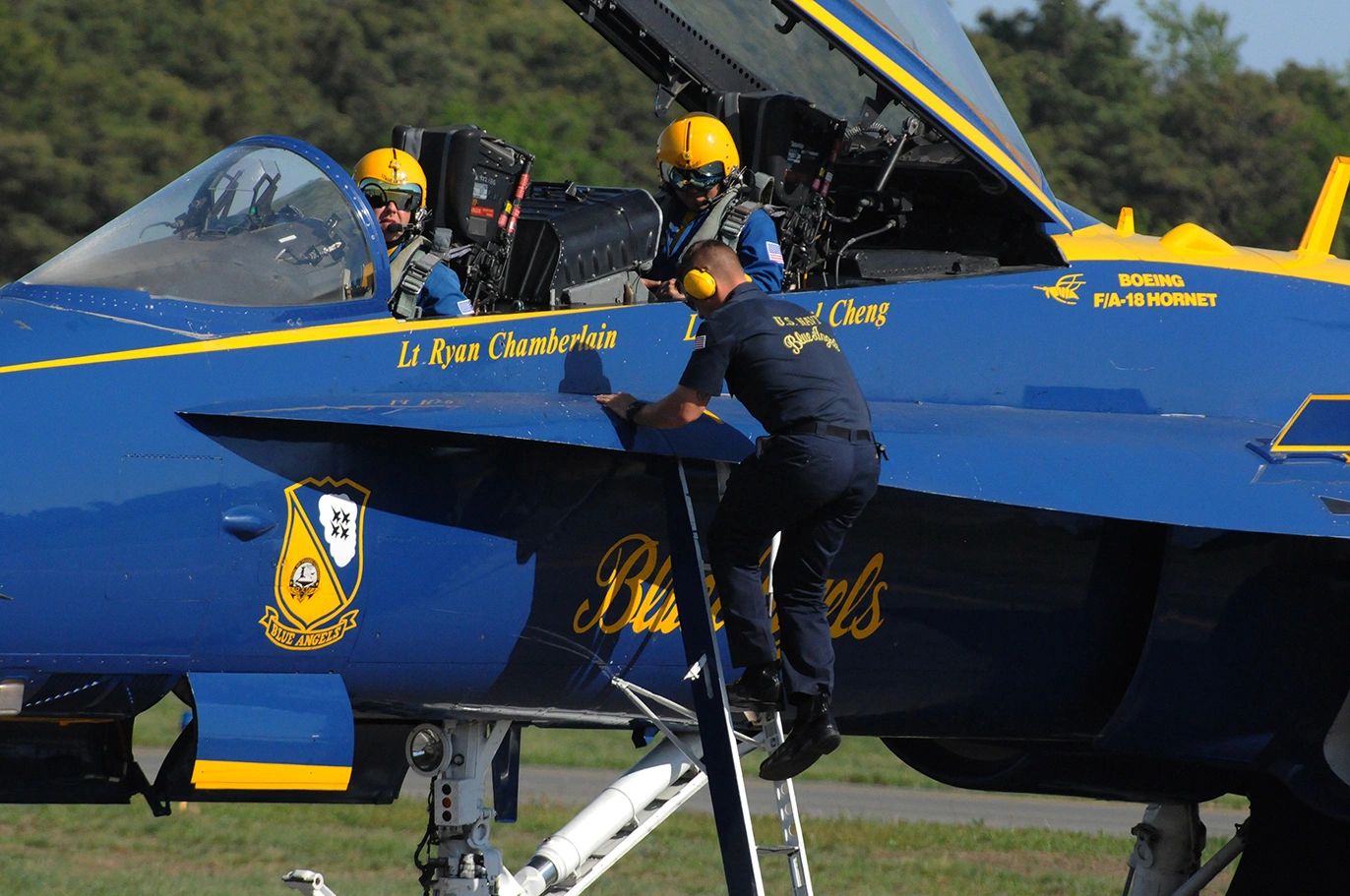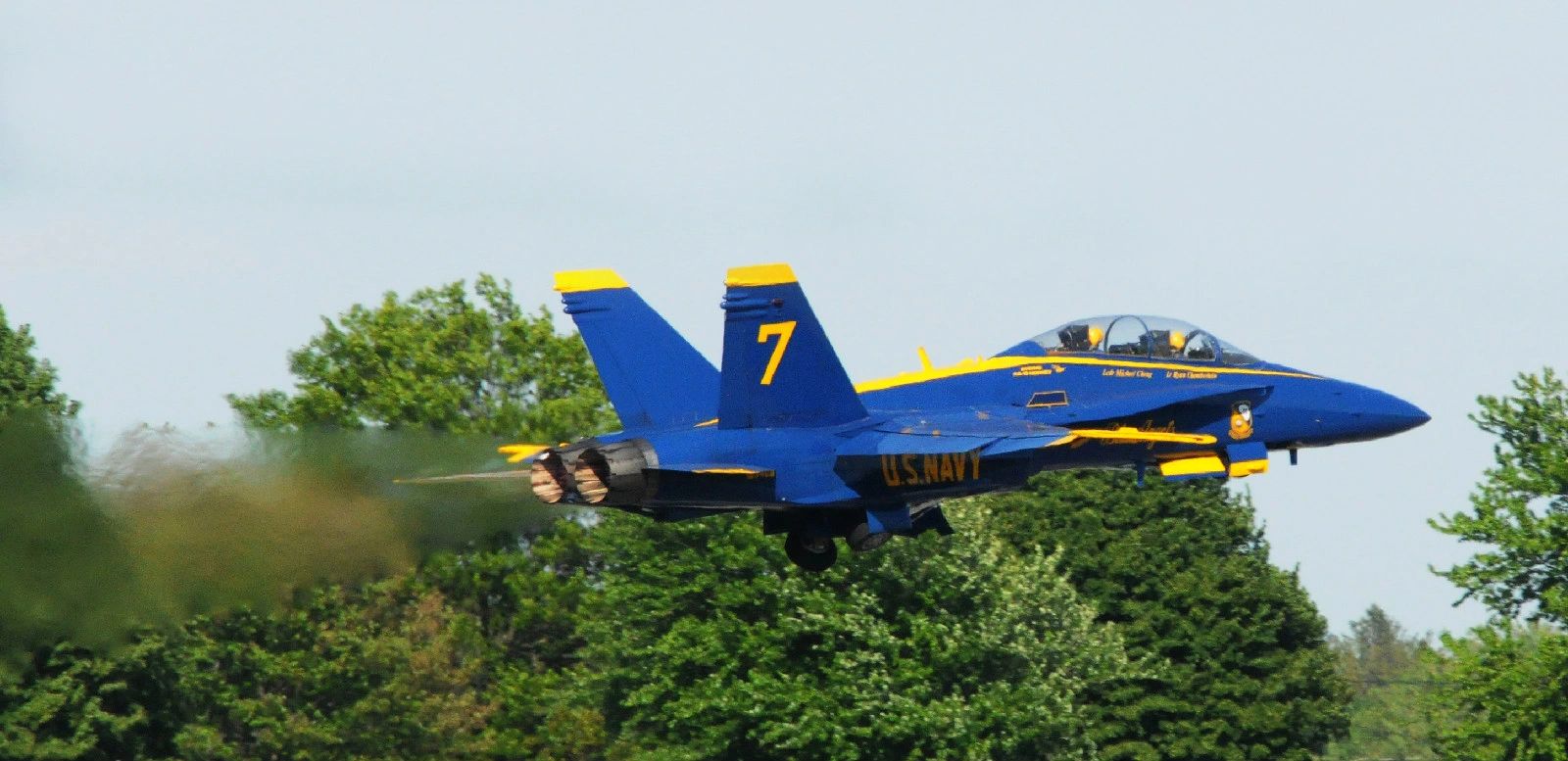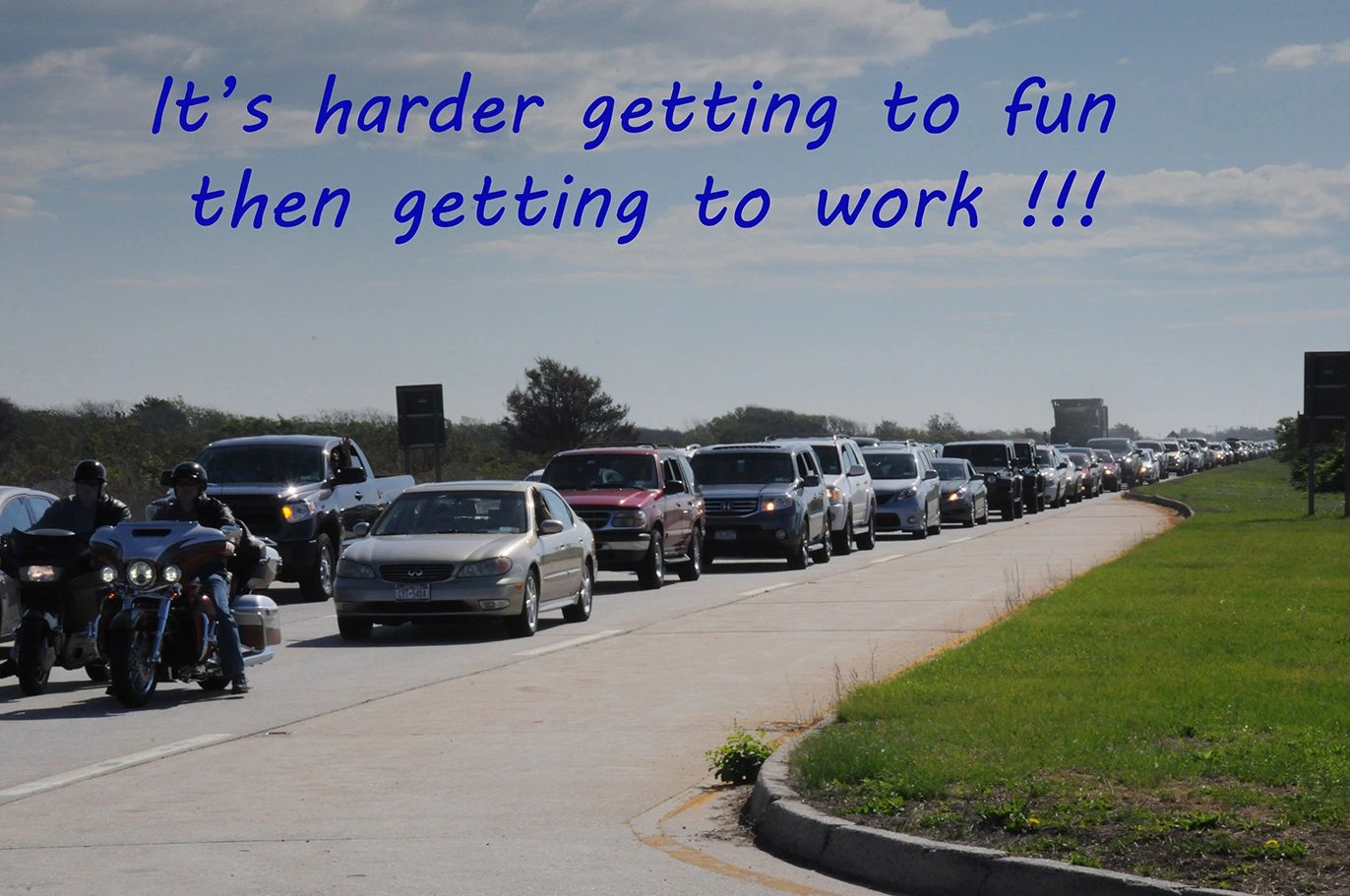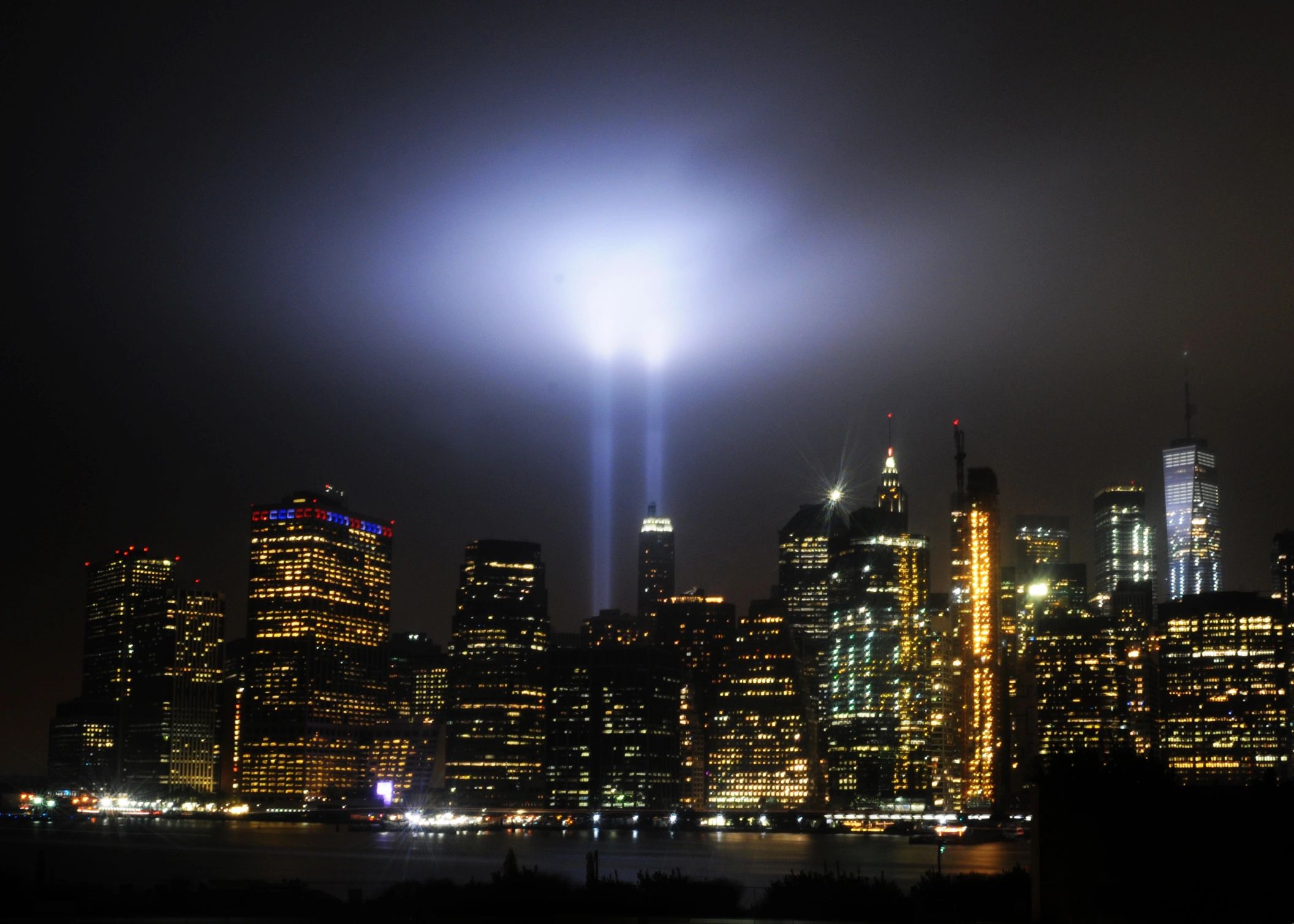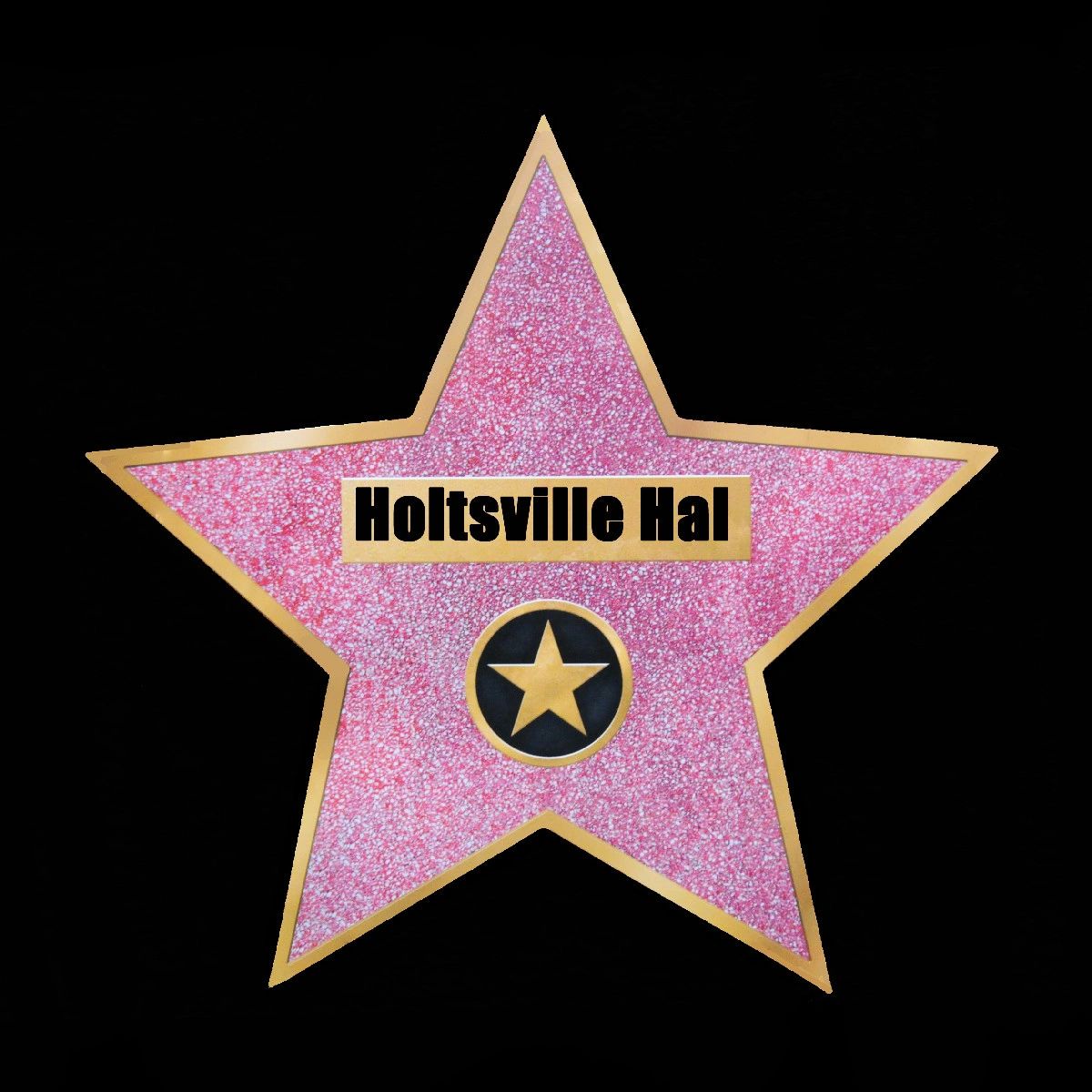 Happy GROUNDHOG DAY Ginny & Bob.....
Now Professor Proton figure this one out for all of us.....Lol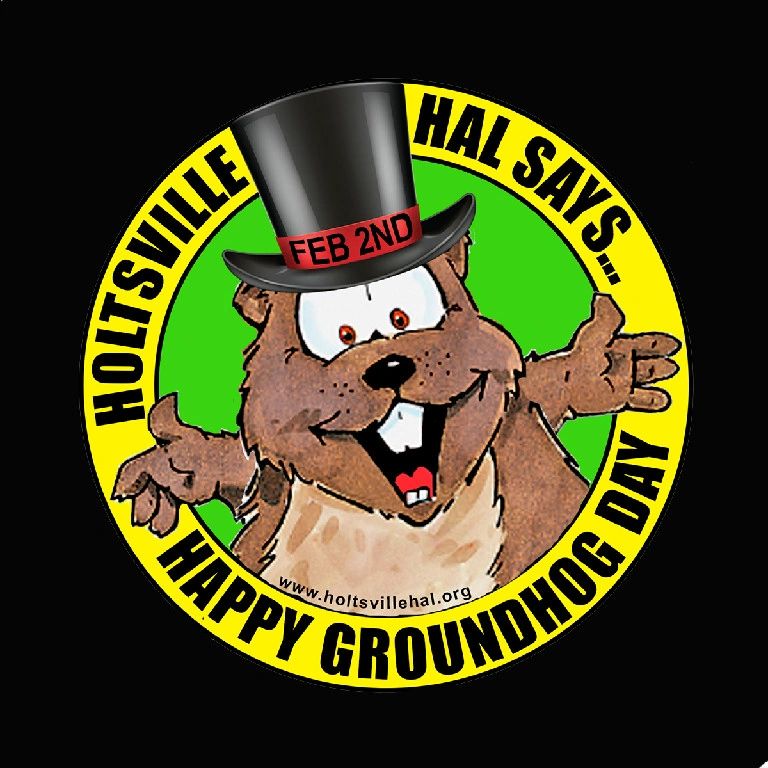 From Left to Right: Harold Malkmes then Superintendent of Highways for many years. Harold graduated from Suffolk County College studying Horticulture. He turned the Holtsville town dump of 88 acreas into what is now known as the Holtsville Ecology Center and Wild Life Preserve. In 1999 he named our now international star Groundhog " Hal " with his name. Felix Grucci then Brookhaven Town Supervisor stood next to him as Greg Drossel held Hal for the very first time. After this , Ralph Garcia and I discussed my vision to expand this event in my town beyond belief. Ralph saw I was not going to allow failure and created from this original home for Hal a larger home and area for residents to gather as larger crowds would soon be developed. 365 days a year Groundhog Day is developing since. I've even changed the image to the town.....that was once known as the IRS town......now known to all as " The Home of GROUNDHOG DAY ". ..... !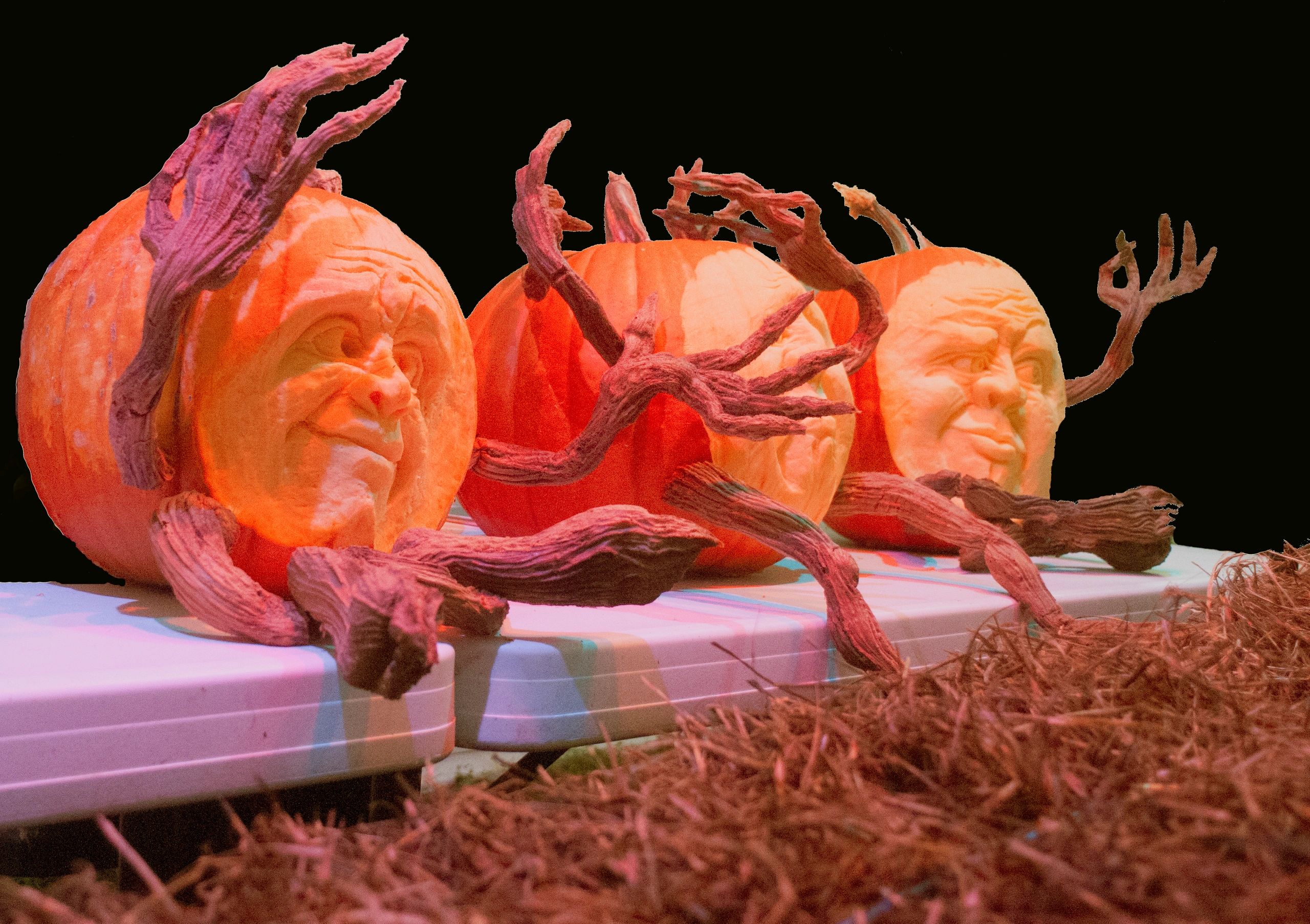 2017 Population Census for Holtsville, NY............19,714 !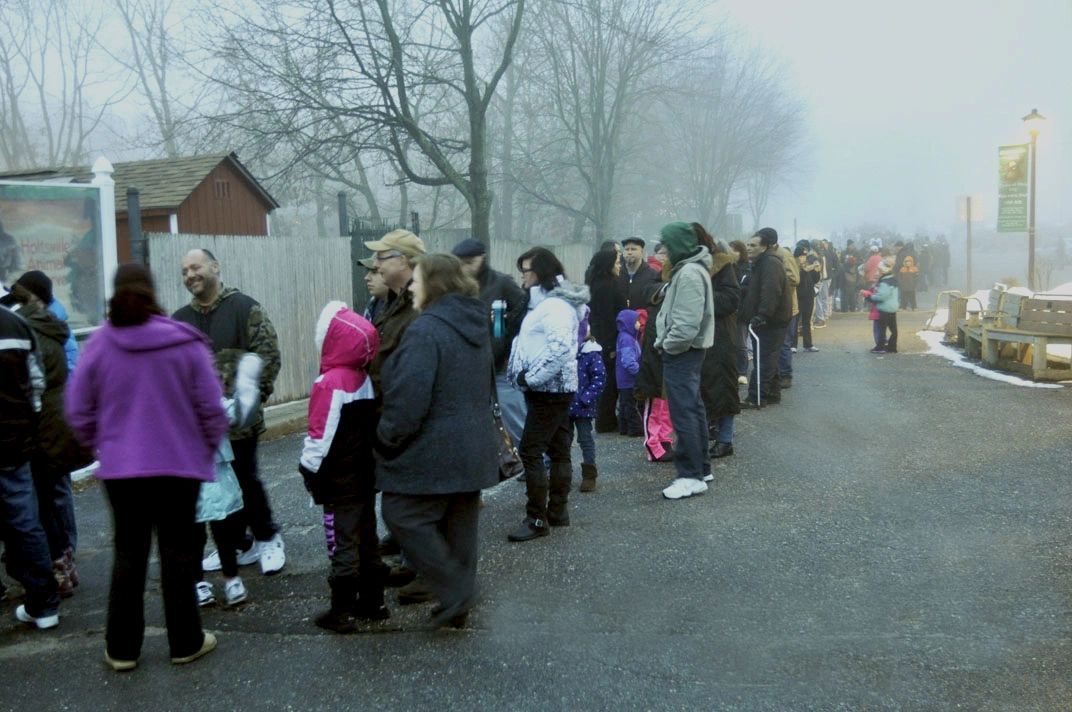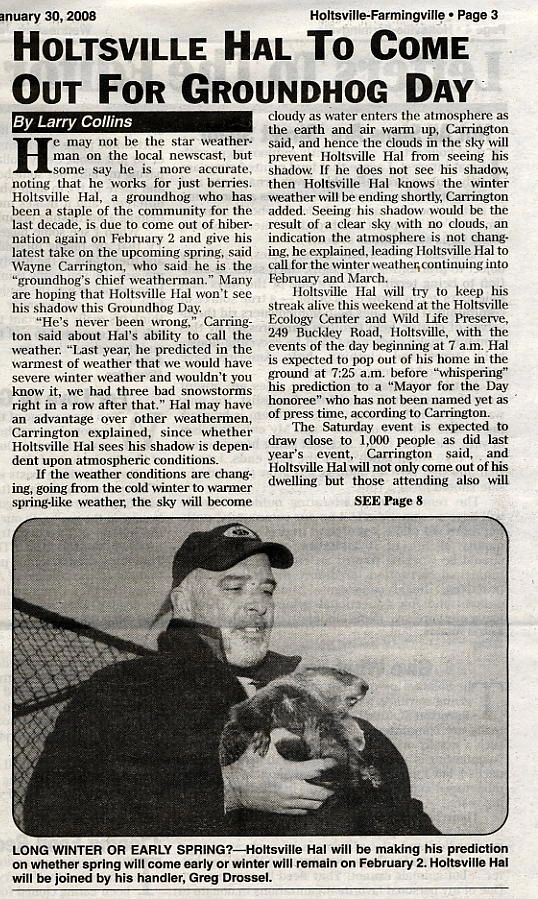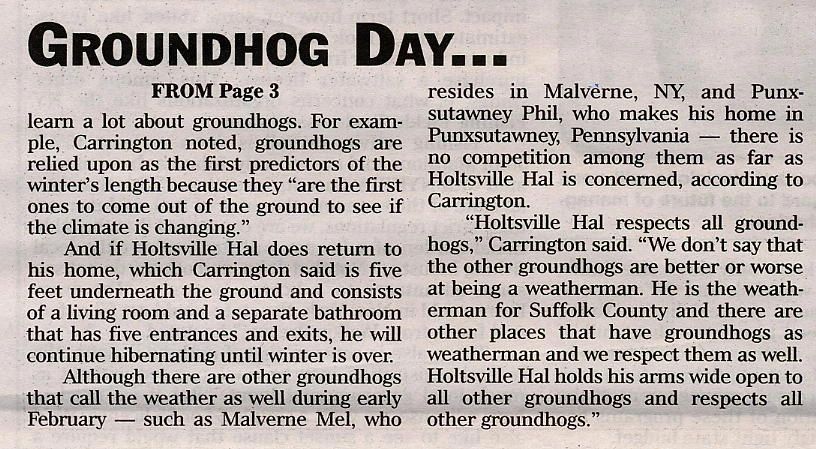 This archival article was written in SUFFOLK LIFE NEWSPAPERS Riverhead, NY owned by Dave Wilmot. Suffolk Life was the United States LARGEST
Weekly Newspaper at the time ! !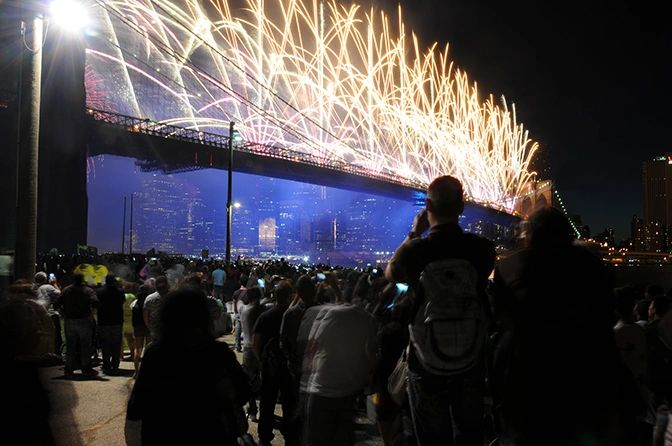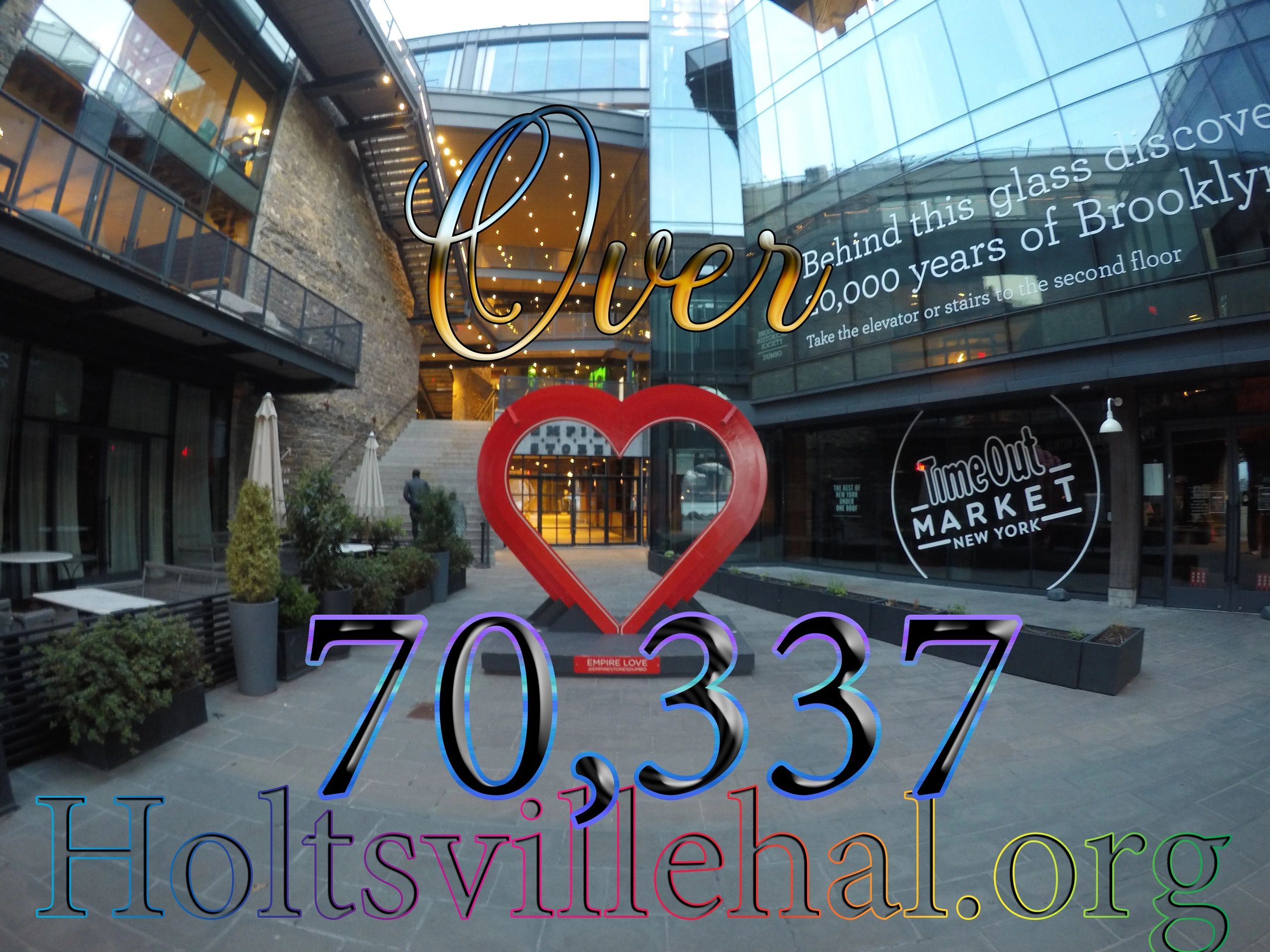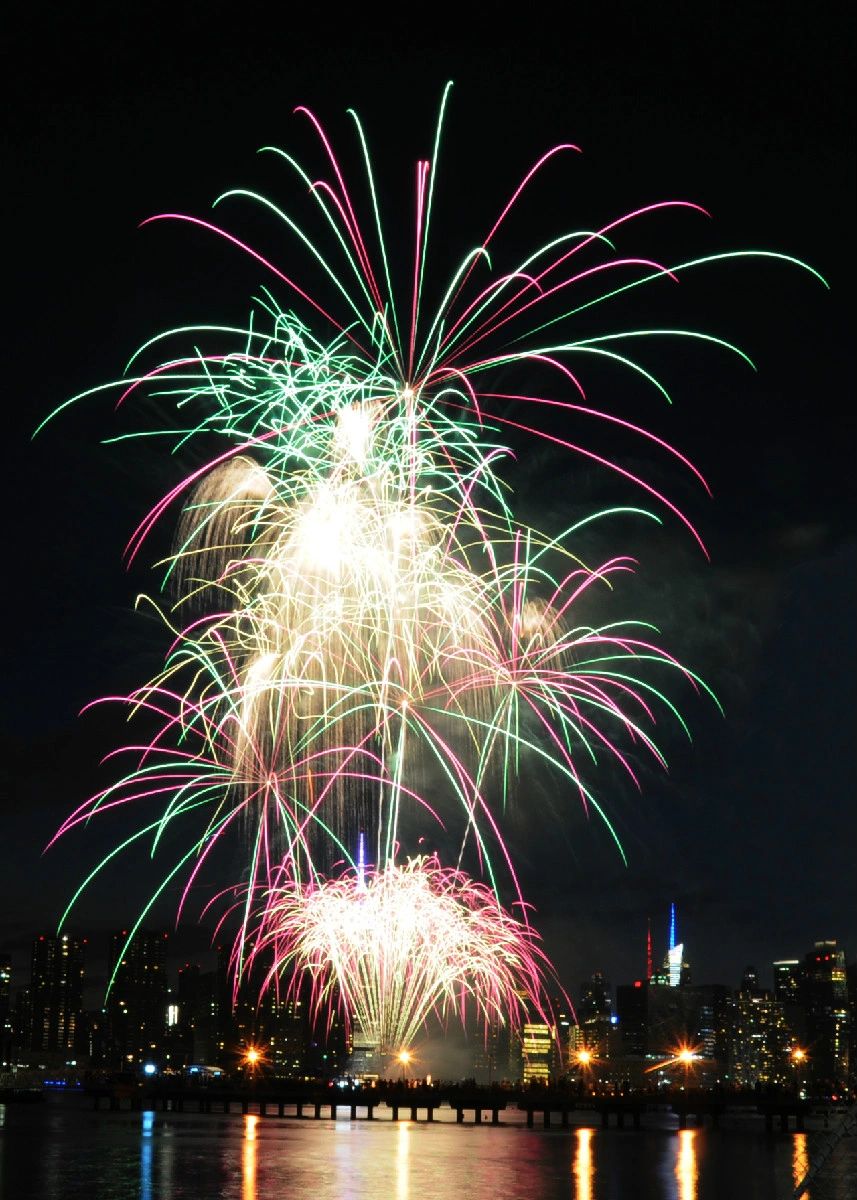 The Charging Bull is a Bronze sculpture installed unofficially by Arturo
Dimodica
and is 7,000 lbs.. stands 16 feet long and 11 feet high and has been a symbol of aggressive financial optimism and prosperity since I was a child working just two blocks from it. It cost $360,000 and was placed there just after the stock market crash in 1987. But now "
Fearless Girl
" showed up on March 7th at 50" tall weighing 250 lbs by Kristen
Visbal
as an advertising piece.
The BULL'S not happy
........and the question is......just because of the symbolism it represents, is it actually right for one artist to completely step on the toes of another's successful work........I think if Fearless wants to prove something...then find your own Bull and location and not distract from a decade old symbolism of the original artist work already created. Or are we that callous to simply now add distractions to others previous
sucesseful
works. Maybe Fearless Girl should stand on the Mayors front lawn with a sign saying......It's time to Spell the
Verrazzano
Bridge with
2 ZZ's
...not one.... how wrong is that ?! We owe it to the family it's named after to do the right thing......and please Fire the Proof Readers that let it happen time and time again ! Fearless Girl presents a great vision...." NO BULL " ! I do like it, But find a place of your own maybe with a Wall Street BEAR in say
Zucotti
Park ?! And present the Right Way to Succeed ..on your OWN MERITS and hard work ! Are You Sitting ?! Because the company which created "Fearless Girl" has apparently paid a
5 Million Dollar Discrimination Settlement to it's Own Women Employees
for wage Discrimination ! Apparently State Street Global Advisors paid to their over 305 Woman VP's.....less wages then their men in the same positions. Worse they paid less to Black VP's then White. Hense......."Fearless Girl" has taken on a whole new look......as it apparently really represents Their OWN Women Employees that stood up........and WON ! ( You just can't make this stuff up ! ) So you finally left the Bull alone and went to Wall Street ..
Well she took the advice and now stares keeping a watchful eye at the New York Stock Exchange. You Go Girl !!!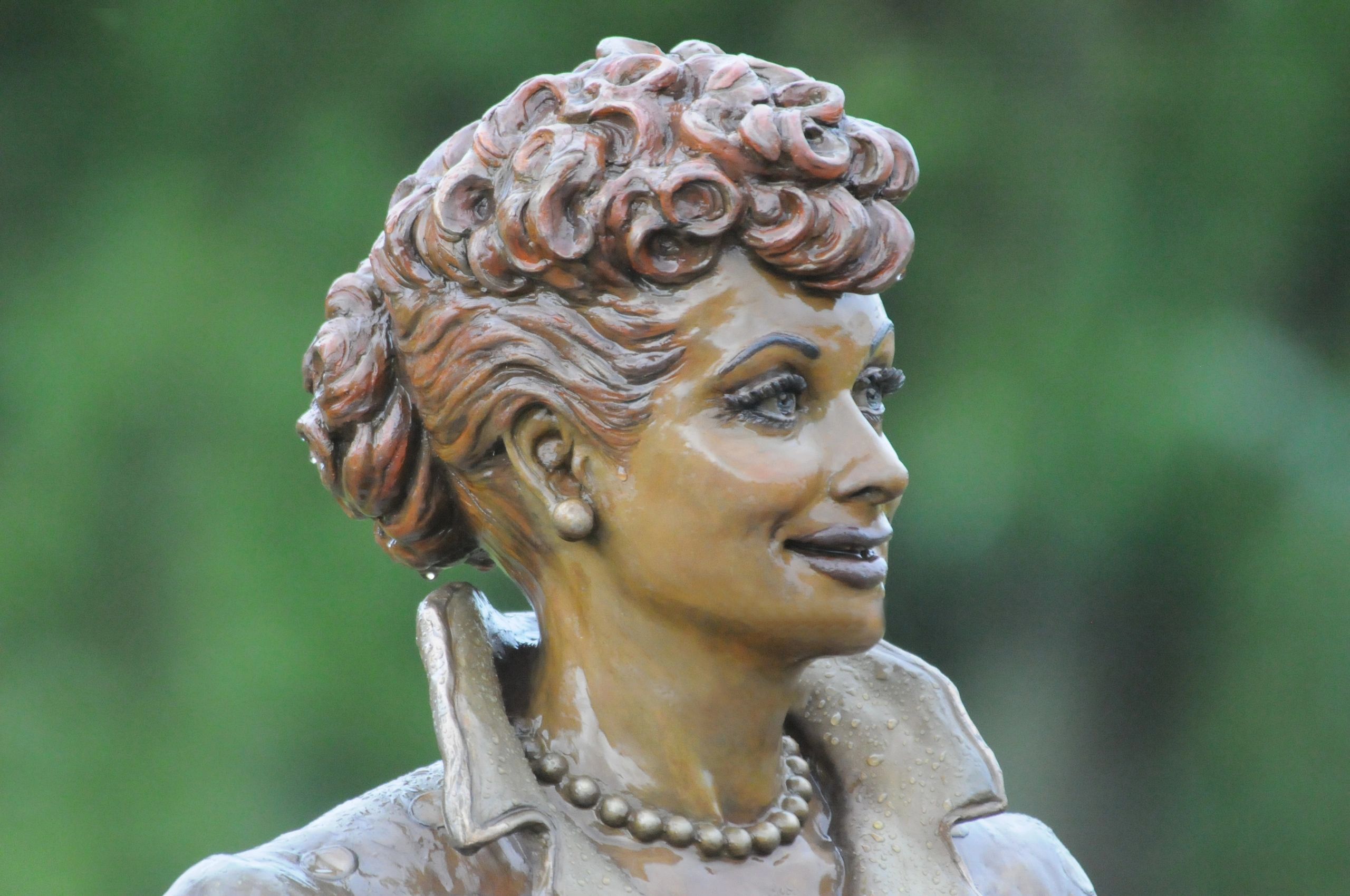 She was born right here in Jamestown, New York. Her legion is all over the town which includes her studios Desilu Productions. She is the true example of Nothing comes easy, and hard work pays off. To hear her story, you appreciate her even more. As a child she loved the Celoron Park with it's boardwalk that had a ramp to the lake that served as a children's slide. The Pier Ballroom roller-coaster, a bandstand and stage were vaudeville concerts and theatrical show took place. That stage was her first as a child. She went onto becoming an American actress, comedian, model, film-studio executive and producer. Lucille Desiree Ball Morton.....produced I love Lucy, The Lucy-Desi Comedy Hour, The Lucy Show, Here's Lucy, Mission Impossible, and Star Trek. Her studios, the former RKO Radio Picture Studios , now the Desilu Productions that they bought are open to the public in Jamestown, NY. She is buried there at Lake View Cemetary and this statue sit's in her favorite Celoron Park. She stood in front of that bull before anyone.....and won ! In 1934 in a skit with Larry The Three Stooges gave Lucy her big break ! She was the girlfriend to football star in Three Little Pig Skins. Lucy also was the person singer Cher turned to ask for guidance in divorcing Sony as Lucy knew the scenerio all to well with Desi.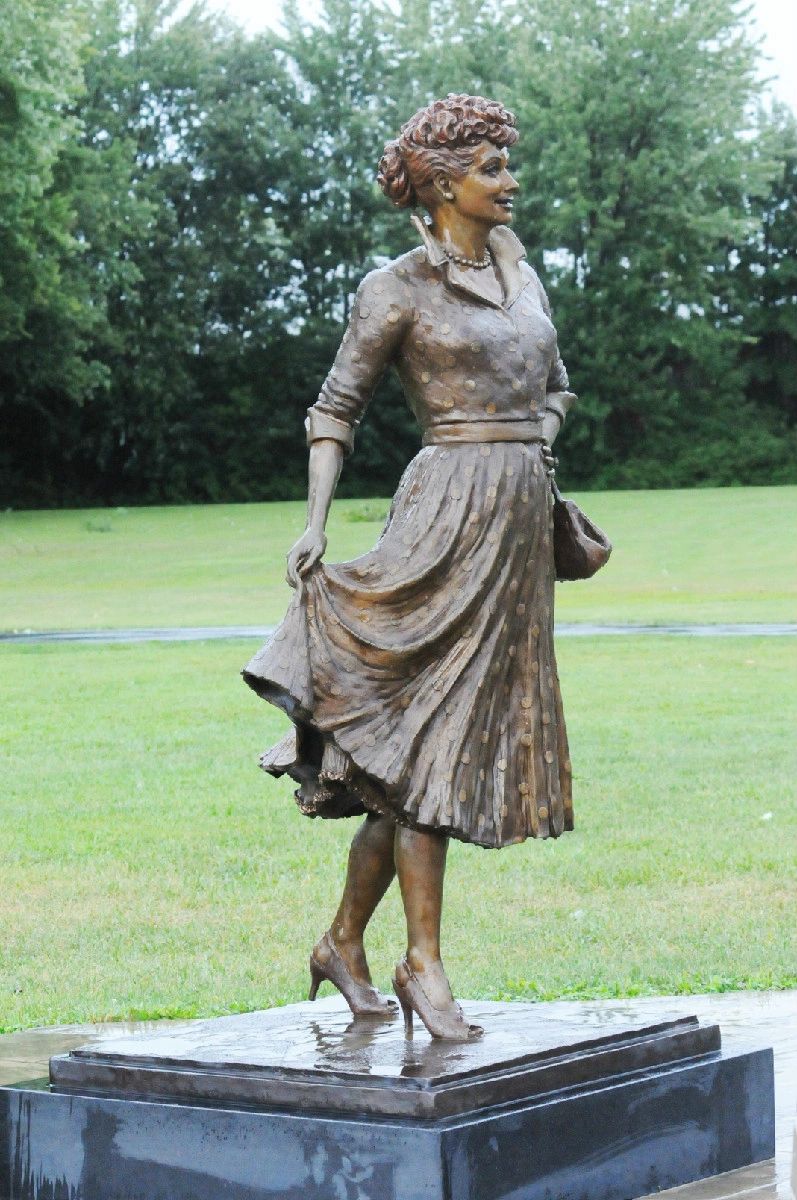 On January 29, 1998 at The Nassau Coliseum I took this photo of a Long Islander on his Opening Night. Just before Holtsville Hal did his opening debut. The Piano Man, Billy Joel, Hal would love to have as his Honorary Mayor of the Day.


The Thunderbirds fly about 650 Miles an hour and are capable of going 1,350 Miles and hour. They fly at air shows Under the sound barrier
and for a very good reason......if they broke the sound barrier at a show all the glass within the radius would shatter !......OOPS
Wake Up Earlier This Year …… Hint !

Groundhog Day 2021 ….is Tuesday this year ! Dress warm,
bring your cameras and Please Donate to the over 100 Rescued Animals in " OUR ZOO " ! For their food and Veterinarian care



........SO have you seen the Play....GROUNDHOG DAY yet ?? !
It was 2:00 PM everyone should have been at work.....and the theater
was PACKED...not a seat (1,222) was vacant ! What ?! So I had to ask the couple next to me WHY are you here ?! And this is the answer ......The woman said to me.. " I'M " NED RYSON'S " (in the play today) ....Babysitter ! " I've been with him since he was a little boy ! " That was the best answer I could of gotten....What's the possibilities ?!.....So of course " BING " I handed her Holtsville Hal's postcard and invited them, Ned, and the entire staff to this coming Groundhog Day ! Nominated...for count them.....7 Tony Awards ! The show was great from the first moment you entered the theater and the props, fantastic ! And your talking to someone who has seen the movie..........a FEW ............times ! It was an immediate and complete STANDING OVATION at the end......a Must see ! Groundhog lovers...see it ! But don't PARK in the garages on that street ! We did and for up to 10 hours it says 49.00 and we read the sign from top to bottom...but when paying it was $59.00 that included a SERVICE CHARGE......and we paid CASH......service charge for WHAT ! That was all written on a 8 1/2" by 11" sheet of paper only next to the booth where you pay......in a FONT SIZE you could only see if you stood an inch from it ! NEVER AGAIN will I EVER trust their signs (or park there)
it's a disgrace, misleading, and the mayor should stop it !
In the words of Actress Barrett Doss who plays Rita Hanson in the play " The idea that Everyday Can Be Groundhog Day is kind of Profound ...That Every Day CAN BE an Opportunity to Hope for the Future and Every Day CAN BE an Opportunity to Change Your Life for the Better ! "

White Female 7 Year old Hybrid Wolf Stolen from " Our " park ! Between the hours of 4:00PM and 7:00AM Monday June 25th 2018... keep looking....
For those of you that are unaware of recent break-ins at the Holtsville Ecology Center

let's bring everyone up to date. First and foremost.....our White Hybrid WOLF (Nakita) was stolen from a " Secure Cage " . Police say, the persons Had To Have Known how the security gates work ! The Wolf and people responsible are YET to be found. This is NOT the first time of a break-in....BUT it is Now Officially the END OF THE LINE for a lax in " OUR PARK " security to Protect our over 100 Rescued animals we enjoy and sponsor the care of. Until the Wolf is returned, until we find out who let the Mustang Horses loose from their corral, and until we find who broke into and ransacked the buildings, and created the video found on social media after hours of people bragging they were in the zoo....with the animals in the middle of the night, we Are searching for you. The people and I fought to save this park from closure, we work hard to create pleasant life long memories for children and their families and intend to continue just that. In an article on ( August 9-15th ) The Long Island Advance Newspaper

Featured my second request to install security cameras , Ed Romaine ( Brookhaven Town Supervisor) informed me almost 2 years ago that we "Have the Funds ! " HAVE the Funds...…. and yet the man in charge of the park Dan Lasquadro….. still waited till " The Barn Doors Are Wide Open, All The Horses ARE Gone......and Now they're going to put a lock on the Door " Stop the excuses there are none ( Why isn't the ASPCA handling this instead ?! ).....so with " Our " money...... Put up the Cameras the best money can buy....The Rescued Animals can't do it. It's NOT a Tax Payer BURDEN when the park WAS FREE ( Remember ?! ) and now a TOLL BOOTH collects continuous money to end up not just " our park "... but into a "" GENERAL FUND "" for elsewhere too, That's Absolutely Wrong ( That Should Not Be ) these cameras are Seriously over due by some 30 years …...since the park opened ! We'll All be Watching ! Well over 70,337 of us world wide are looking for the safe return of our White Wolf.....that looks like a dog ….Get the word out....! And Help get our Wolf " Home " !! ….Up Date....The cameras are Finally now in place.....and the animals now have a Big Brother watching over them. But make no mistake the stolen Wolf is on the top of many lists....this polarized focus, will NOT Fade. Tips to ... 5th Squad Det. Call -631-854-8552




Sadly after well over a hundred years the Greatest Show on Earth has closed. I remember first going to it in Brooklyn where I walked right up and touched one of the many elephants , greeting you at the front doors. We went to it several times, bringing home exciting hand held lights we lit there adding to the endless excitment ,creating now a memory like Coney Island in it's Hay Day, or Freedom Land where we helped put out the Chicago Fire that Mrs. O'Leary's Cow started, pumping water from the vintage Fire Department Pumper. Then Palisades Park where divers climbed a hundred feet and dove into the water below, and groups created songs like Palisades Park. These places like the World's Fair are all becoming just a memory, a memory of excitment, laughter and good ole One On One interaction with our parents, friends and family. It's why I believe so much in Groundhog Day, it should bring us all Back to The Future, and Reestablish the Desire to put down that Electronic Distraction and Communicate and Focus on our Friends and Family that too one day will be gone. Ringling Bros. Thank You.... Forever !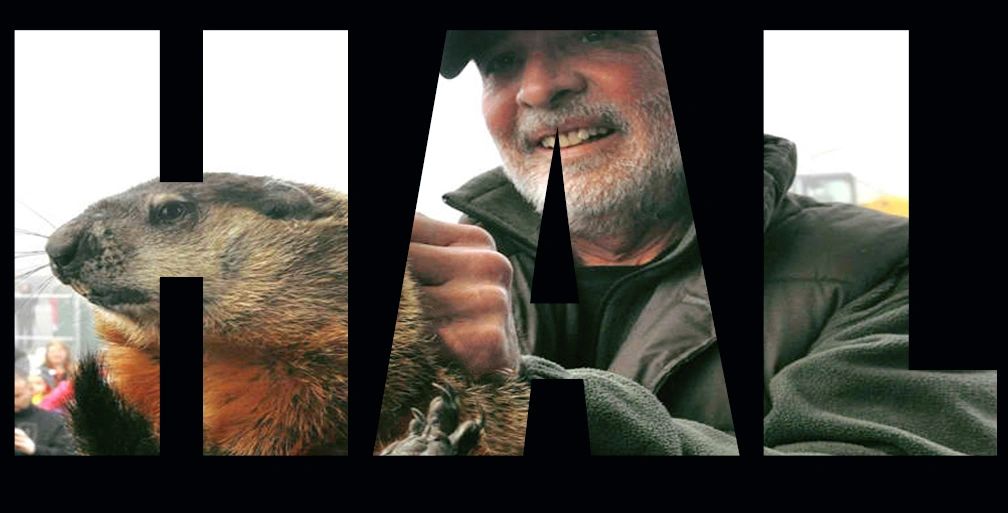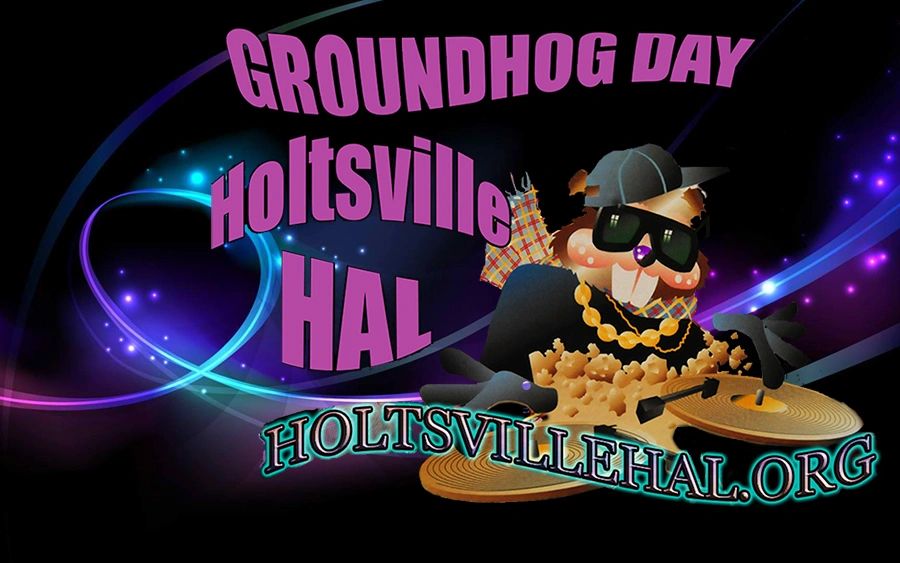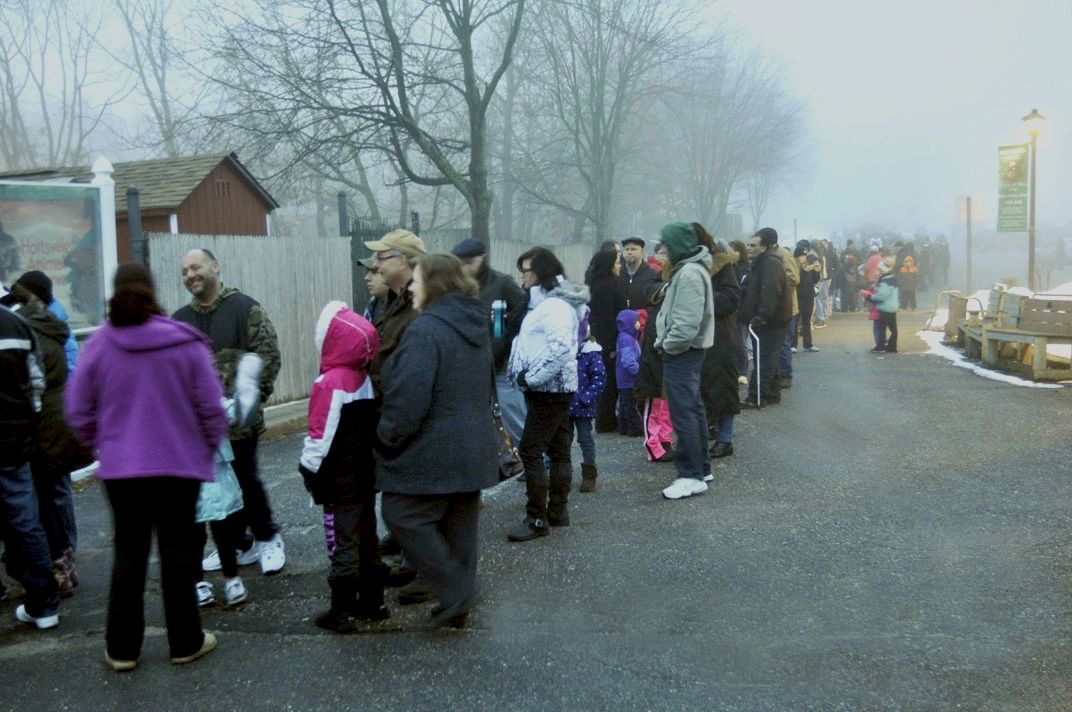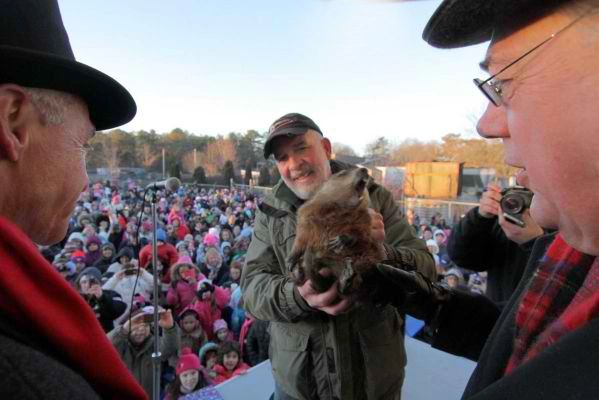 To all our friends who love the Holtsville Ecology Center and Wildlife Preserve. You can adopt anyone of our animals in the zoo and they would be so happy for it ! And there is a " Wishing Well " inside..... with the simple change in your pockets, you Can Make a difference by donating to the food and veterinarian care year round for all of our Rescued Animals you enjoy visiting. PLEASE
Don't forget your cameras......and a few quarters or change and make a wish ! On behalf of all
the animals..............THANK YOU FOR CARING ! See you SATURDAY February 2, 2019 7:00 AM......arrive Early to get a parking spot for Groundhog Lovers Only !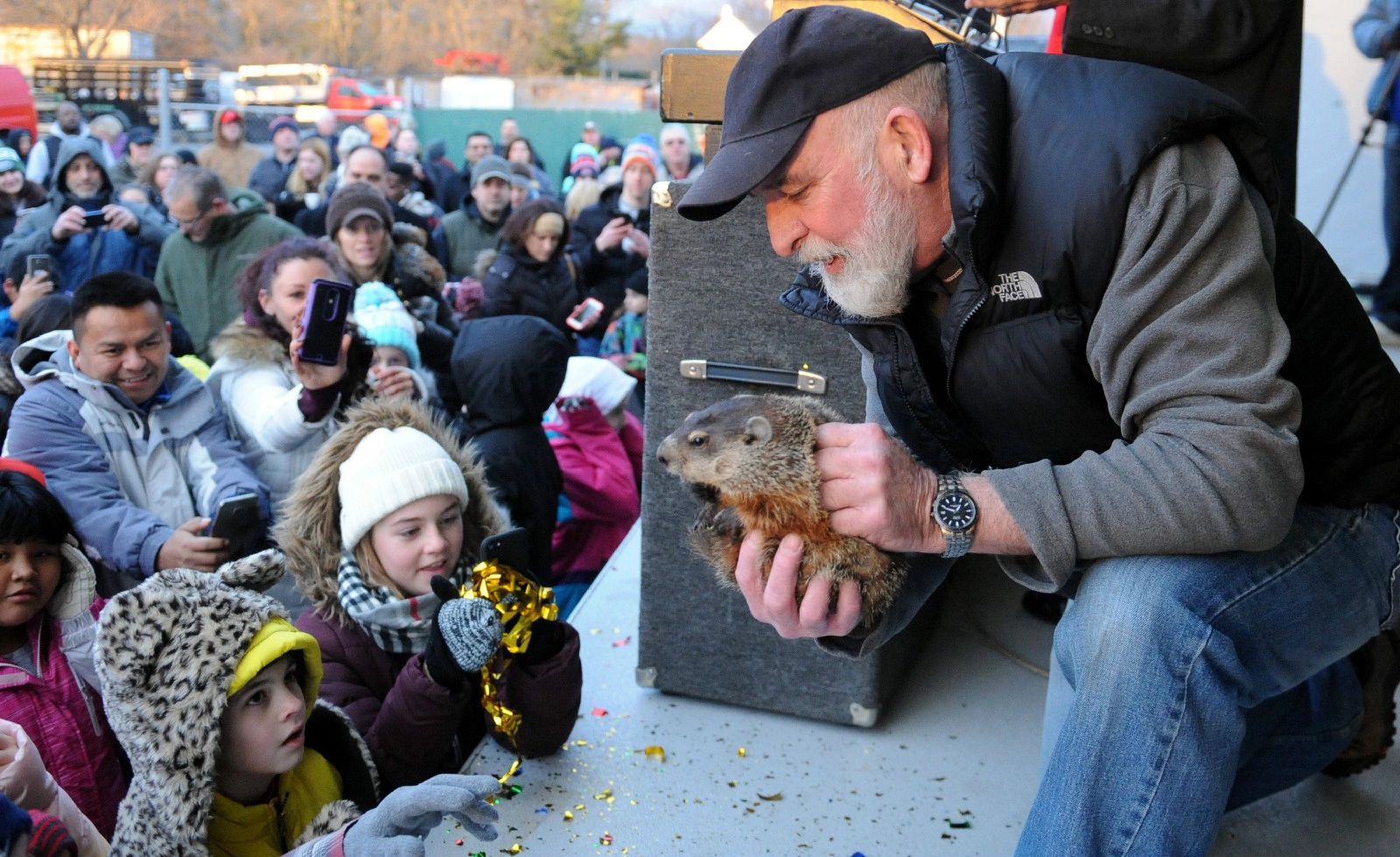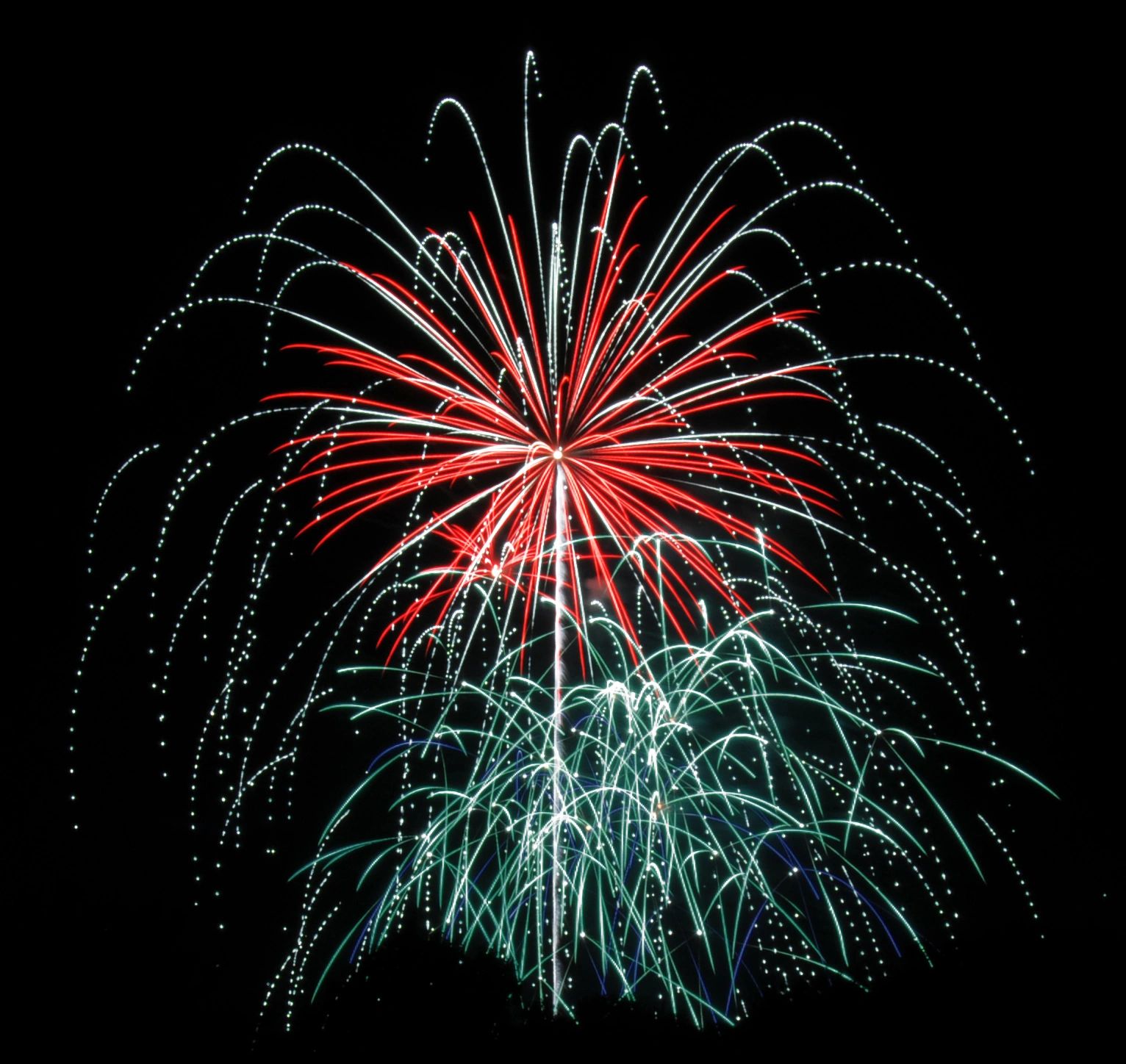 BLACK FRIDAY IN HOLTSVILLE
Black Friday took on a whole new meaning when thousands of Black Birds attacked neighborhoods in Holtsville eating everything in sight on every lawn and tree, in preparation to visiting their relatives down South for the winter ! Apparently they still rather fly then take the train. I wonder if any of them were relatives to the birds in the Alfred Hitchcock's 1963 movie, The Birds ?!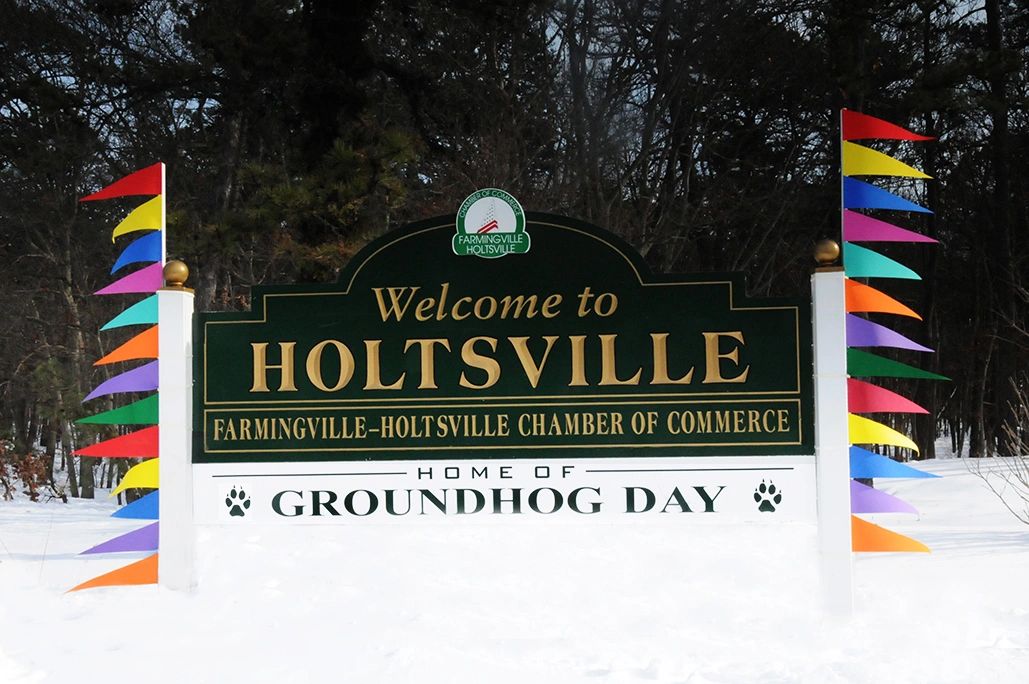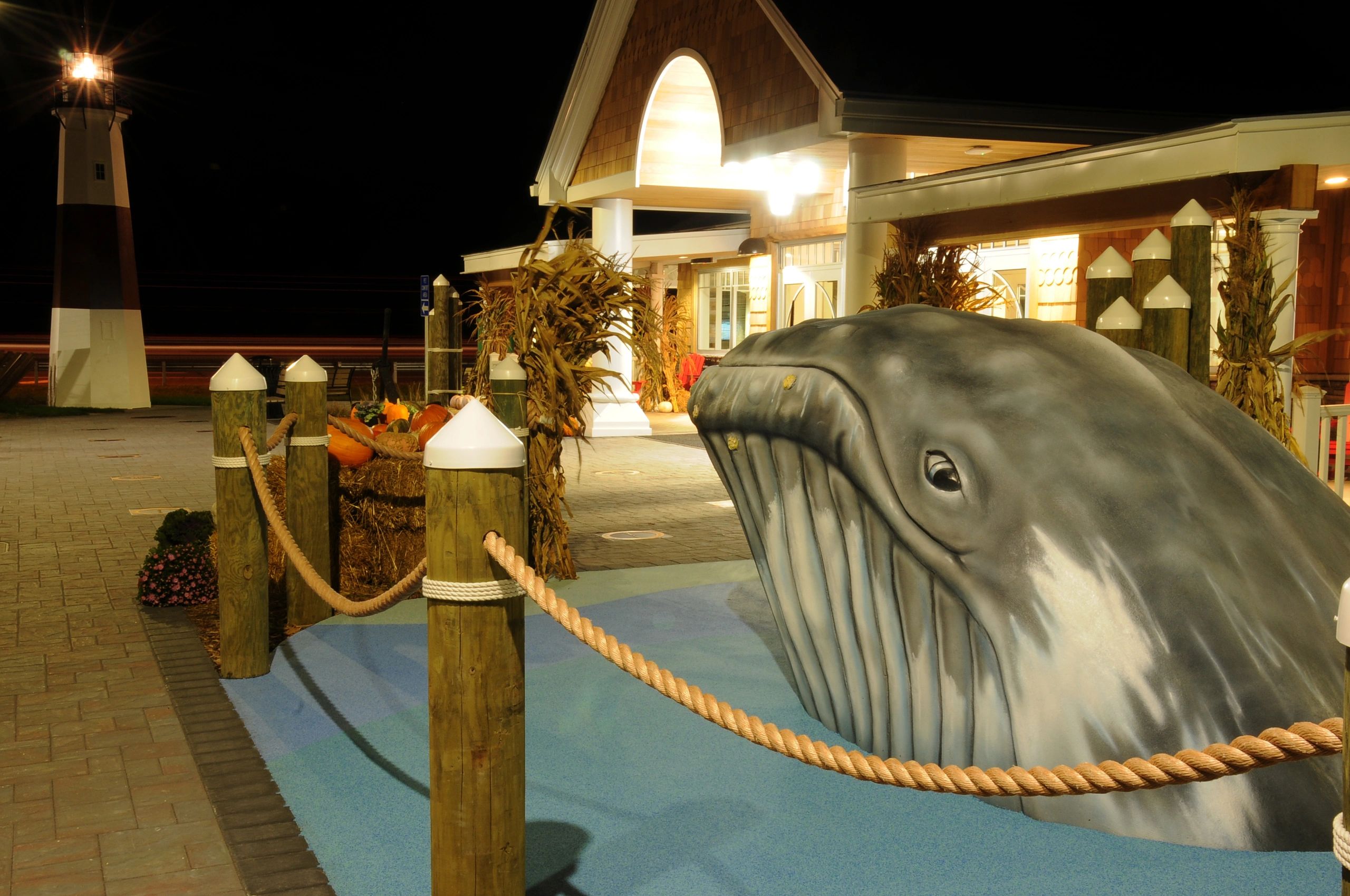 Now if you're traveling from the West on The Long Island Expressway you might want to stop for a second at the new "REST AREA" between exits 51 & 52 but remember.........Holtsville is exit 62 and to get a good parking spot in the crowd of Groundhog Lovers be warned..........We're up early so give yourself plenty of time to arrive park and enjoy the 7:00 AM show !
Now if your traveling at night and are tired at the wheel......you might want to pick up a Coffee
or Hot Chocolate.....
Prior
this " REST AREA ". Because it's not serving coffee over night, apparently the actual function of keeping drivers awake wasn't considered. Plus not like rest areas across America....this one doesn't now allow the tractor trailer drivers the courtesy of also
stopping and using the facility that used to be where " they " parked and slept over night to be
ready in the morning to deliver all the goods we all purchase in the stores.......Huh ????!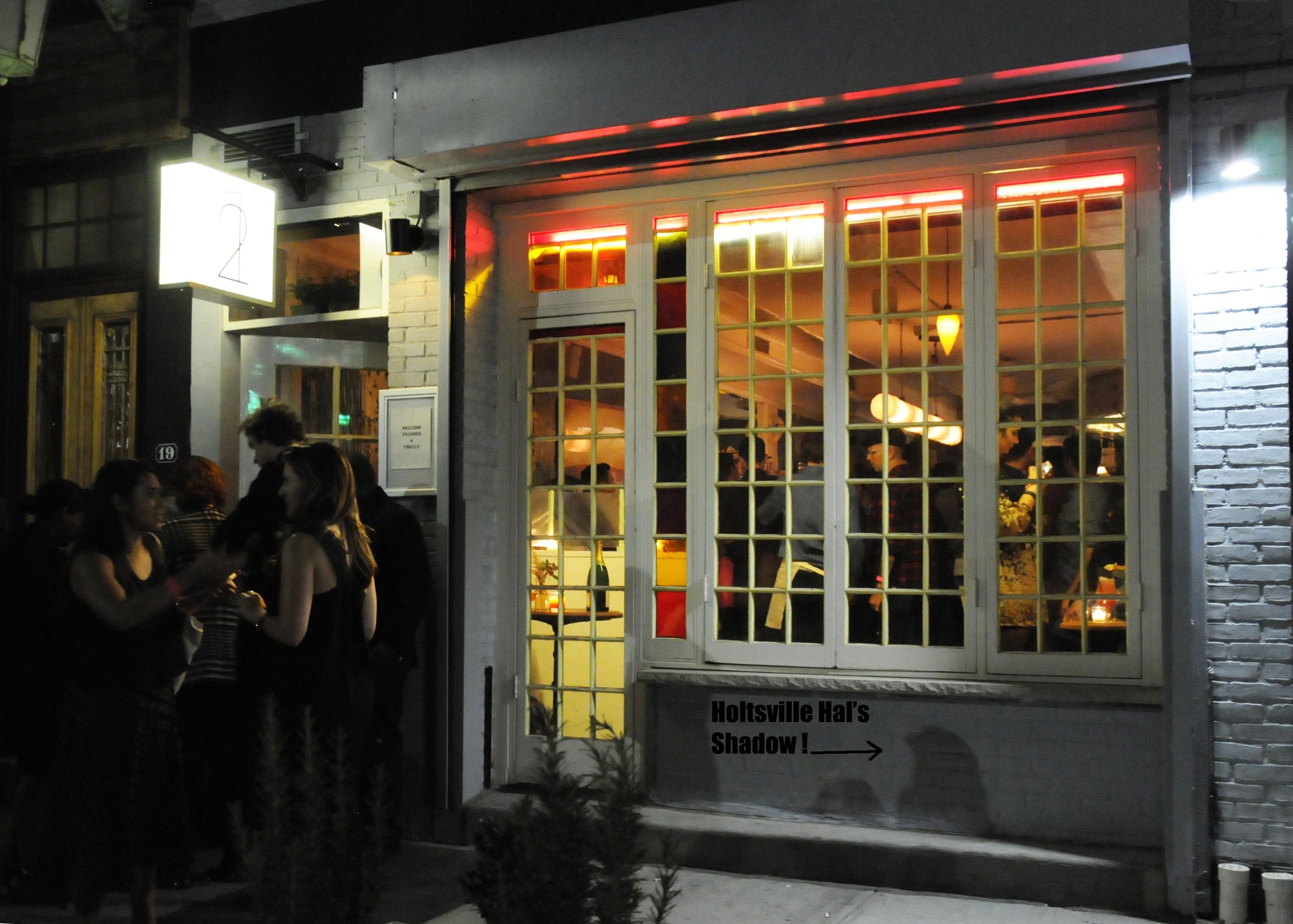 So you wonder why was HOLTSVILLE HAL seen outside a Brooklyn Restaurant and Pub on Friday September 16th ?! His shadow appears under the window just as this photo of it was taken ! Hal was waiting patiently on line to get in after we HANDED the Honored
Guest of the evening................HOLTSVILLE HAL'S GROUNDHOG DAY HAT...... ! The Honored guest walked into the cute Brooklyn Restaurant/Pub with the Hat in hand !.....He was there for the Grand Opening of his son's place . But why would Holtsville Hal be interested ?
Well......................Just Maybe the honored guest.... BILL MURRAY ....of the Movie Groundhog Day did it !!
As the Guest of honor and father to Homer seen here arriving, the partner owner of the Restaurant and Pub in Brooklyn arrived.....not in their car because on the highway in the Bronx, their car broke down, and a random passenger in a taxi picked them up and got them to the Resturant/pub called 21 Greenpoint....there Holtsville Hal's Groundhog Day hat was handed by me to BILL MURRAY , his words were " I can't take that from you, and my reply " Oh yes you can, by all means, Holtsville Hal will be Honored that you did " And as he organized his gifts, going in, Hal's Hat was right there, going in by his teeth ! To Homer, his partner, the staff there, and of Course the GUEST of HONOR Bill Murray......February 2, is GROUNDHOG DAY...........and HAL and all his friends would be truly honored to have you on stage with them to make the Offical Prognostication reading for next year 2018....! Just in time for the Groundhog Day play with Bill Murray coming to the Big Apple kids ! And Bill you could even hand out drinks after, to all the kids and their friends and family,
and one you Don't know................Yet ! Hal's favorite.......named after him..........HOT HALUCCINO !
at our Groundhog Day ceremonies in Holtsville would definitely be as good as being at the Play......Because you made it worth reliving.....over and over and over, and the over 100 rescued Animals we support in our zoo with the event makes it
truly extra special....!
In the 1980's Ghostbuster's Director Ivan Reitman was considered by Warner Bros. to develop a Big Screen vehicle for Batman ! Reitman's choice for the Lead Role.....................was Bill Murray as Batman and Eddie Murphy as Robin. But the comic book took a turn to a darker look and it never materialized.

In Groundhog Day....
That " POTHOLE " Bill stepped into......It was put there, for the movie....It was So Cold.....that Bill wrapped his foot plastic wrap then put a skin divers wet suit material neopreme on his foot then 3 pairs of socks. Styro Foam was put on the water to look like snow. The water in the hole began to freeze instantly. Remember: " Watch out for that First Step it's a Doozy ! "
As soon as they called " Cut " Bill started having a fit from the cold water....they immediately took him to a room to get blow dryers on his foot. He said if he gets Frost Bite he'd sue. He was furious , and had to do it....Over and Over, and Over
again............


In 1976 an arcade game was invented by Aaron Fechter of Creative Engineering inc. called " Whac-A-Mole ". I wonder if he was a Farmer ? In Japan Mole Buster is a popular arcade game that also was invented in 1975 by Kazuo Yamada of Togo. If you recall the White Ford Bronco and how it got it's popularity....I'm sure soon we'll be seeeing the Orange Jeep Rubicon any day now across America. In a short time ( two weeks prior the Big Game and after Fiat Chrysler had given up on Murray answering, they finally gave up ) but in true style, in just two weeks Murray responded and they hit it on the head and became the voted best commercial !! Phil & Ned and Phil and Buster Green, Phil's real life brother, all had to relive another endless day Of Groundhog Day.... Sports Plus here on Long Island had a similar with Aligators that came out at you, The games increases speed as your skills increase. Europe doesn't celebrate Groundhog Day because they really are only found here in the United States from Alaska to Georgia ! If we spot that Orange Jeep Rubicon this summer we'll be doing a double take to see Who's strapped in the passenger seat !

And remember to wear your helmet when on your bicycle....Saftey First !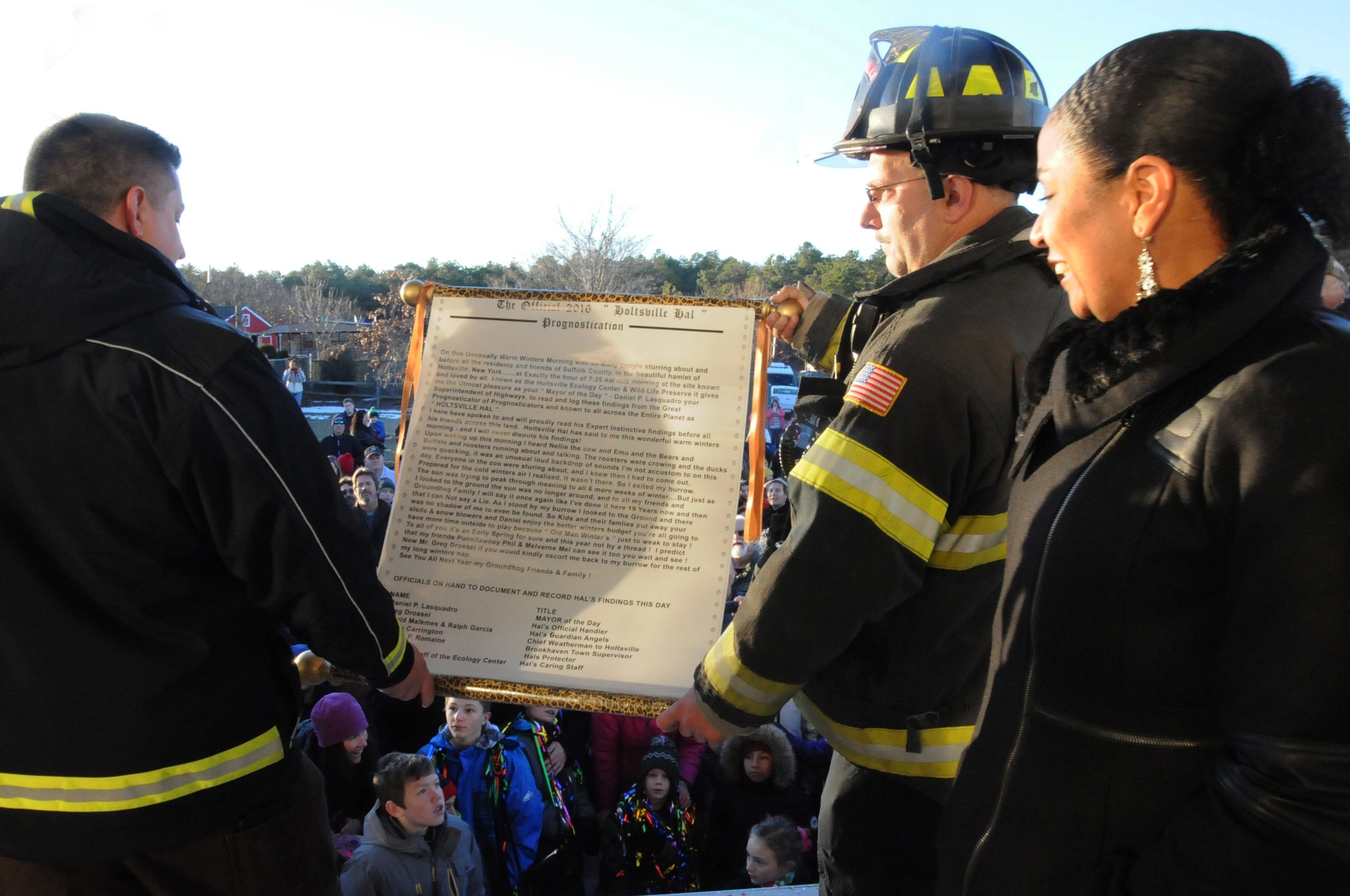 Holtsville Hal's 21 Gun Salute.....After all Hal deserves it, as do those who come to greet him. Miles of colored mylar streamers cover the crowds and
give them something to bring home for their rooms as a reminder that it's only 364 days till we set our alarm clocks once more and wake our families !



Don't Worry Hal.....he's not coming..LOL
He's Always Late Anyway !

The First Sign of Fall I found in an area of Brooklyn called DUMBO, looking across with the Manhattan Bridge to the side and actually several trees that already lost all their leaves and it's only September. Dumbo is an acronym.....for
Down Under the Manhattan Bridge Overpass. What a Dumb Name....right!....Ahhhh....Artists that came to this industrial factory area, where Brillo was made and the Cardboard Box was invented....didn't want developers to take notice or interest so they could keep living and working there cheaper ...SO..
the residents came up with the name....to DETER Developers
interests......and It Worked ! Not so DUMBO after all !
Maybe we should change Holtsville to Hooterville and lower the taxes too !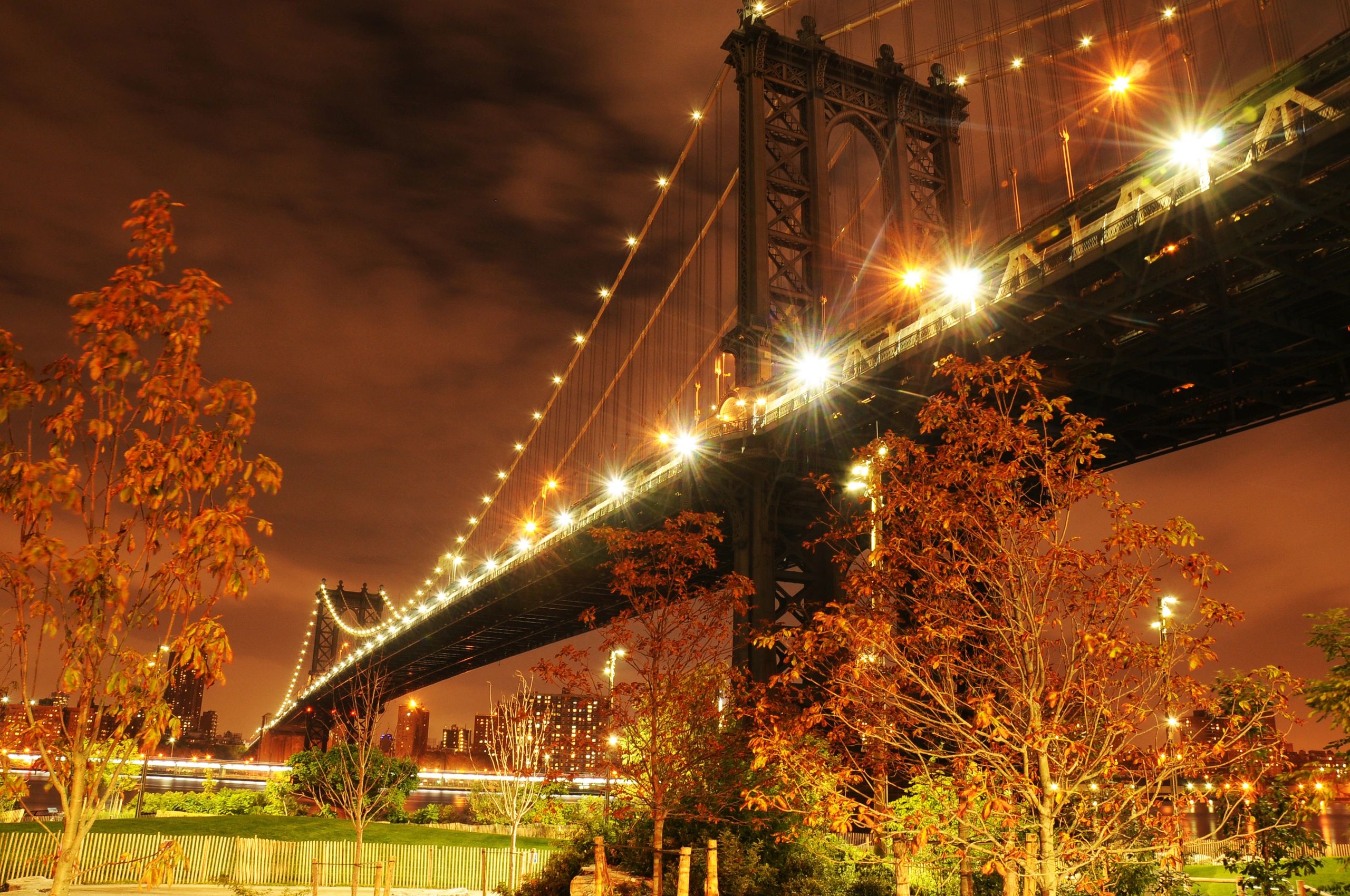 From the Manhattan Bridge, Brooklyn side looking towards New York this says Oy Vey, but from the New York side looking at Brooklyn it says ........YO !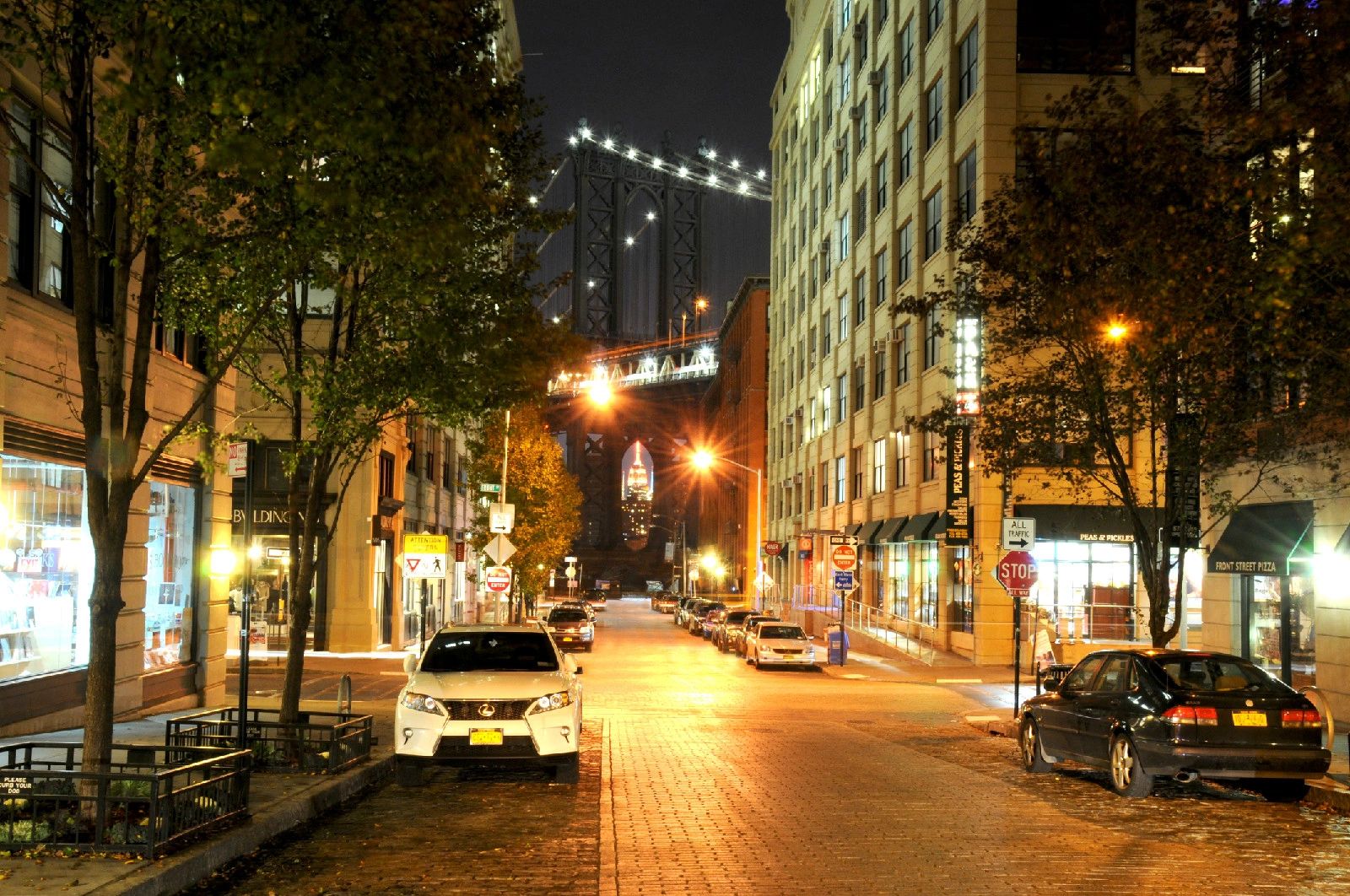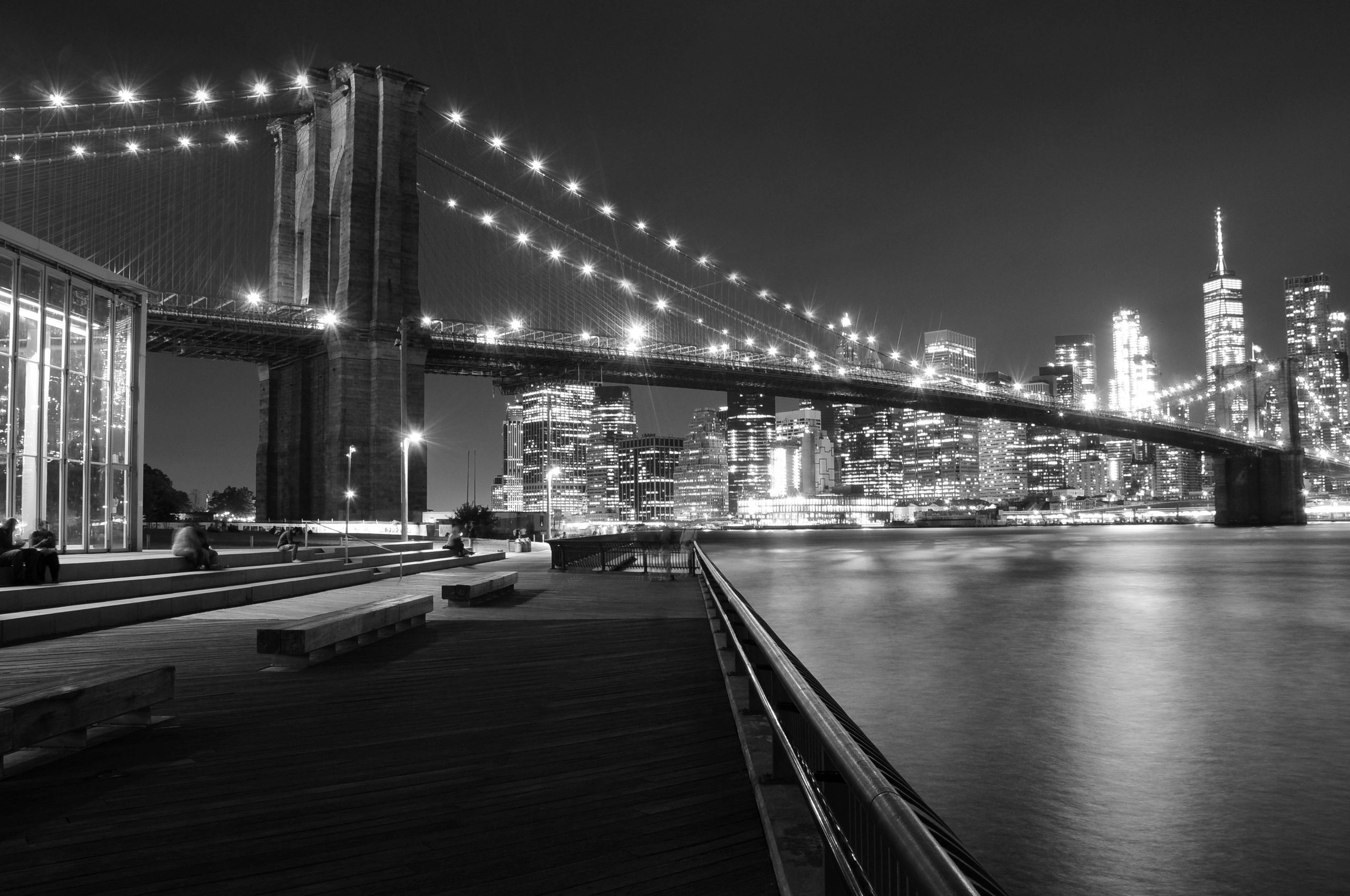 It's called " SeaGlass " and it's located now Downtown in Battery Park, NYC by the Staten Island Ferry building. $5.00 will put
you on this Unique Carousel of fish in an Aquarium atmosphere. Definately.............COOL ! ......WWW.SeaglassCarouselNYC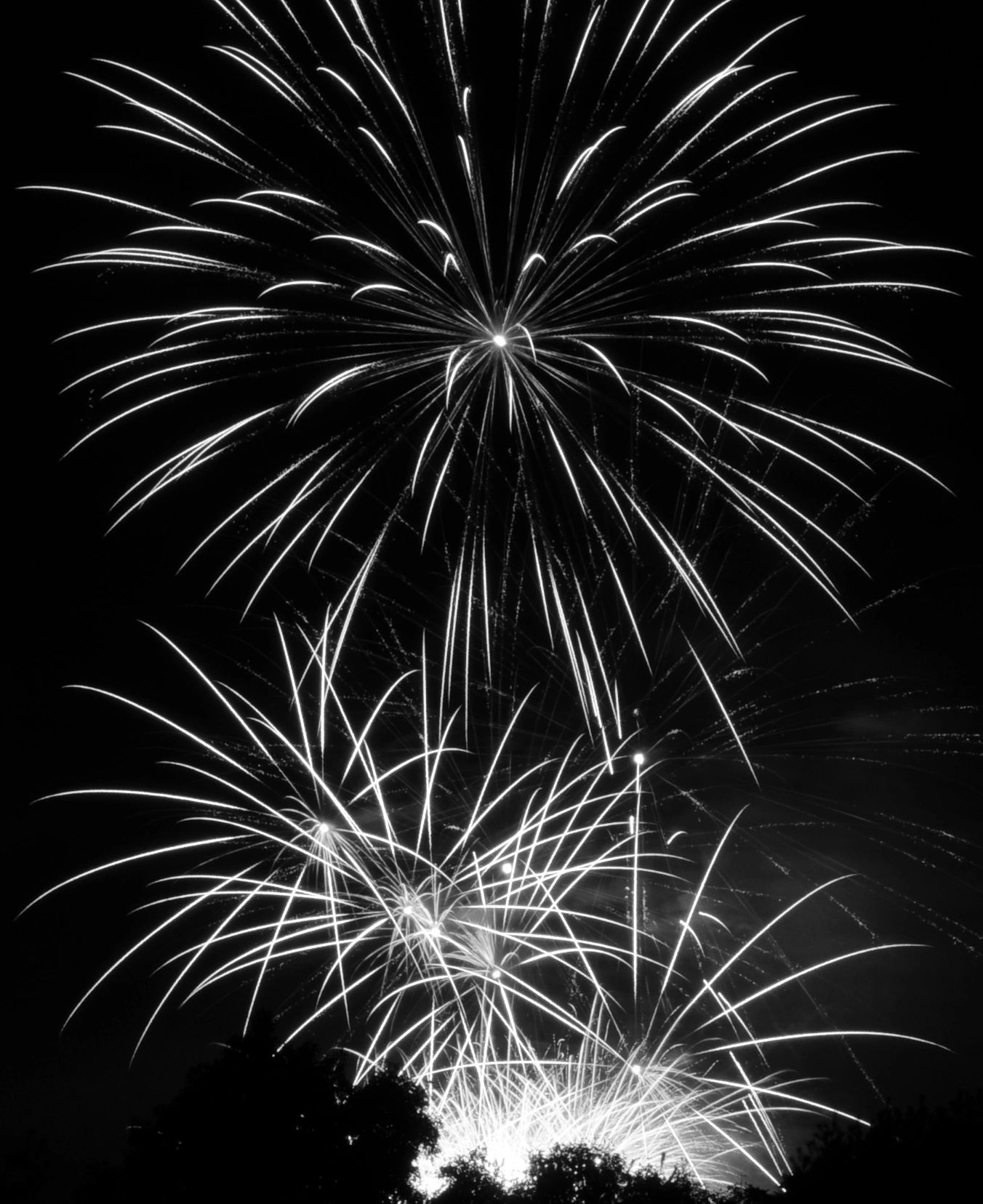 On this 2015 cold February morning, in the Hamlet of Holtsville, in the Town of Brookhaven, New York Holtsville Hal woke from a deep winters sleep at the Holtsville Ecology Center and Wildlife Preserve. Hal was in for a surprise something he never expected. Upon exiting his Burrow he looked around. His head turned from Right to Left and then he spun around. He then again Looked from Left to Right still without looking down yet. His head shook wondering why with his presents there was no sound, let alone anything loud.....? Then he realized.....Where's the Crowd ?! After 19 years, have I gotten this day wrong? I hear no announcement not even a song ! Then he turned and saw a man in a Top Hat, and knew then it was the Mayor of the Day ! He was in fact Right on this Day and proceeded to look down at the White Snow then looked up to Daniel P. Losquadro and said there's something you should know. There's nobody here it's more then quite clear......Dan told him ...for children's safety the Park was closed, but everyone still awaits to hear your Official 2015 Prognostication. So Hal proceeded to tell him in Groundhogese that on the White Snow all about, he did see his Shadow and the thought of Spring must now go.
Sorry Folks.......Six More Weeks of Winter !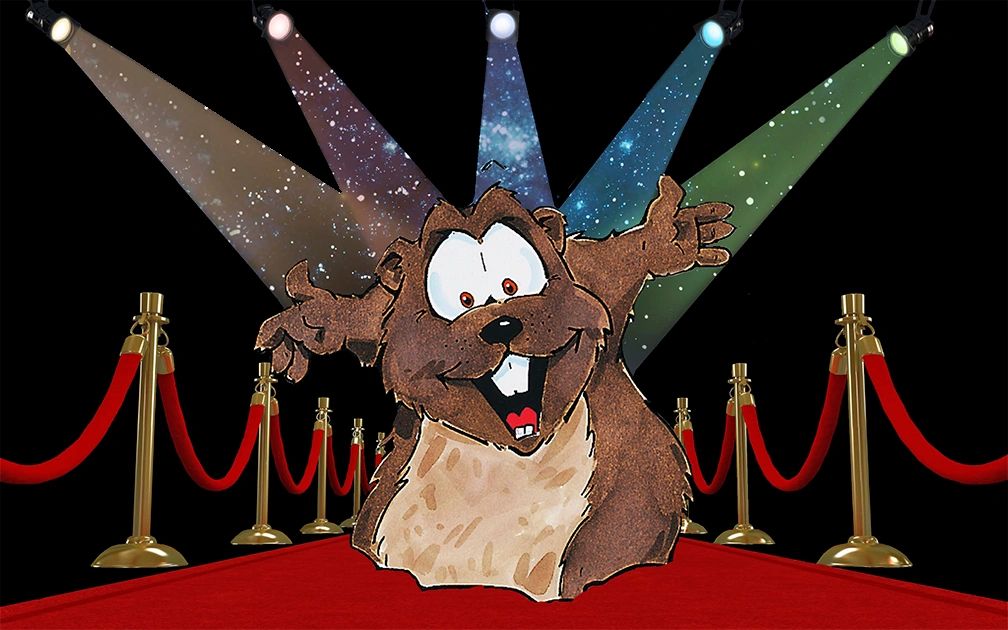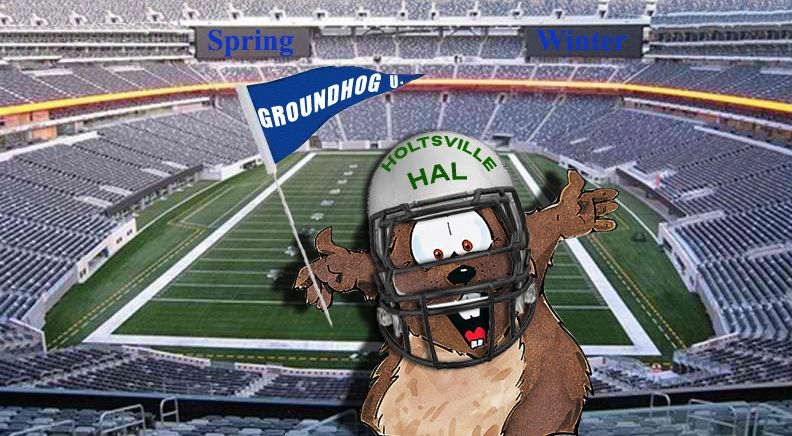 From Left to Right in the above photo that I took on February 2, 1996 is Harold H. Malkmes the 17 Term Superintendent of Highways. It was Harold who studied Horticulture at Farmingdale State University, and brought that knowledge and his vision to take the town dump in Holtsville and create what is now known as the Harold H. Malkmes Ecology and Wildlife Center. Harold with his wife Joyce created the foundation in creating a park now loved by everyone who visits it. It has a complete zoo of animals, Olympic size swimming pool, classrooms, walking and running track with exercise equiptment, and a childrens playground. But Harold had one furry animal he decided to name after him, he didn't see him except on February 2nd, but it was this unique gesture that today lives on. It was this little event of less then a dozen people coming to that even Harold had no idea of where it was headed to. The next man, you could say we've all looked UP to. Because high in the sky all over this world Felix J. Grucci Jr. of Fireworks by Grucci a former US Representitive, and Brookhaven Town Supervisor at the time, and to become elected to the 107th US Congress, has had us all looking up saying ooooh, and awwwh to spectacular explosive artwork in the sky. The next man Greg Drossel, Holtsville Hal's handler a Dean at the Ross School in East Hampton was offered to be the handler of Punxsutawney Phil in the movie Groundhog Day but instead stayed with Hal to this very day. Greg has taken students across the globe on real safari's teaching them about the animals in the wild where they roam free. Next, is then the Brookhaven Superintendent of Highways Patricia Strebel . Hal's guardian angel, Ralph Garcia who believed in my vision by a challenge by my daughter to take Groundhog Day to it's highest potential, immediately built a larger home and area for larger crowds not yet seen. Ralph saw the passion, and went with it, and to him and everyone I say......I've only just begun,
to make Groundhog Day with Holtsville Hal the finest Winter event, for children and families to look forward to from Now until
Forever !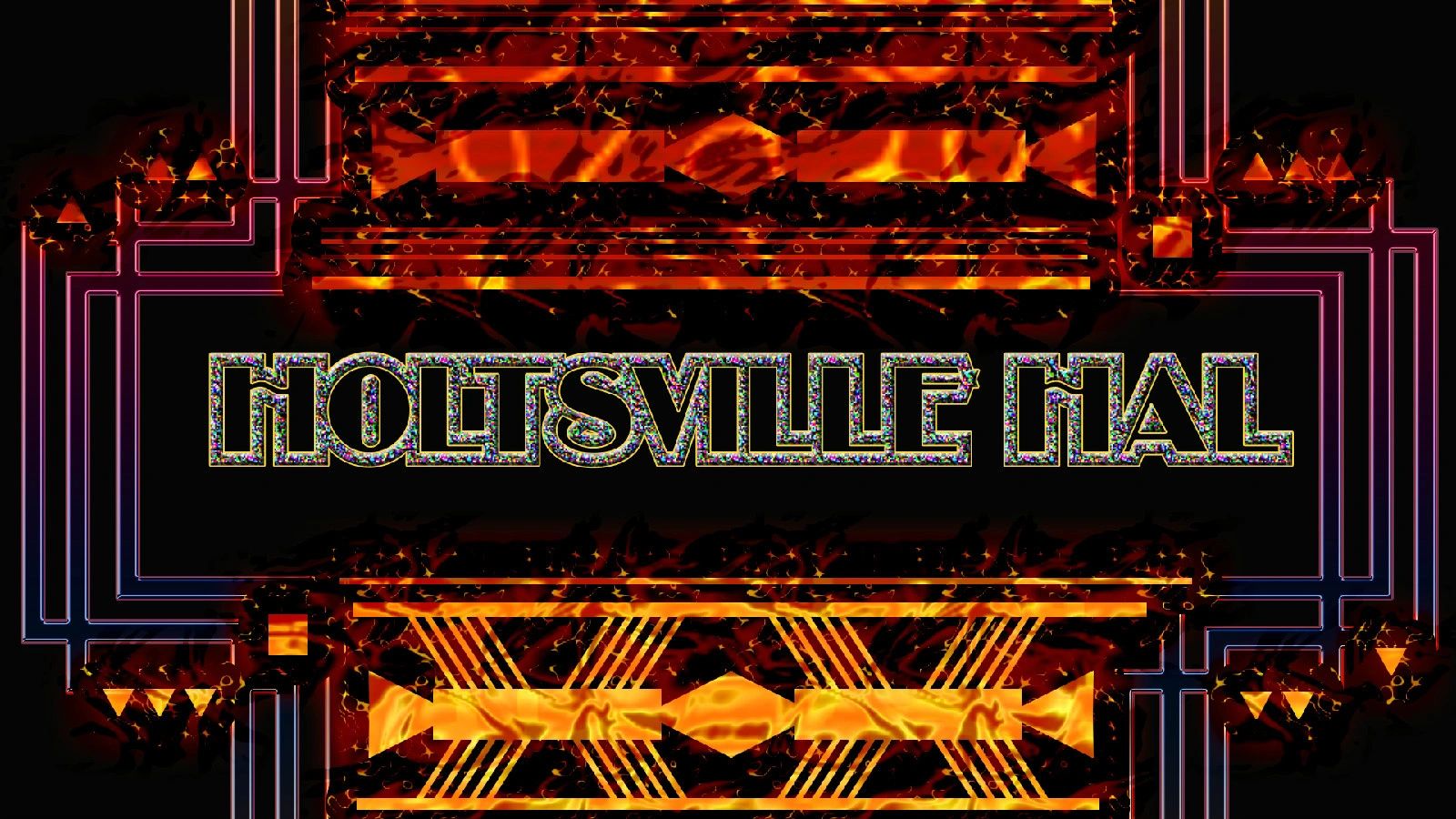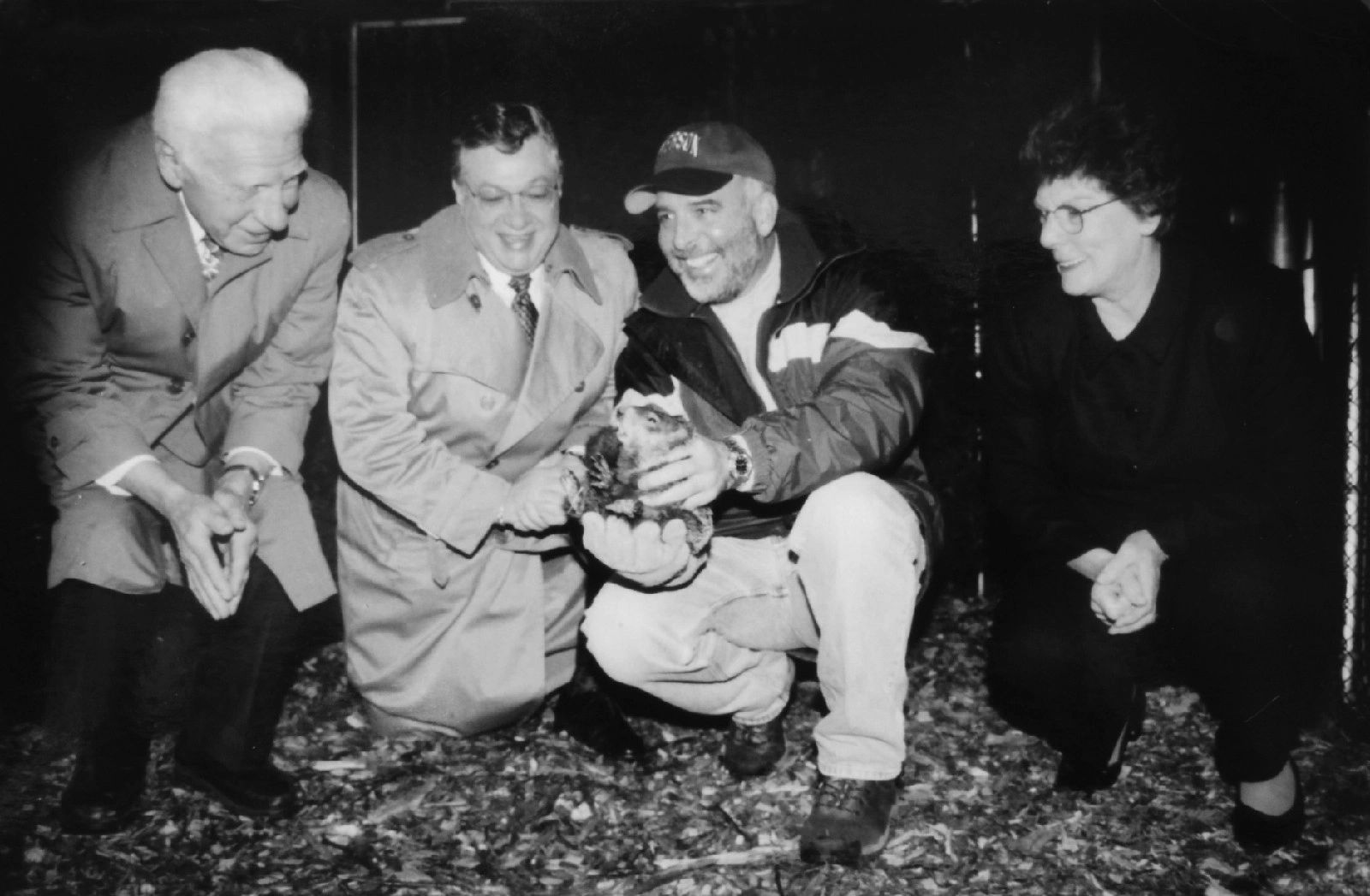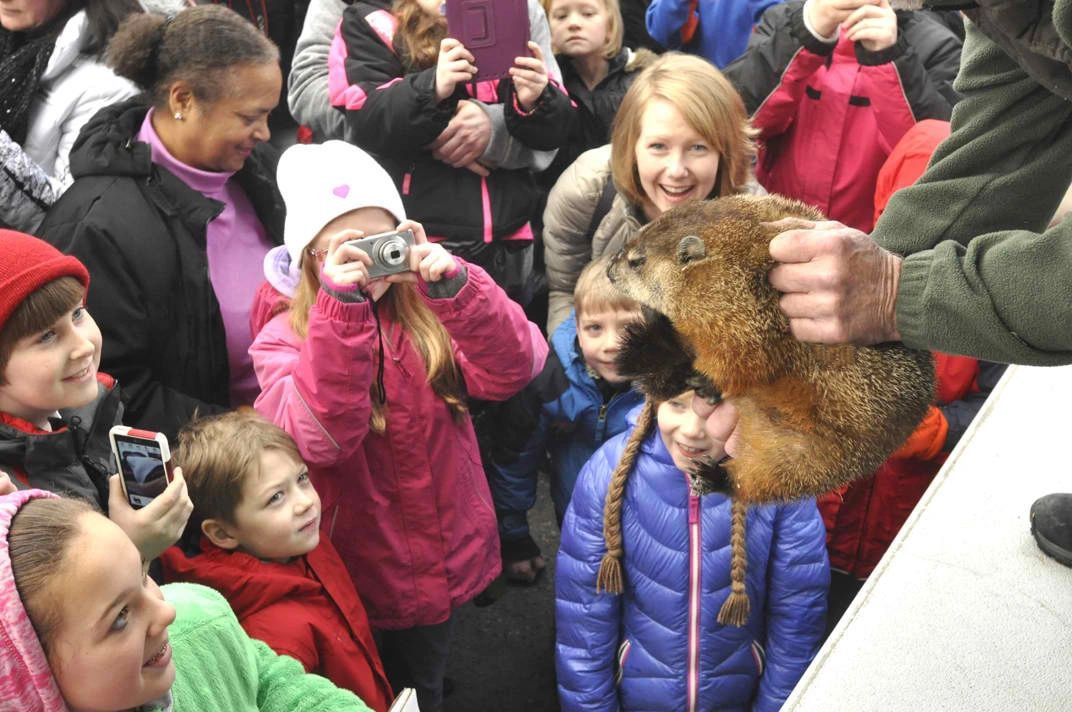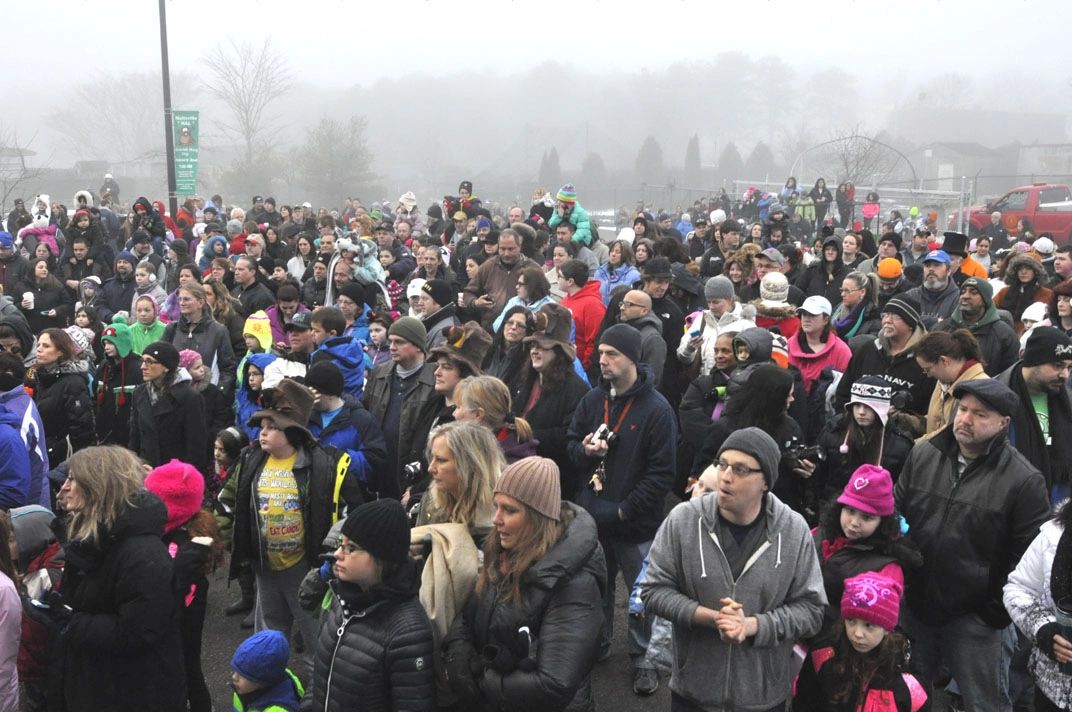 People from all walks of life come each year to Groundhog Day all over the United States where it's held. They put down the electronic devices and spend precious one on one interaction with their children, family, and friends. They create a life long lasting memory in the
death of winter and are glad they did.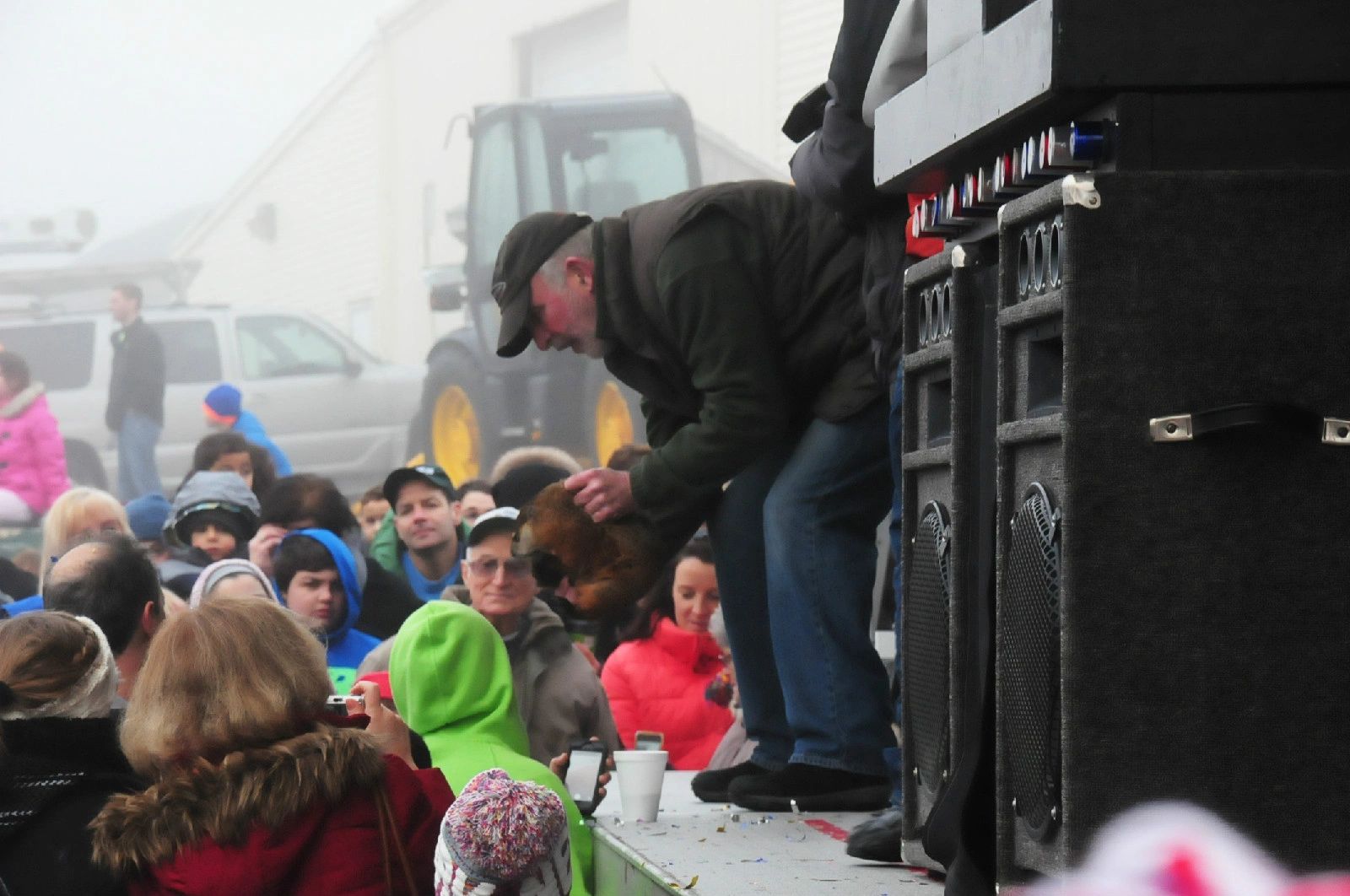 Holtsville Hal's Web Site is educational, inspirational, and fun. Sooooo Who is Stephen Tobolowsky ?! He is NED RYERSON in the movie. That annoying insurance agent, " AM I RIGHT, AM I RIGHT ". It was Ned entering the movie scene that subliminally reminds you this is going to be a funny movie ! Ned has said.....The Movie Groundhog Day shoot took 2 Months. The Very interesting obstical was the day had to exactly Repeat itself. That means it's either, Sun, no sun, rain, snow, foggy...etc. No one ever knew what they were faced with until the idea to make the day repeat itself and the shoot to make it started. This very idea to make it right stopped ALL Actors and crew from having a single Day Off.....they all were on Standby till it was Finished and Complete. Every single scene outside was shot in Sun, Rain, Snow, Gloomy, etc. to make it consistant throughout. Hence........The entire staff REALLY DID have to live the Day.....OVER, and OVER,
and OVER, and OVER again, with no time off ! A good note in the end was.....Stephen's career went from being the bald guy to being the Bald Guy in Groundhog Day !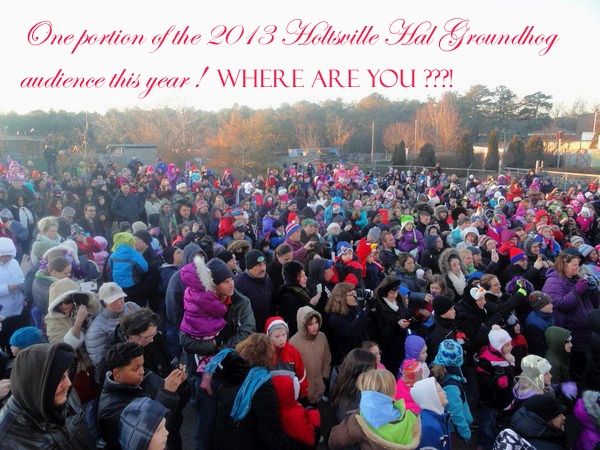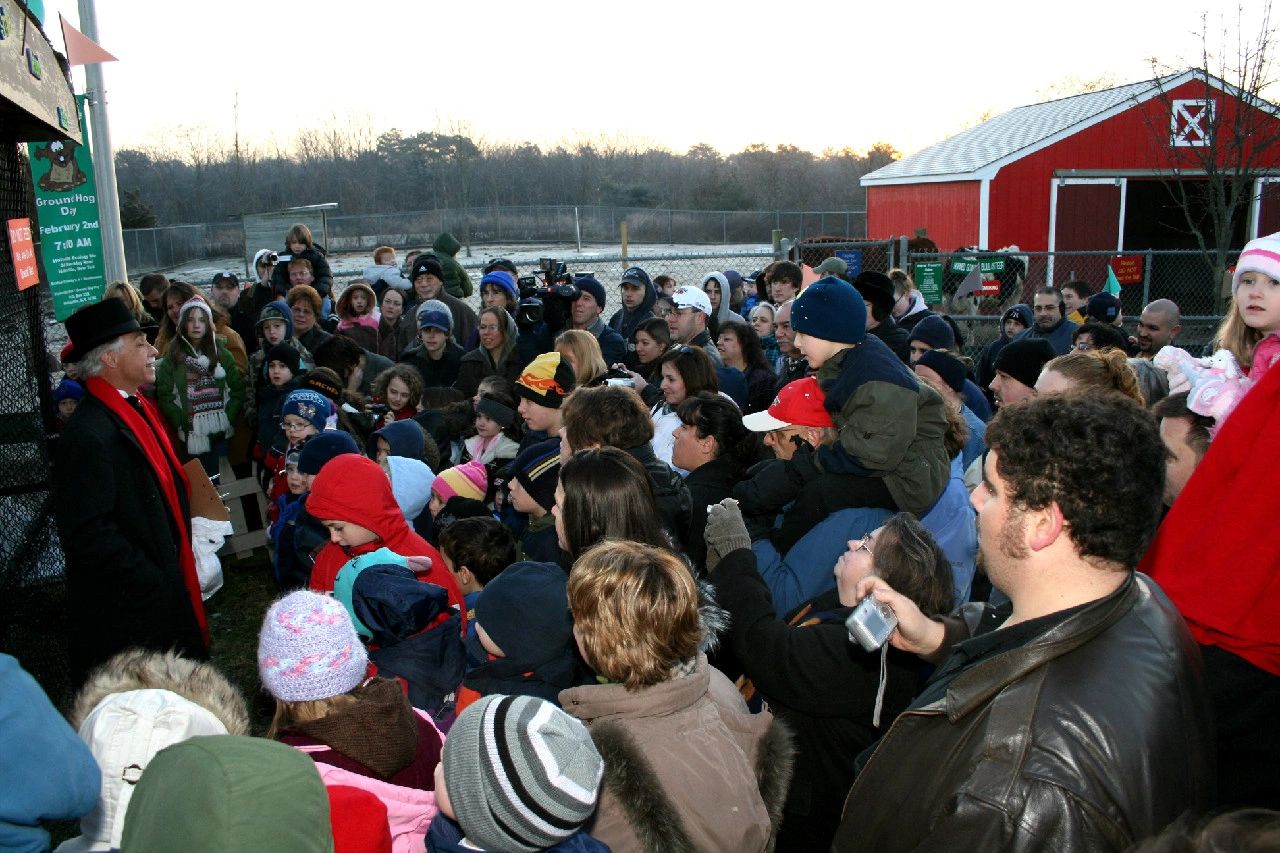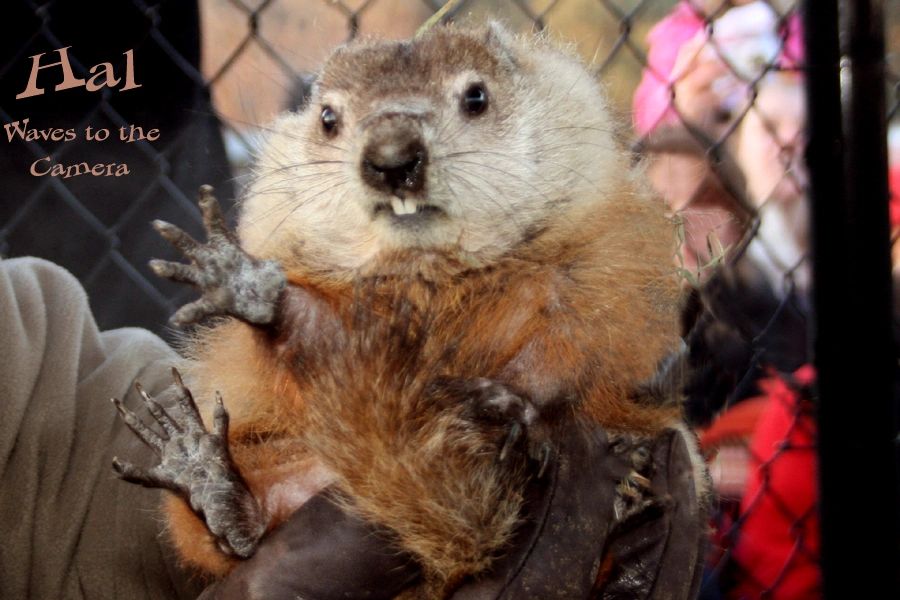 Hibernation is something the Groundhog is known to do every winter. They eat a lot in the fall to help carry them over till Spring....or till February 2nd for Holtsville Hal and all his friends who come out of their burrows some the size of 4 car lengths and deliver their Prognostication winter's prediction before returning for a winters snooze. Their normal body temperature is like yours, 37 degrees Celcius, or
98.6 Fahrenheit....but when in Hibernation it goes down to 5 Degrees Celcius or 41 Degrees Fahrenheit. Their heart beat goes from
80 beats a minute down to 4 or 5 beats when Hibernating !....Wow !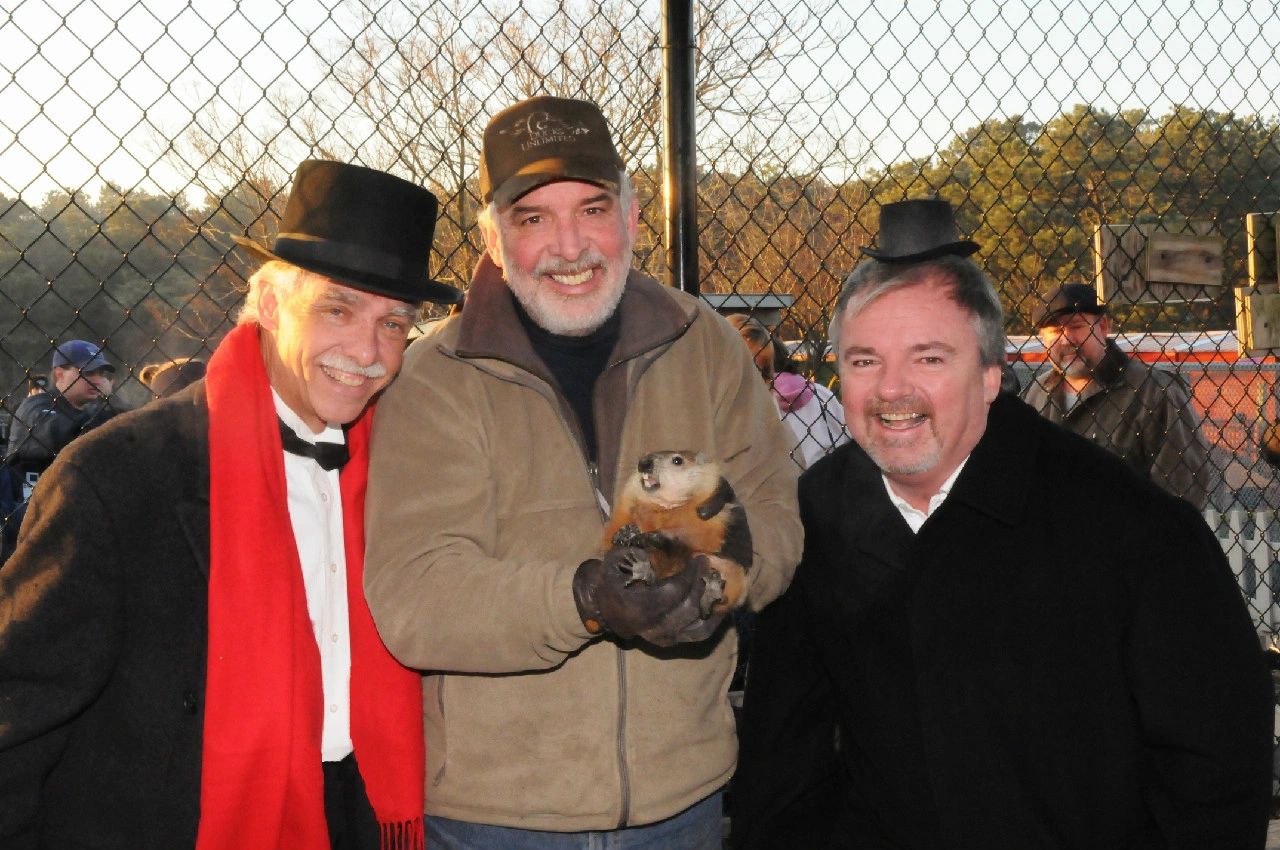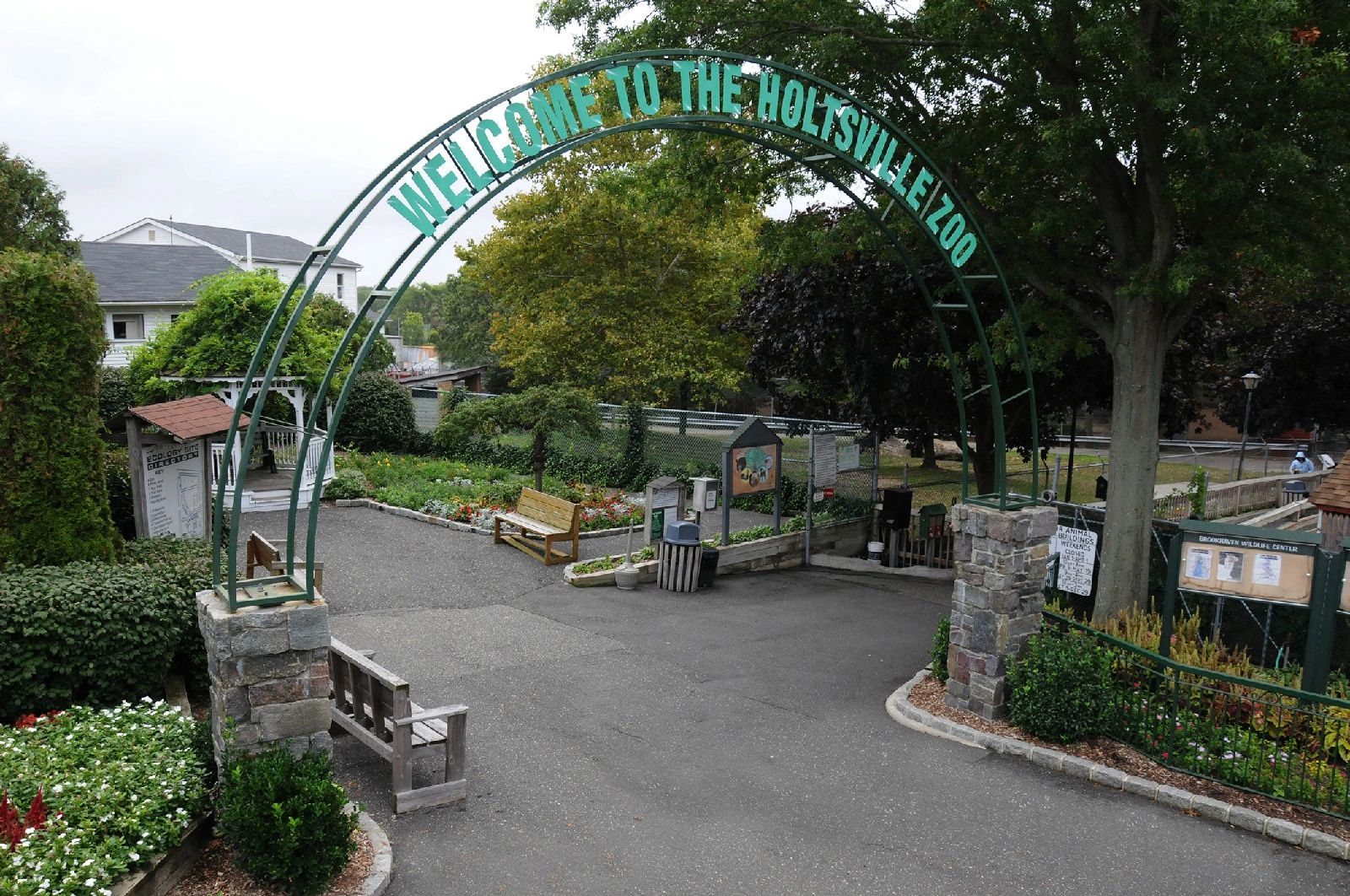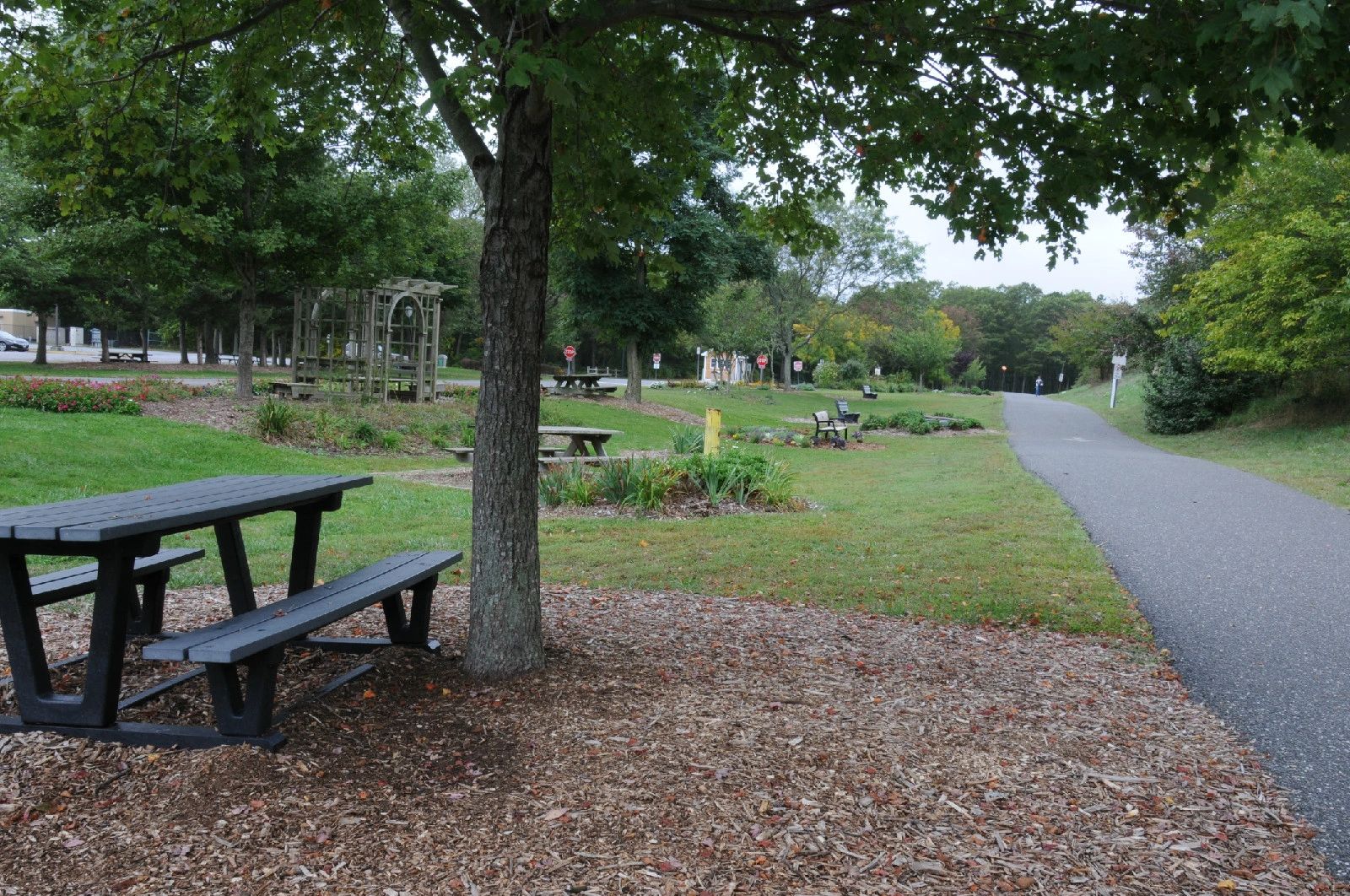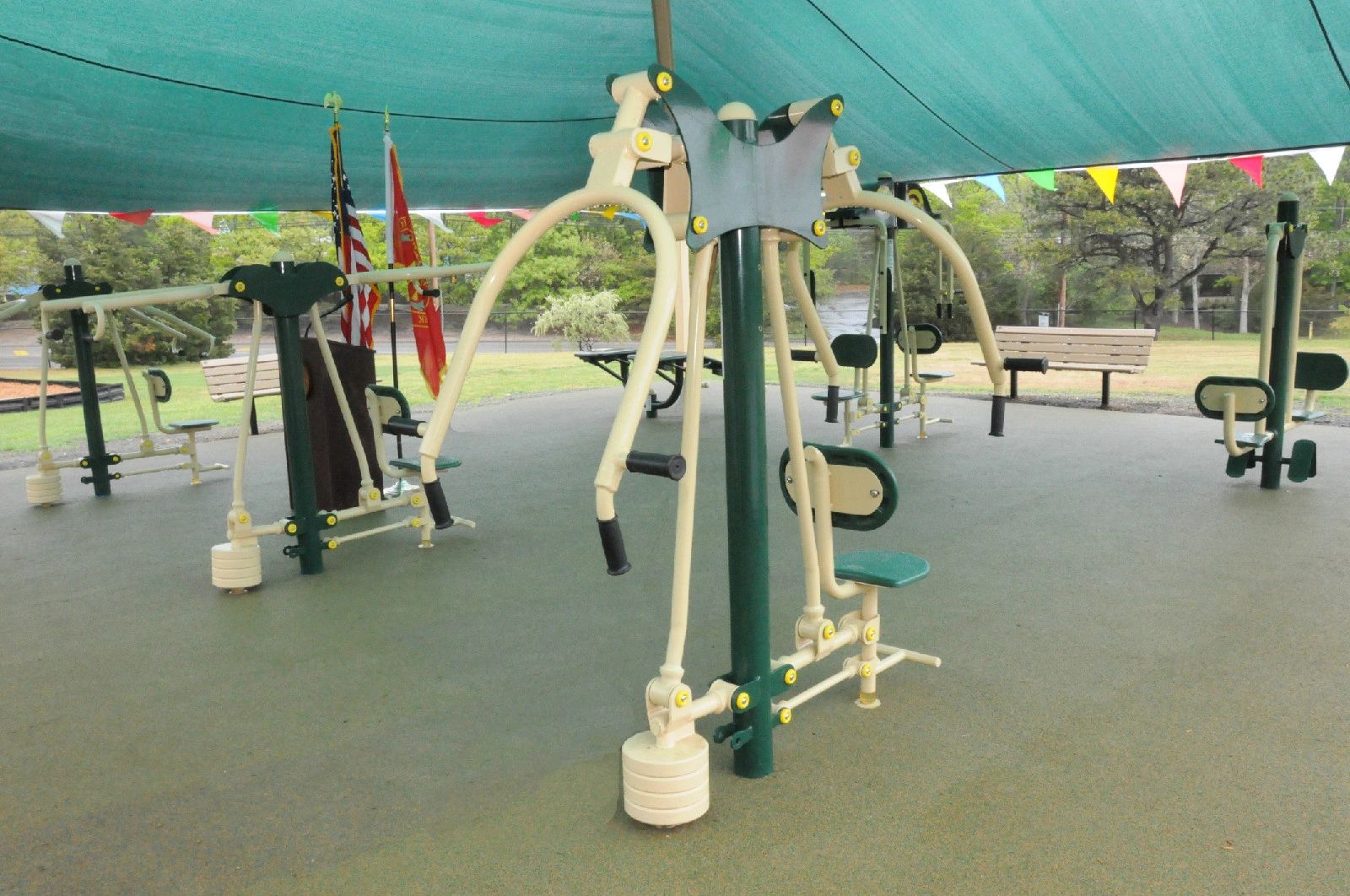 The waterfall below is in Memory of Ralph Garcia who was the parks manager at the starting stage of me making this event great. Ralph one day talking in his office there said let's take a walk through the zoo. We pass Hal's original cage and walk into a new open area with a much larger home for Hal and newly created by him, area for my crowds to gather. He said to me....I BELIEVE in you, I believe you have the heart to succeed and make this event great. So I made this area for you for a much larger crowd soon to come ! I was stunned, there's no feeling better then realizing he was 100% behind me. I never let him down, and in photos on this site I filled every inch of the new space with families looking for another great experience and life long Memory together ! Ralph, along with Harold Malkmes I made sure were always listed on Every Single Prognostication for all these years, as Hal's Guardian Angels. Ralph passed suddenly,
But I will never and have never forgot this man and that morning looking at Hal's new large area and home saying
I Believe you Will Succeed ..... he already saw the crowds,
he didn't have to be there !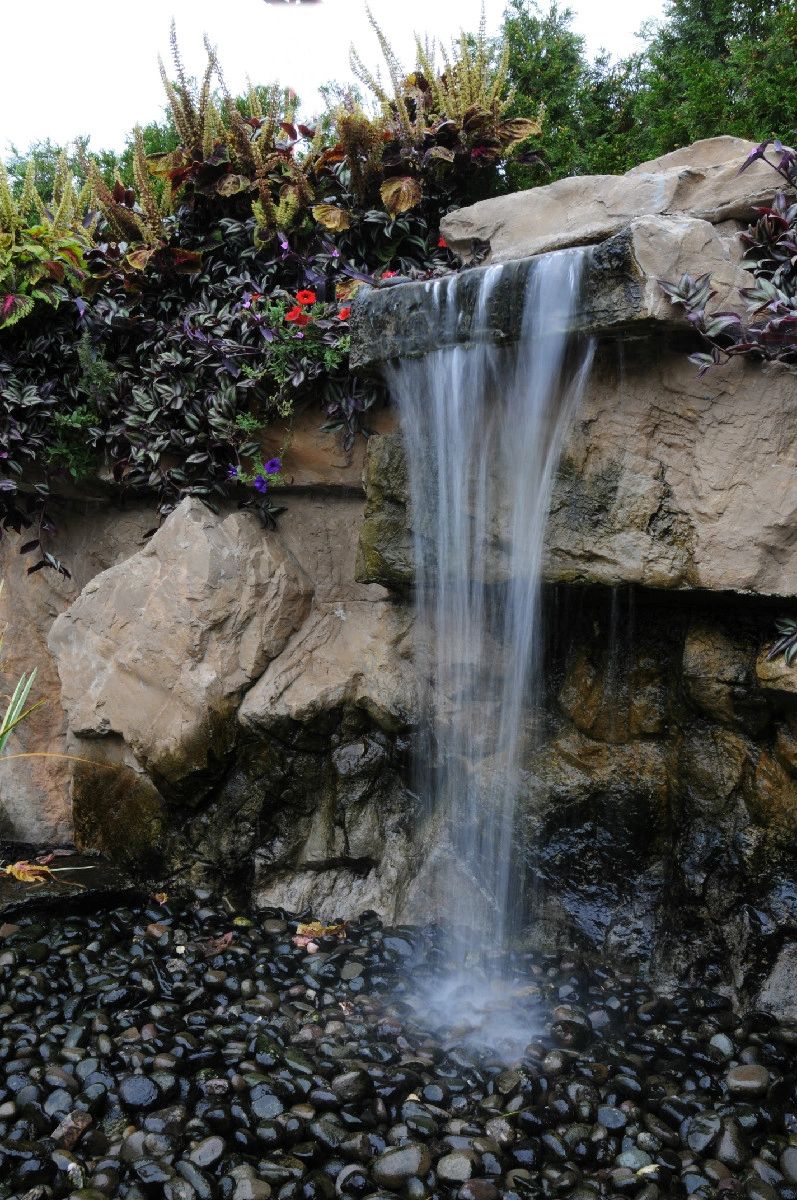 Speaking of Water Falls......On June 26, 2008 to October 13th in New York City along the East River a 40 year old artist by the name of Olafur Eliasson who lives in Copenhagen and Berlin created one of the most expensive art displays at $15.5 Million Dollars, for New York to experience. There were 4 one hundred and twenty foot high waterfalls. The one seen here I took under the Brooklyn Bridge. The falls flowed daily from 7:00AM to 10:00PM The River Café that it flowed over and next to has also an inspiring history. The owner Michael Buzzy O' Keffe first discovered the spot. It was in one of NYC " Forgotten " industrial districts. It took him 12 years to even convince the city to build there which they deemed a dangerous location. Finally approved in 1974 he began to create his vision. Again nothing comes easy and financial problems he had to over come. In 1977 The River Café on what the City deemed a dangerous location was opened. Today it is one of the finest resturants, I know ..I've eaten there several times. Another example of Vision, and what it takes to bring it to Reality. Nothing good comes easy, but hard work, dedication, and time spent to see it though with all odds against you makes that Vision Truly Rewarding one day. A winner Never Quits, and a Quitter never Wins ! Vision is seeing it already succeeding, before the first brick is laid. Visionaries don't need to be there on opening day.....
they've " Already....Seen it !! "
But Nothing is grander then the 150,000 Gallons " PER SECOND " that flows over Niagara Falls right here in New York ! Mother Nature has a way of turning heads. The storms, quakes, floods.....is simply bringing out the very best in us ! Story after story where a single person started a fund drive for people in need, only to be over come witnessing first hand the generosity of others filling tractor trailer after tractor trailer of needed items to help others we may never meet....get back on their feet. The Holiday Spirit has been given a jump start....to feel good about yourself by unselfishly " Giving Back ".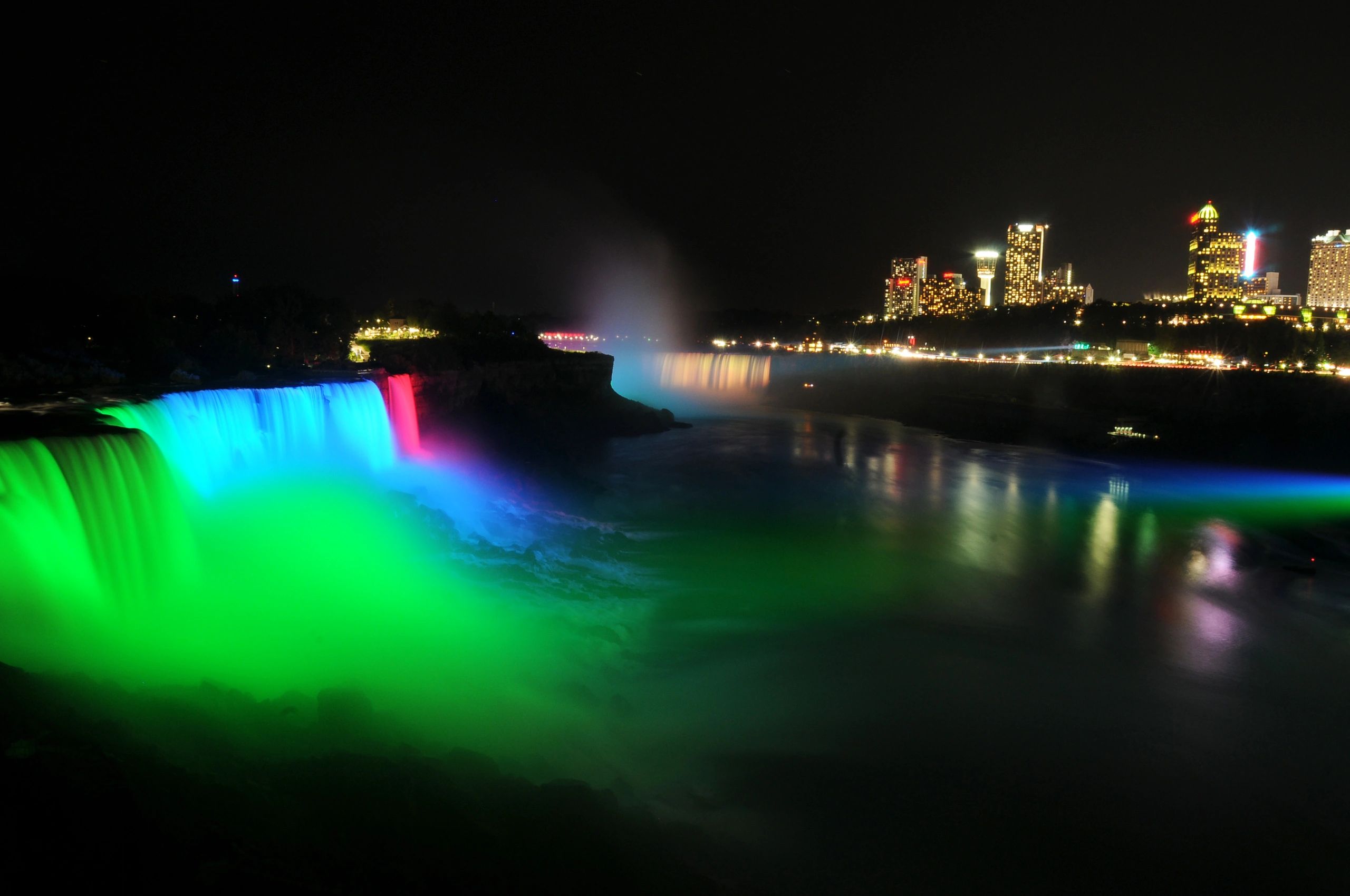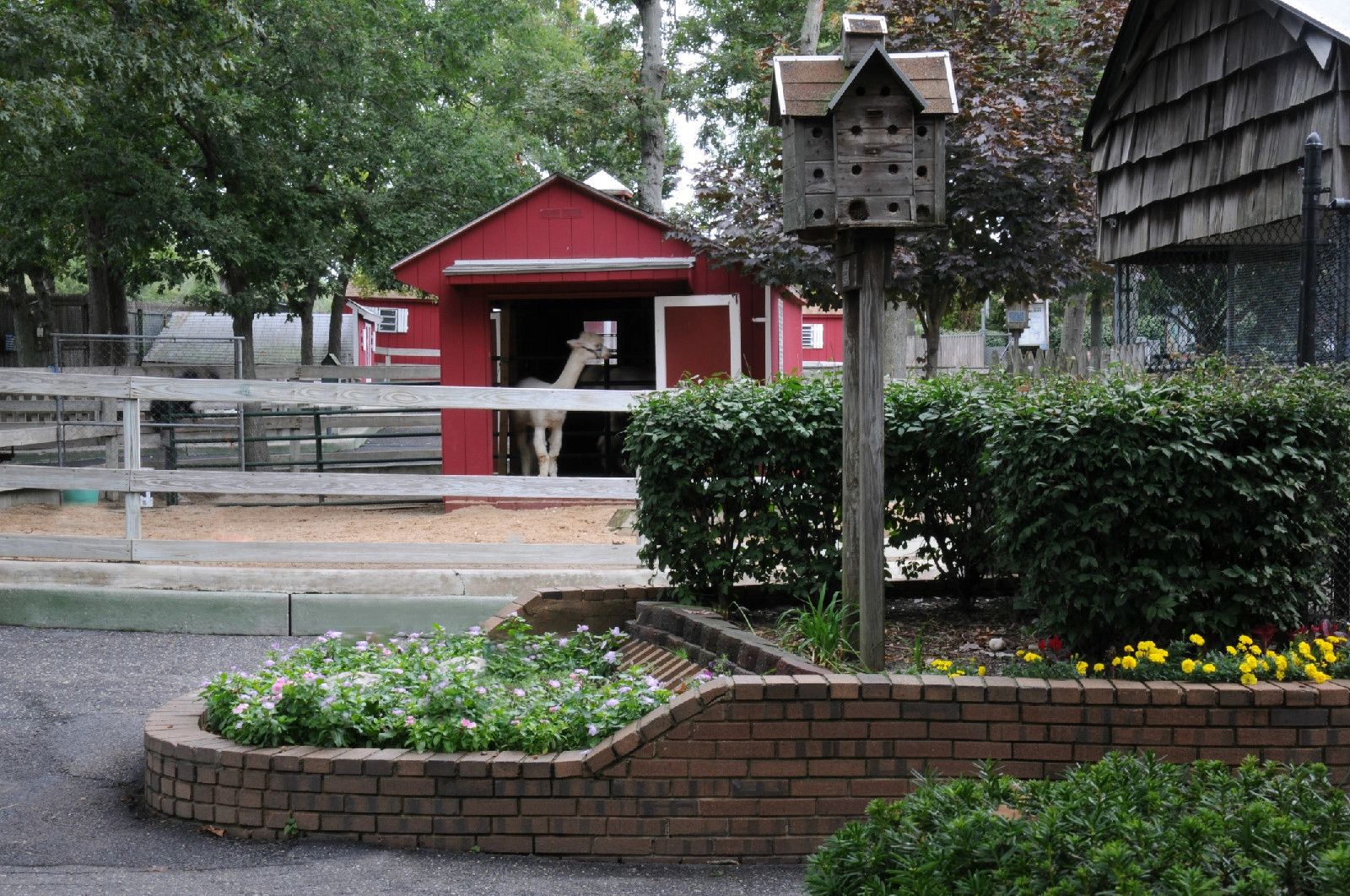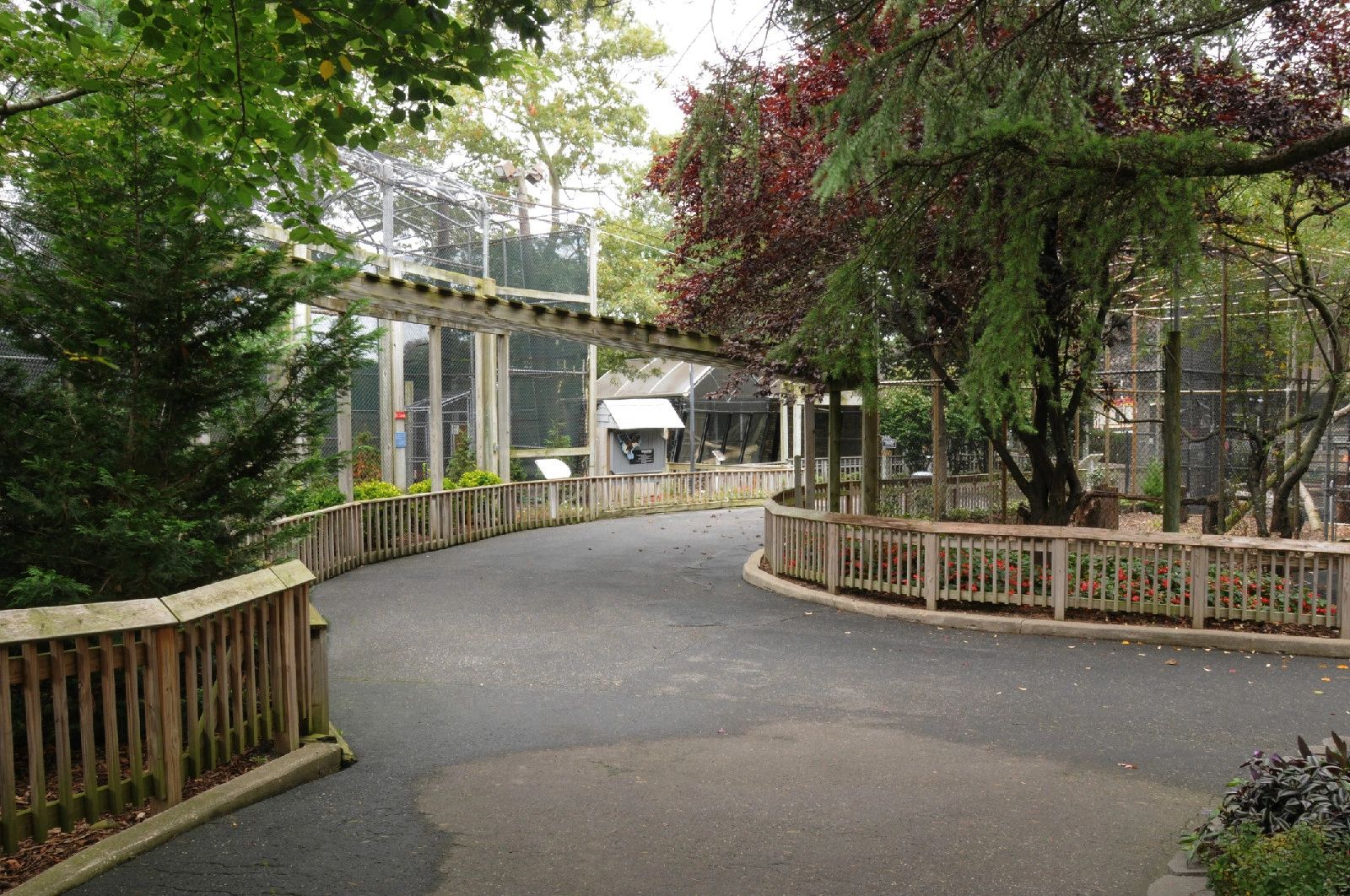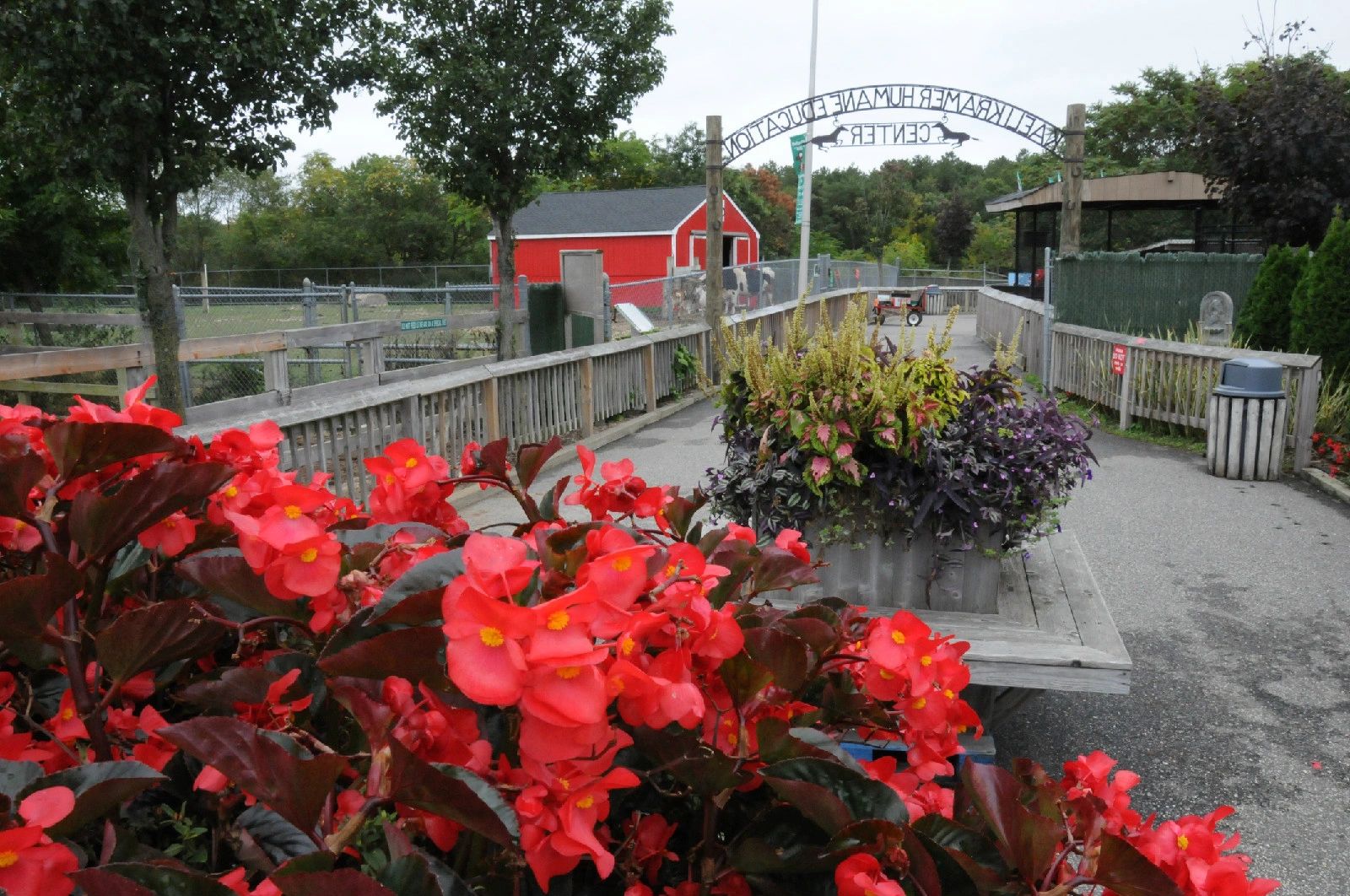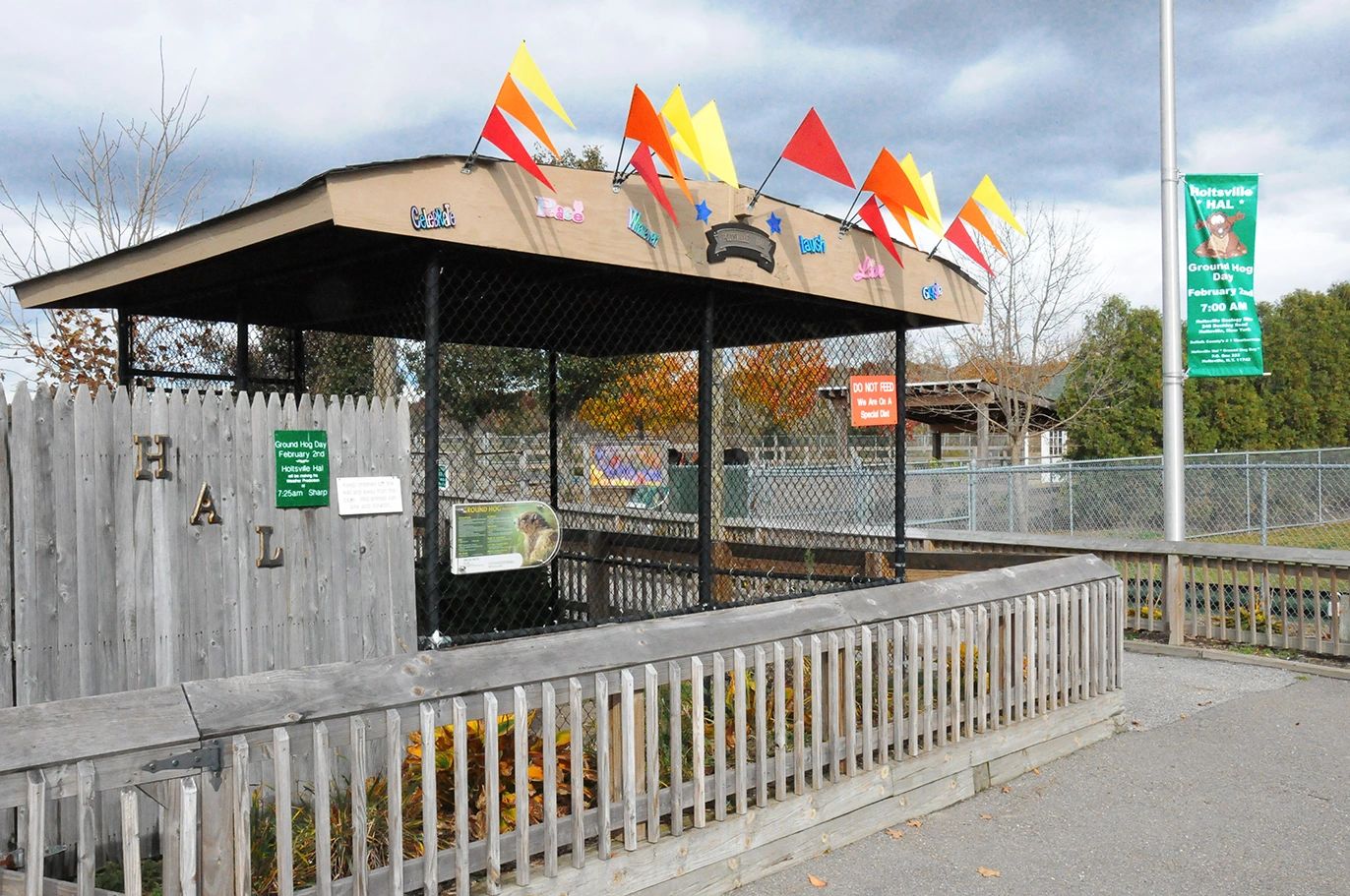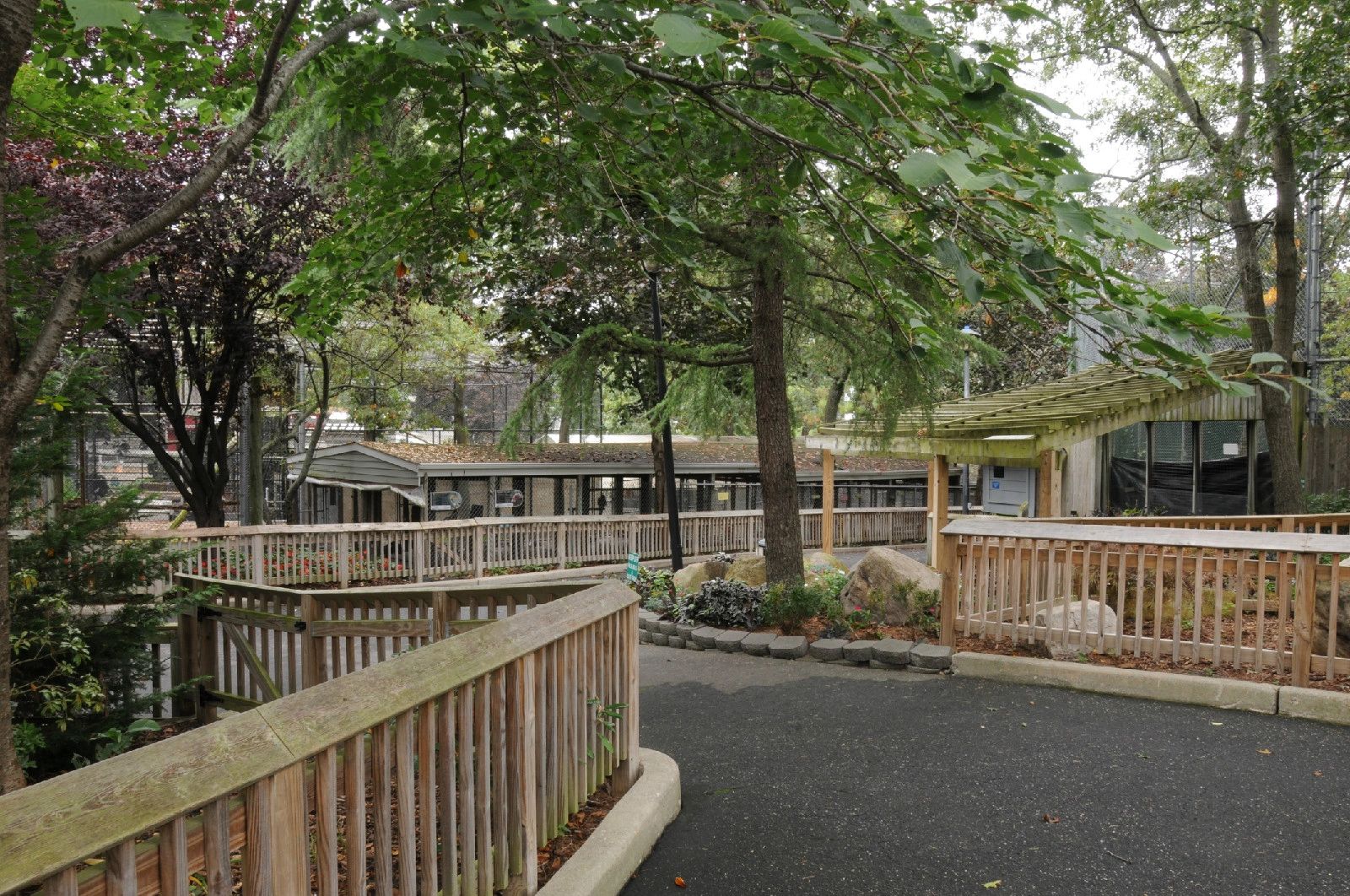 .................Rebuilding One Step At A Time !
The stair case you see above may seem like nothing, but hear what I've heard from people of all ages who once walked them every time they were in the park . People of all ages have been using these stairs quietly and unnoticed. But for children, and parents who are working to rebuild an ailment, from stroke to leg problems of sprains, breaks etc. these are The Stairway to Heaven towards restoring strength and good future health. I'm sure Doctor Oz would quickly say stairs are GOOD EXERCISE. But because of poor maintenace and the ground shifting under them
they were taken down with no indication of restoring them! If the ground is shifting, simply hire a crew from San Francisco who know how to cope with the Earth shifting below them.....Problem solved. But the real answer is always......You Can If You Think You Can....so for the health and wellness and good of us all, lets rebuild ! Your stories of what these stairs mean to you that you shared with me will not fade into the wind!

..........Speaking of Health............and Creating Funds to feed the Animals
Two Years ago I presented the Groundhog 5K Run / Walk to the Ecology Center Manager. I believe this will become the largest Summertime Event,
the Center has ever had, to create funds for the Animals, veterinarian care, supplies and food + shelter. In these past 2 years I asked for a date to start my process and get the ball rolling. Every week I've been there asking
for a simple date with at least 6 months time to do it right. To this very date all I've gotten is excuses why " Not Now ". So since now it already is the End of Summer and Corporate Sponsors are already in the Holiday Events mode. I've said, we can't do this now.....and can only wish for a date now NEXT YEAR...............to have the time to create without a doubt
the Grandest Groundhog 5K Run / Walk ever witnessed !
If you ever have a comment, suggestion, or idea....on the sponsor page there is a short application to fill out, it only comes to me, and I'd love to hear from you for your support ! Wayne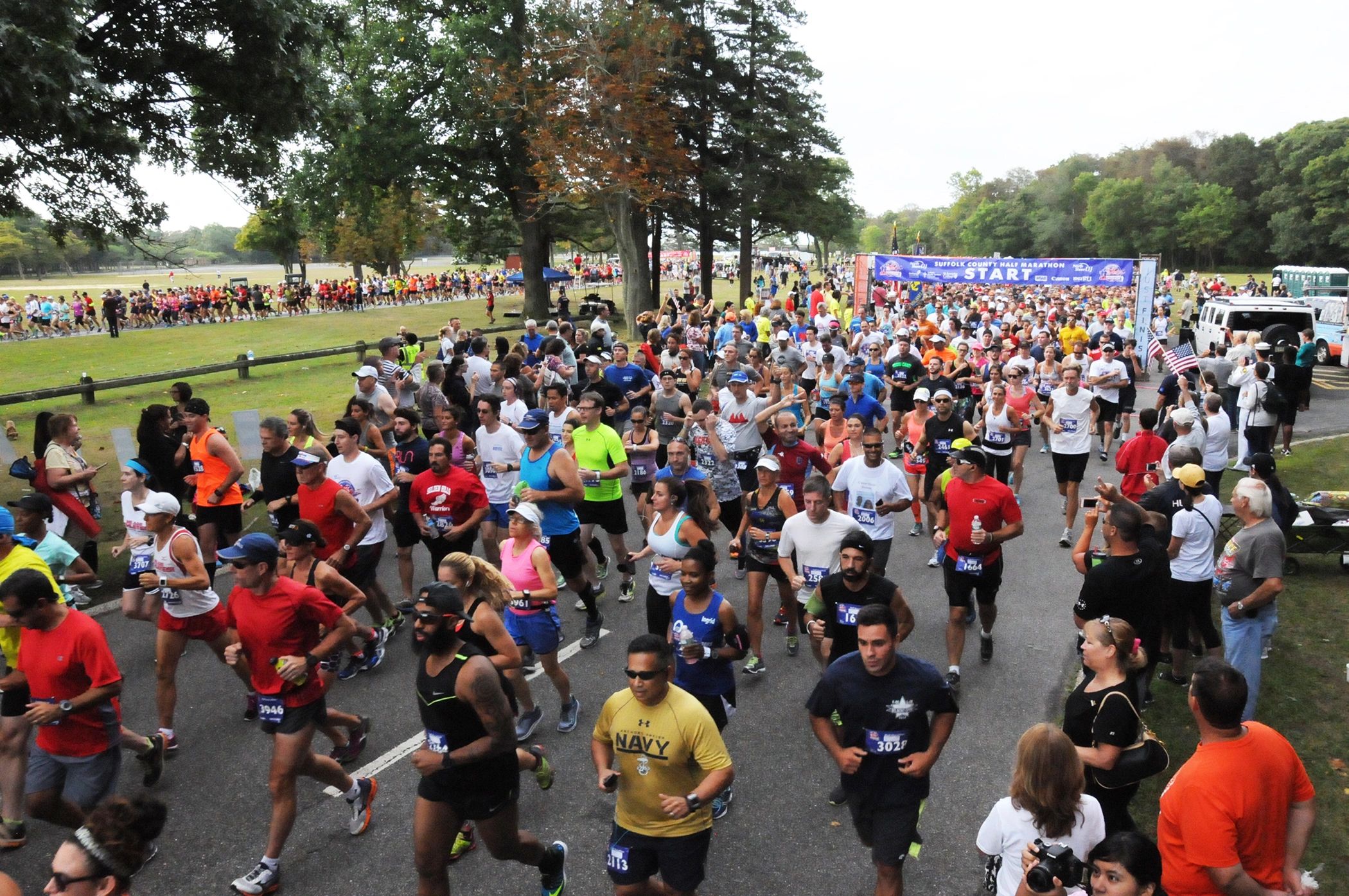 If you've ever been to San Fancisco......this hill on Everit Street from Old Fulton Street to Middagh Street at the top in Brooklyn reminds you of it. It's exhausting just walking up it.....Well how about running up it about 10 times.....I wonder what Dr. Oz would say ...talk about your Daily Dose ! This group had no problem and past me like the wind.....Over and Over again UP Down Up Down....all I could think of is hey kids.....start exercising because they just heard about the future Groundhog 5K Run and can't wait for a date ! I think the hills in the park will have no effect on their times to cross the finish line ! Oh and Rain has No Effect on them !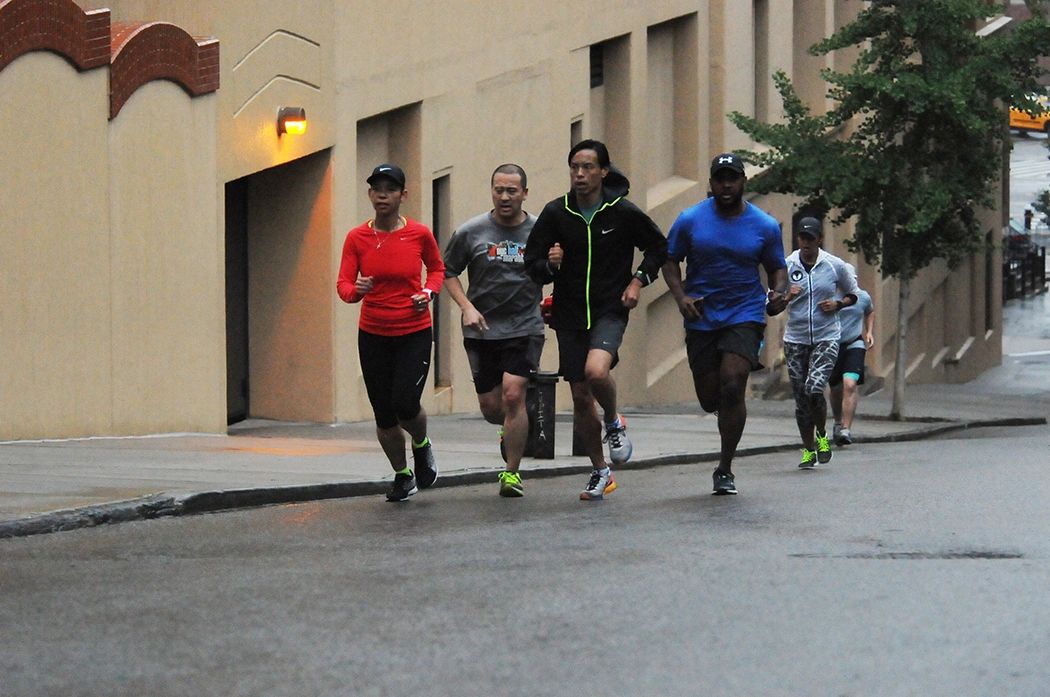 There is a nice view at the top though...." That's Amore " if you remember in the movie MOONSTRUCK with Cher (Loretta Castorini) the Feelance Bookeeper and Nicolas Cage as she returns home around the corner from the right kicking a can. " La bella luna " The moon brings the woman to the man, Grampa Castorini (Feodor Chaliapin,Jr.) said. The 1952 song " That's Amore " by composer Harry Warren and lyicist Jack Brooks became a huge hit in 1953 when Dean Martin sang it. Rose cooked a breakfast of hollowed out Italian bread with eggs and hot peppers inside that Italians in the audience could relate to. But when Loretta bought sparkling wine to toast her engagement and pours two glasses, her father put a sugar cube into each glass - a Casterini family tradition, and one Cher does if the wine is not sweet enough !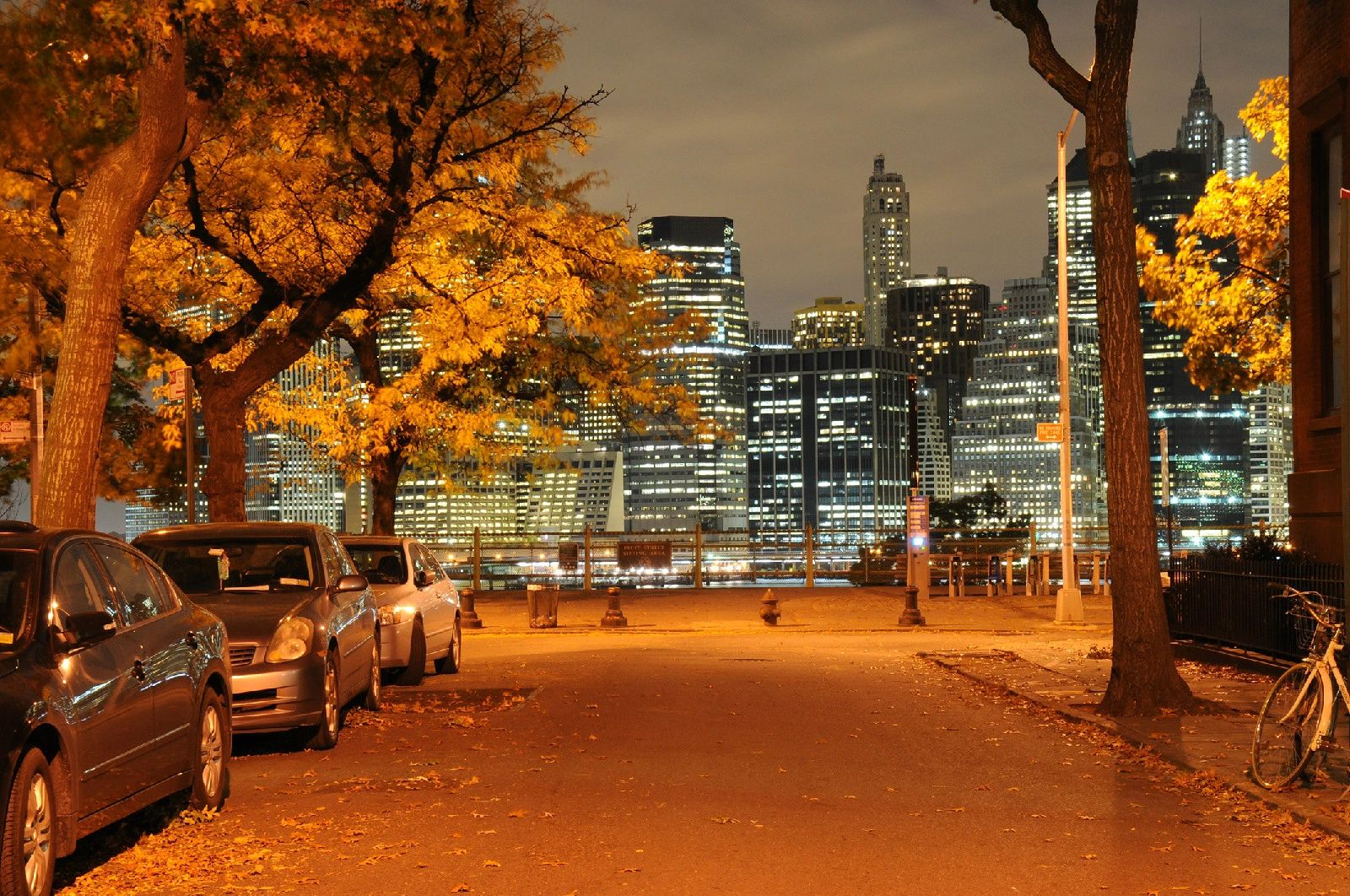 What you see here is a horse with only 75 yards to go to the finish line for the Triple Crown win at Belmont. What many don't know is when California Chrome exited the starting gate his hoof was hit by another horse by accident. But with that sore hoof, and bleeding, Chrome focused on what Chrome does best.....Win the Race. In this photo that I took, the race could of stopped right here......California Chrome had Already Won, for Everyone already Believed in him, and Everybody across the planet including me was rooting for him......He HAD ALREADY won the hearts of all of us, and the line ahead could NEVER and will Never, take that away from him. When the race was over the hoof was spotted and immediately taken care of by the jockey and owners, and to this day you realize it's not if you cross the line first, but that people believe in you,.. to TRY ! In 2016 this $8,000 dollar horse became the largest income winner in North America and the owner and California Chrome proved............the Little Guy, CAN win !
Over 4,000 Acres once owned by George Washington's Ward, Audley Farm, Berryville Va. I know all to well, I lived and worked there caring for the finest Thorobred race horses in America. Saturday June 9th, at Belmont Race Track, Elmont, Long Island, NY.....I knew taking this photo we were headed for a Triple Crown victory with " Justify "....... Below jockey in red on final turn with the finish line just seconds ahead for a crowd pleasing victory !

………………… JUSTIFY ( Front Right at last 1/4 mile turn )
3 Times.....A WINNER ! " A Winner Never Quits " This was only his 6th Lifetime race !! He won all those too ! Won the Triple Crown at Belmont by 1 3/4 length. The Colt standing 16.3 hands, did Justify as we thought had the perfect running conditions at Belmont Race Track to repeat his winning streak !! Missed Secretariat's time by only a little over 4 seconds ( 2:28:18) and bigger then Big Red too !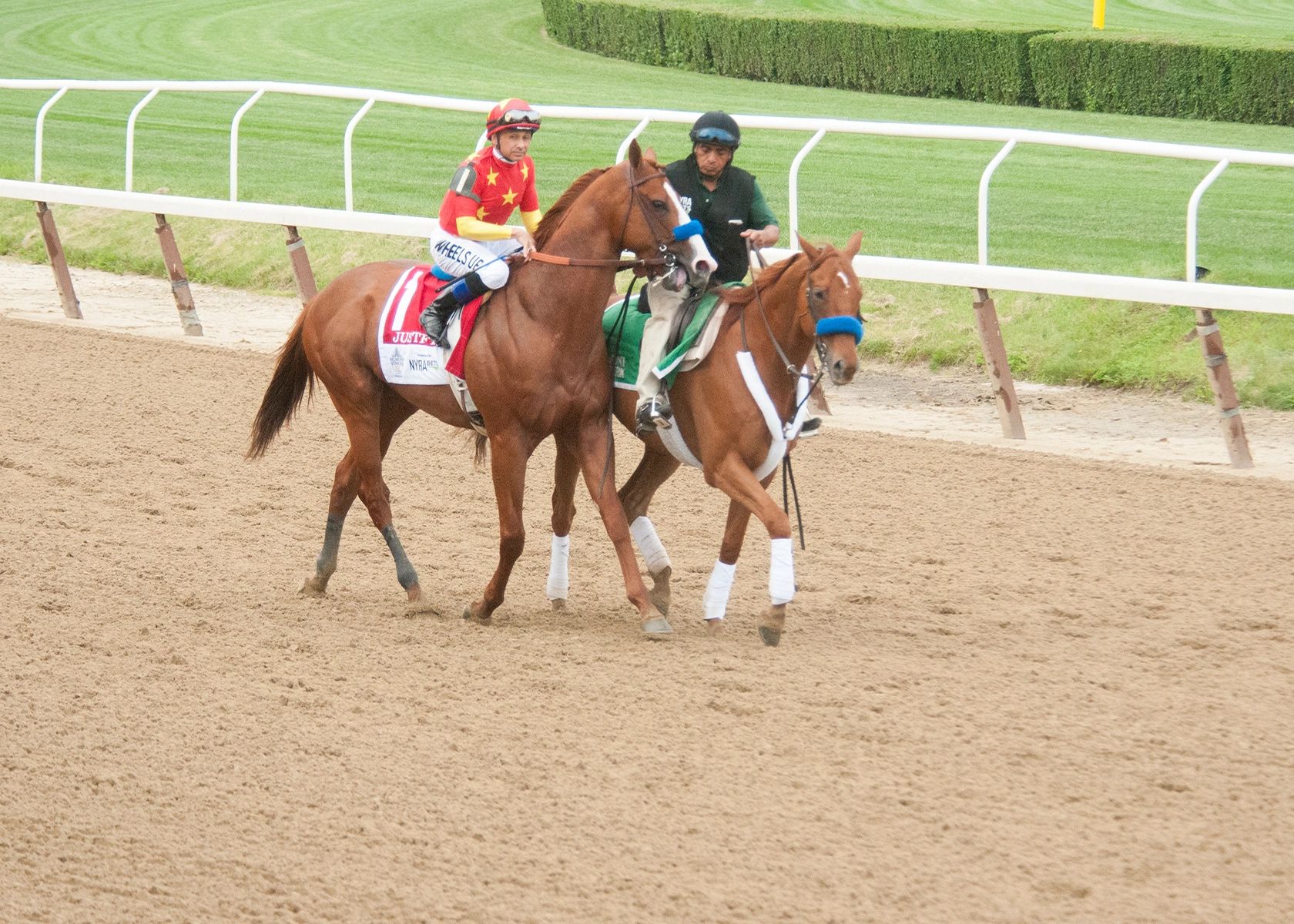 But it was BIG RED, that will never be forgotten....Even though he came in 4th at Aqueduct, Big Red stunned the world. The name however didn't impress the Jockey Club
so 3 names were submitted....Scepter, Royal Line, Something Special.....all those names
were rejected.....so three more were suggested.....Games of Chance, Deo Volante (Latin for God Willing) and one last name........that finally changed Big Red to became etched in hearts across the globe and now stone forever as the chestnut colt with a large heart that won the Triple Crown like no other by 31 lengths......you and I know him as........and my favorite !.......



Secretariat born at The Meadow, in Doswell, VA. Named for the Execretive Secretary by Elizabeth Ham of Meadow Stable completely shattering " Count Fleet's " record at Belmont in 1943 with 25 lengths flew to a Whopping 31 lengths there and Broke all 3 Track Records........The Derby time was 1:59 2/5, The Preakness time was 1:53 and finally right here in New York at Beautiful Belmont for the final leg " Triple Crown WIN his time was
2:24 .....THE FASTEST HORSE .............. IN HISTORY !

Disney did
NOT
Buy the World Fair Grounds in Queens..............it's a HOAX !!!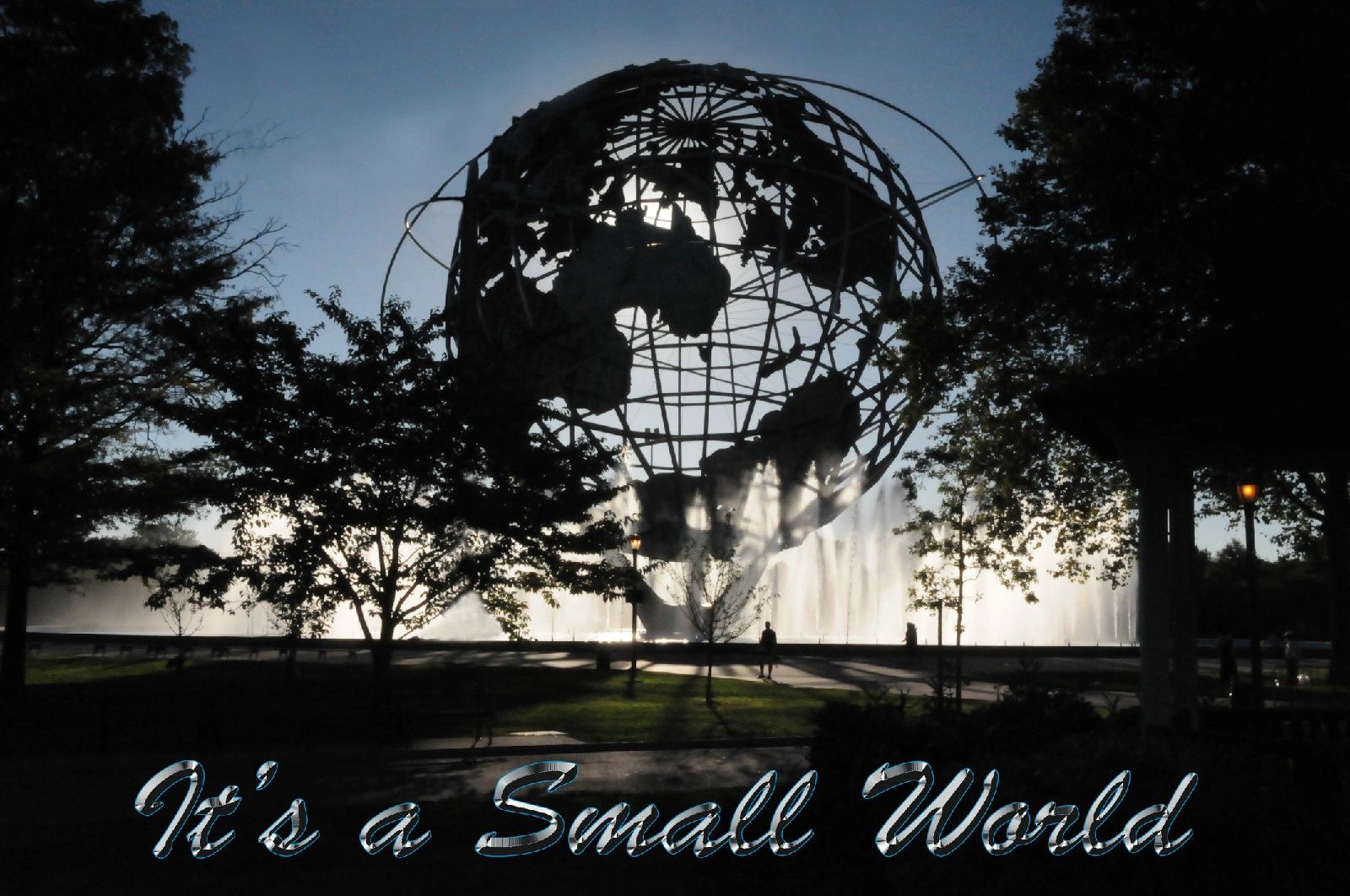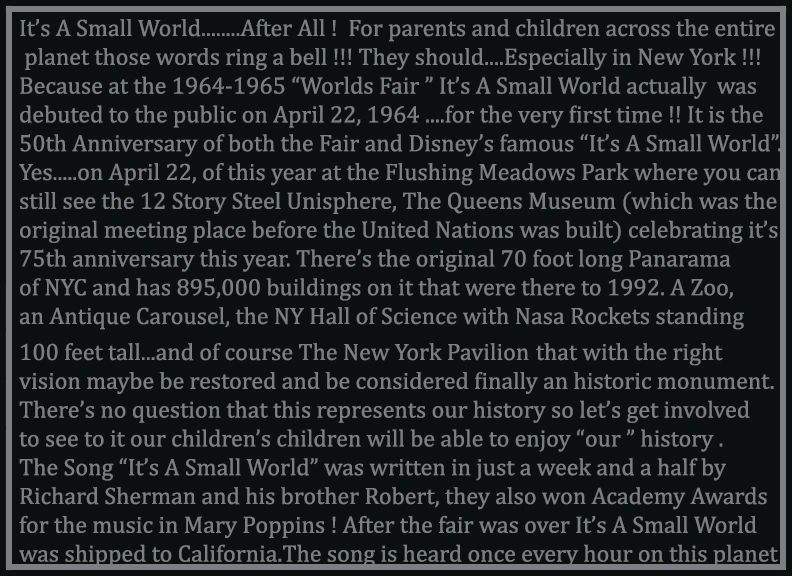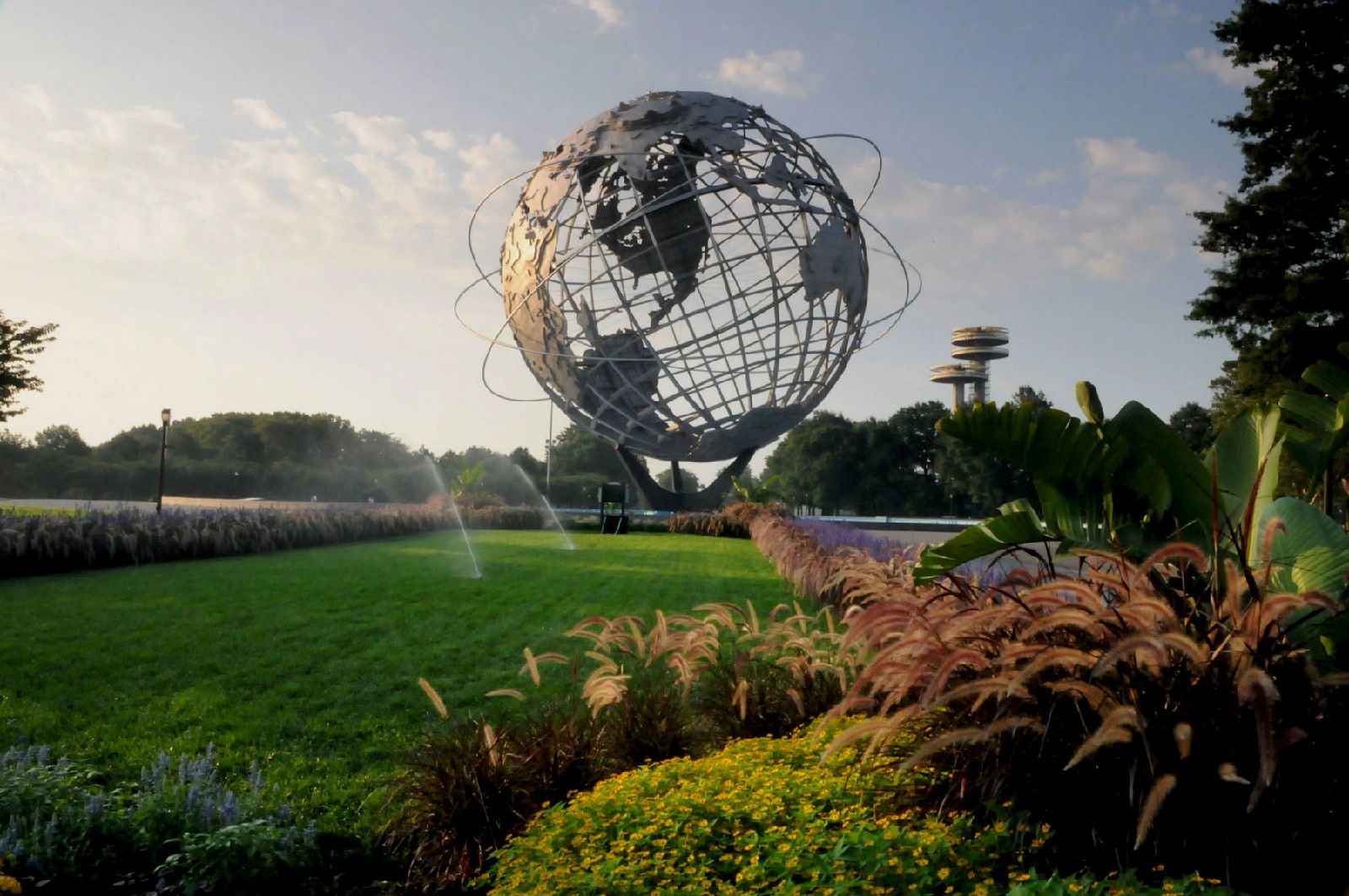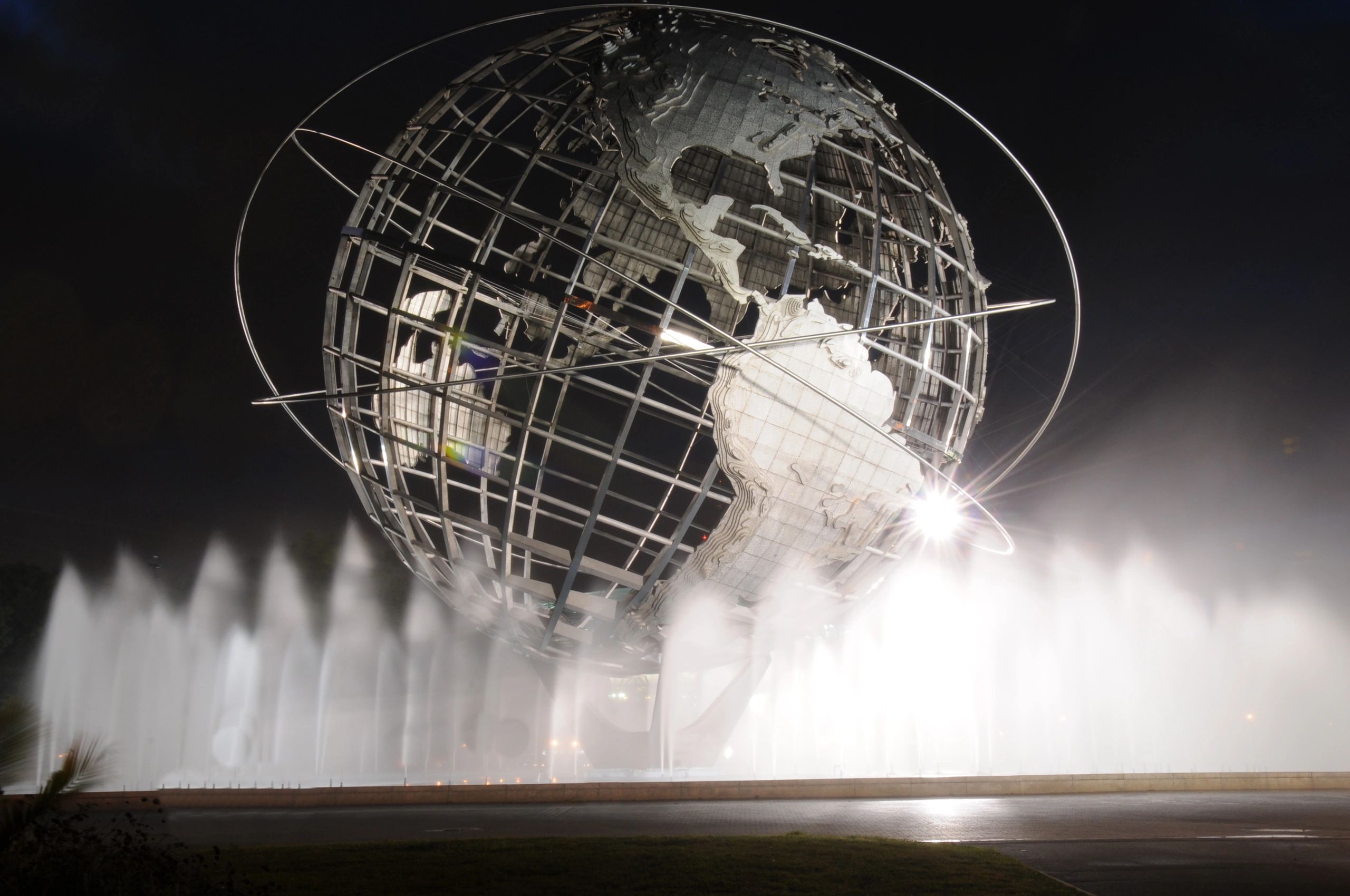 The New York Pavilion at the Flushing Meadows Park in Queens, NY has Finally been added to the register of National Treasures by the National Trust for Historic Preservation on the 50th Anniversary in 2014. It has now become the 44th type building to enter the field like President Lincoln's cottage in Washington D.C. Designed
by renowned Architect Philip Johnson and structual engineer Lev Zetin. The eliptical floor was covered with a large Terrazzo Map that replicated the Texaco Road Map of New York State that we once picked up at the gas station Bob Hope spoke for.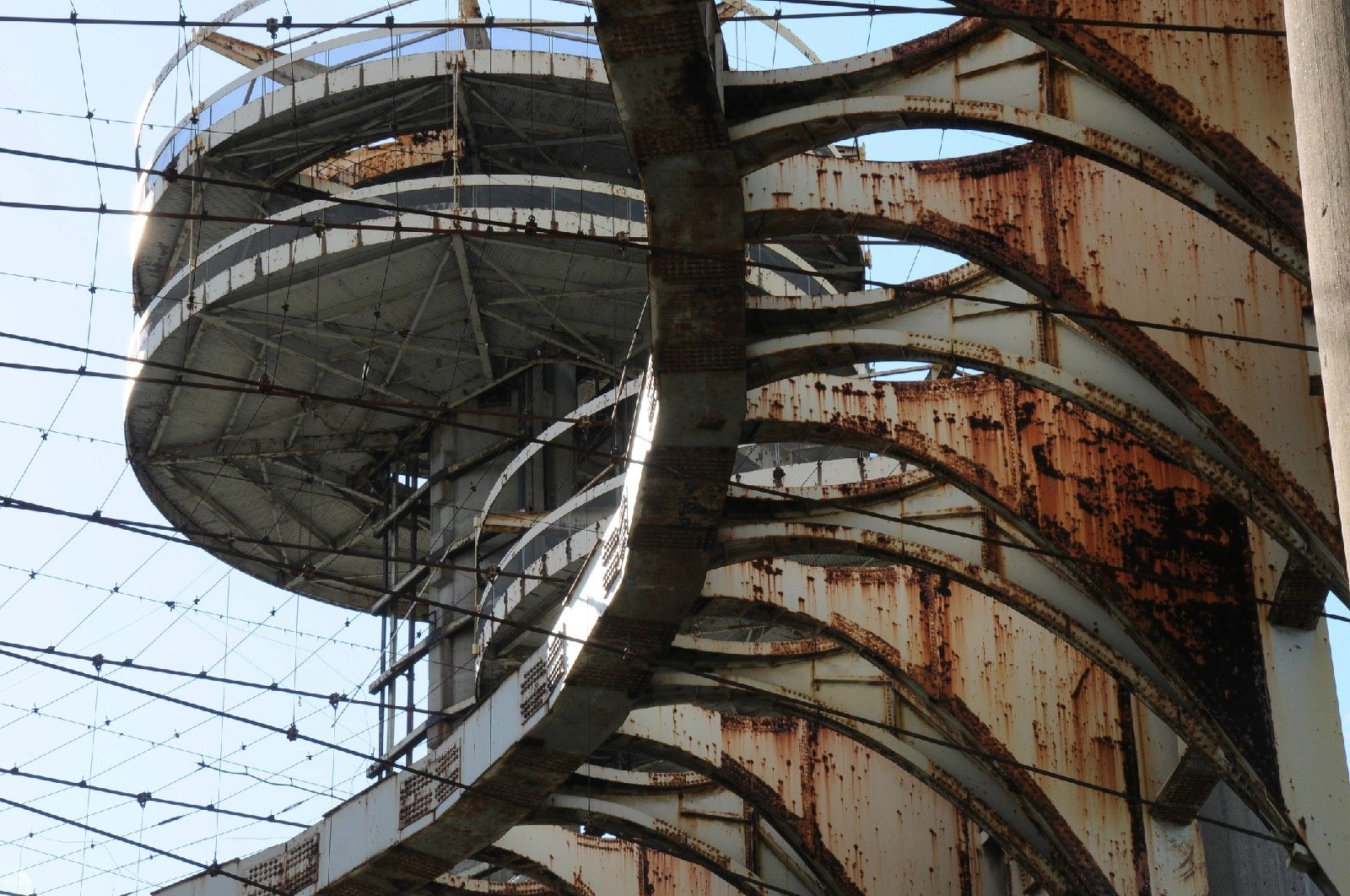 If we don't RESTORE "Our " history and allow others to let it crumble to the ground, our children will never enjoy or see or learn about their families past or about their visions and how they wanted to make a richer life ahead for them. It is time that we stop wishing that the Pavilion
etc. came back to life.....and stand up and help make it happen. If we don't, our own history will look like Planet of The Apes !

LOOK UP !
The New York Pavilion after 50 Rusting Years........is NOW getting Restored ! Yes The New York Structual Steel Painting Contractors Association Local Union 806, District Council 9, IUPAT is also Donating their work to it in Full.......! The work started this week and should be finished in a week or so.................LOL........OK, just kidding. Kids this one's for you to enjoy....The Baby Boomers are coming through finally ! Thank You all for restoring " our history " from now until Forever !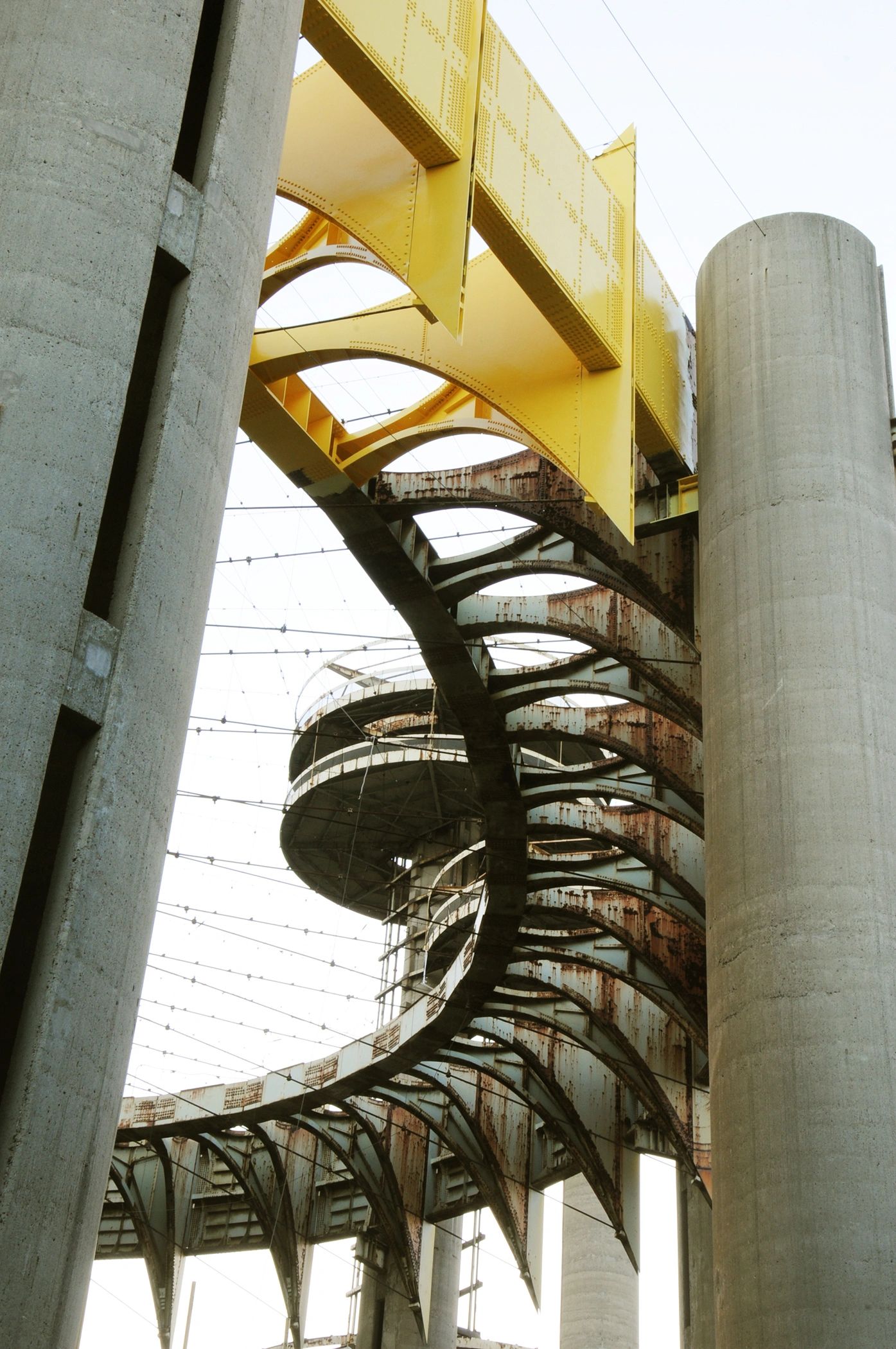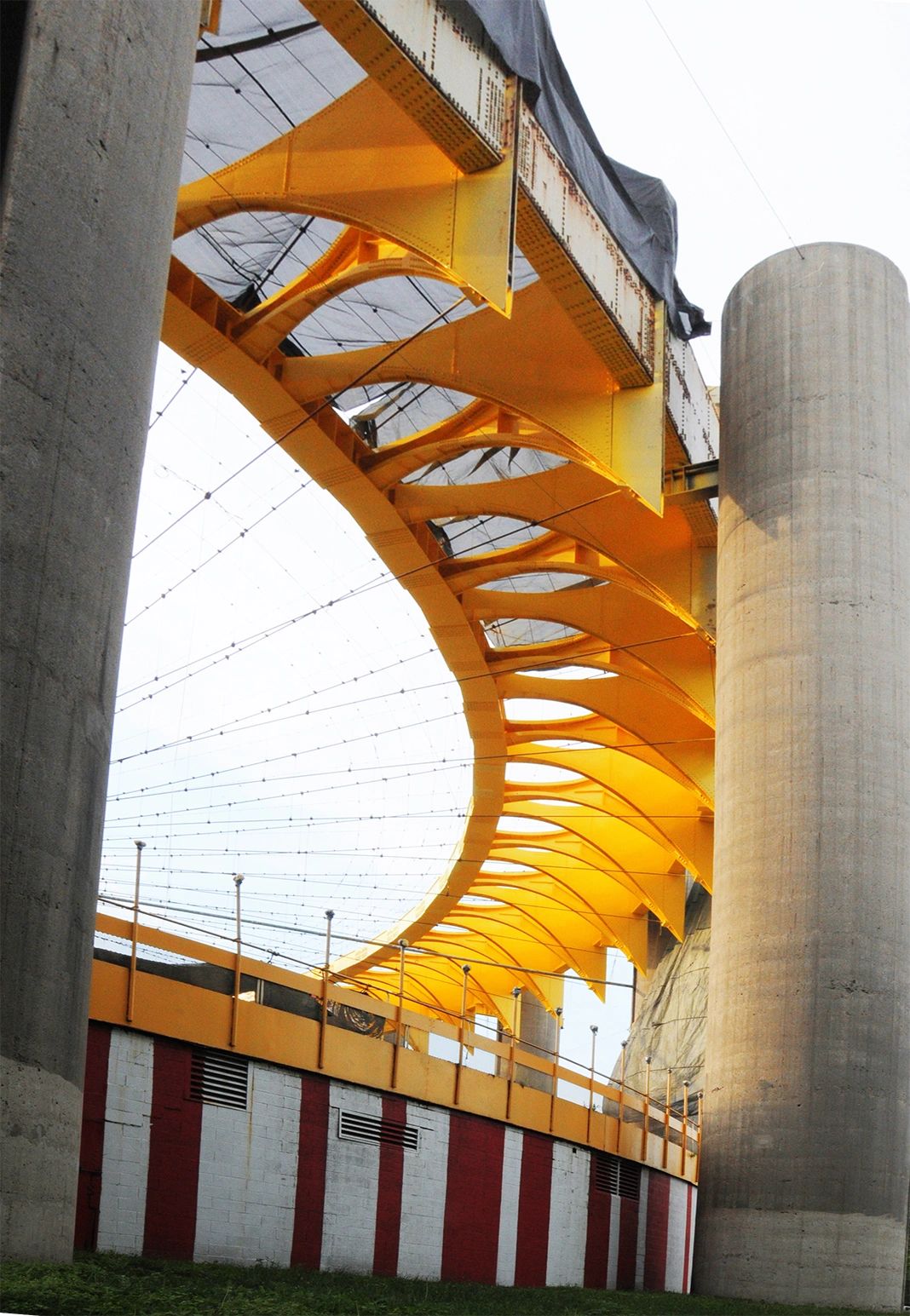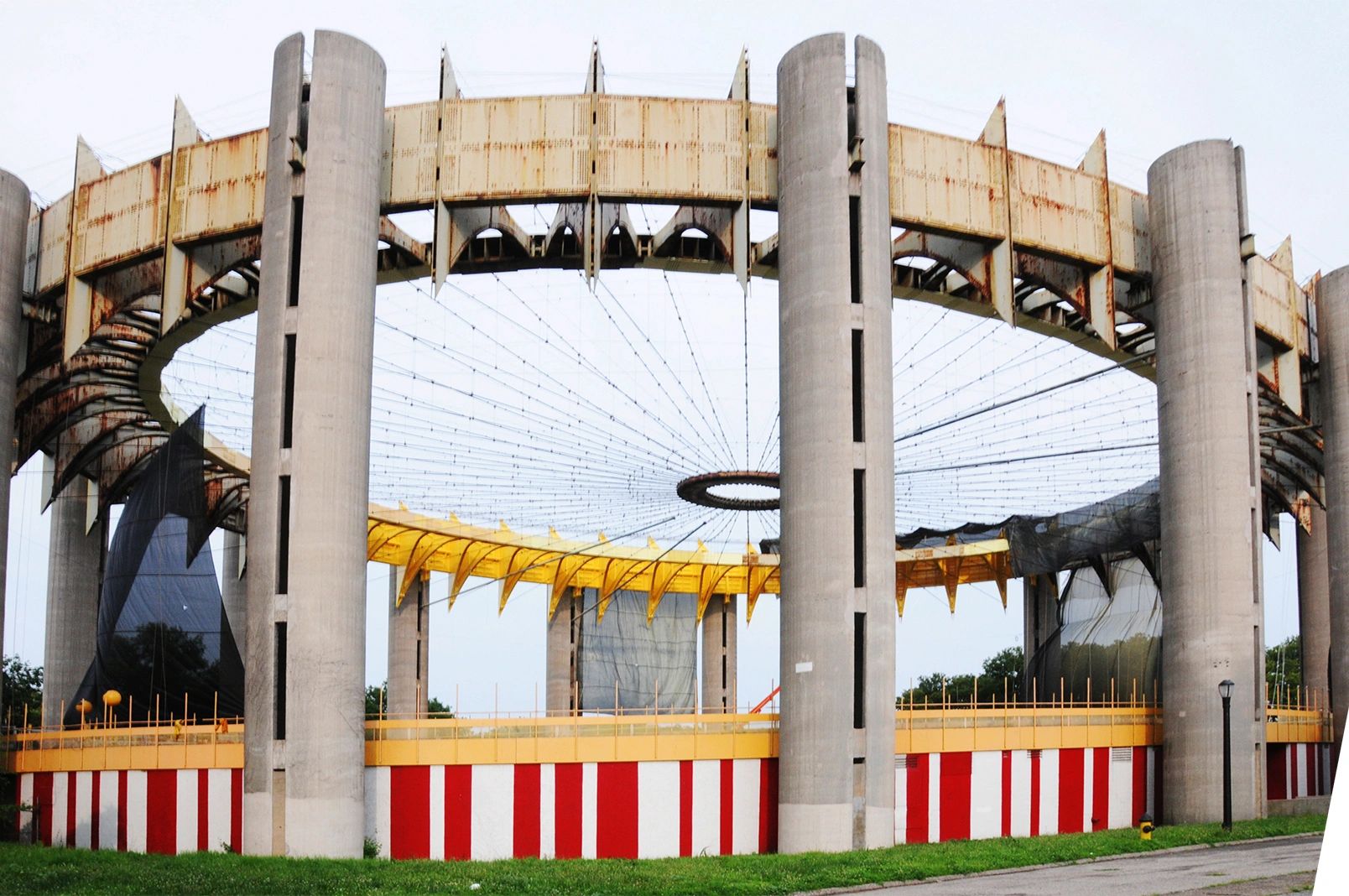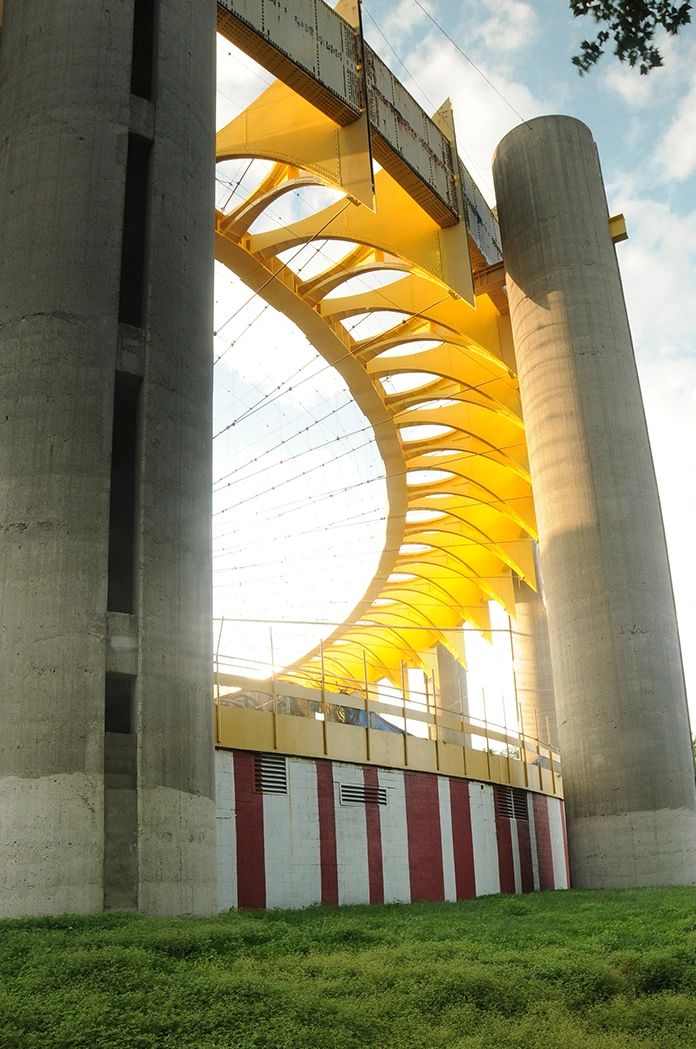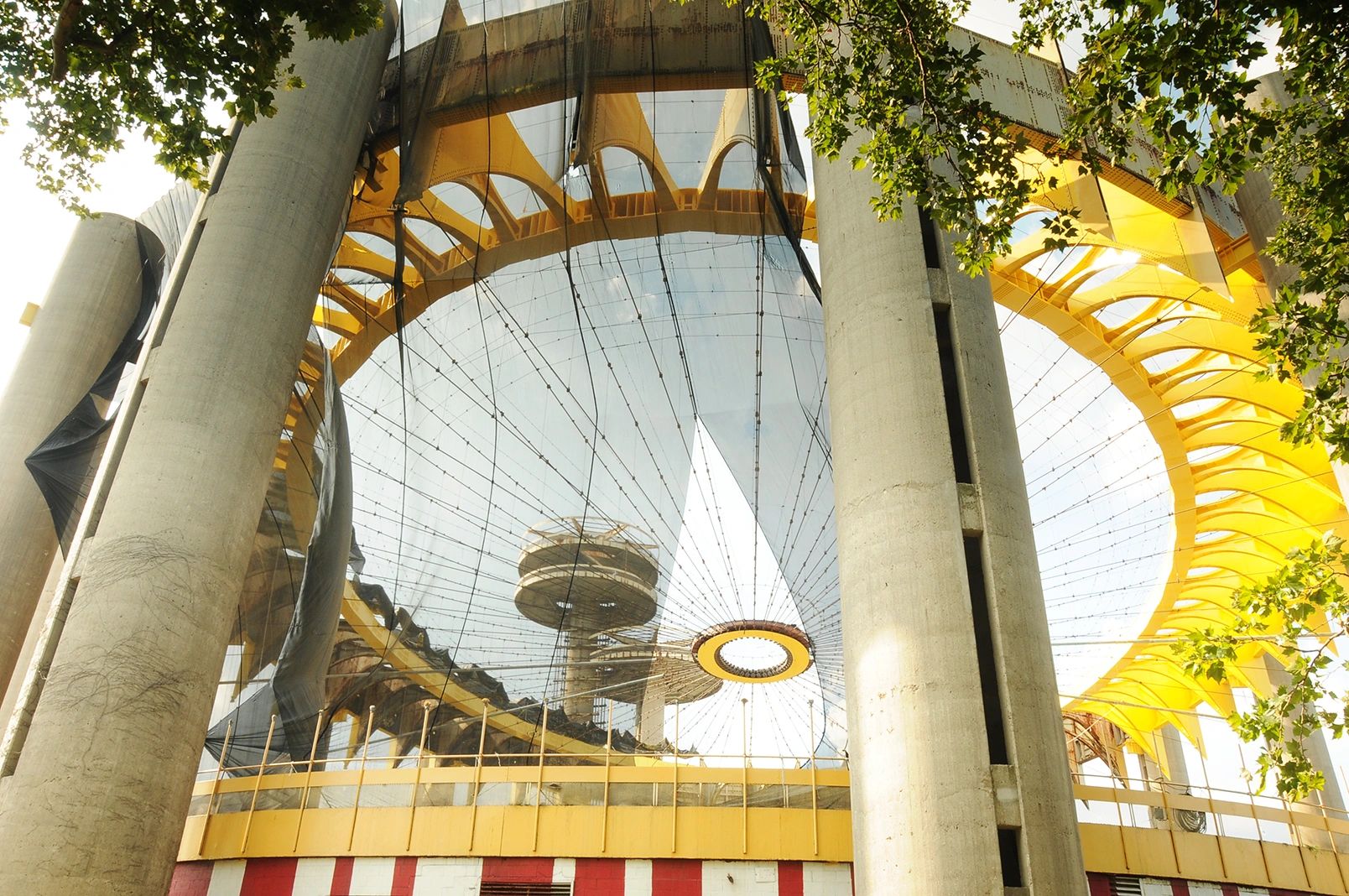 As this Golden Circle comes back to life, I can't help but think how people for 50 years simply let it rust and almost vanish. I sincerely hope now today's technologies make it some what easier to restore the 130' by 166' foot Texaco Terrazzo New York road map showing all of the 54,000 square miles within it. The original map that took then 1 Million to create was by a group of Art Students at Yale University who traced the entire road work by hand. In 2008 a group of graduate students involved in Historic Preservation at the University of Pennsylvania with their Professor Frank Matero restored several panels. The templates went to Manhattan Tile and Terrazzo Company to cut duplicates by hand, in metal strips with colored plastic inserts. It was then that Port Morris Tile and Marble Shop poured the Portland Cement of Terrazzo mixture. If you lived in NY
you surely stood on that map where you lived.....I know I did !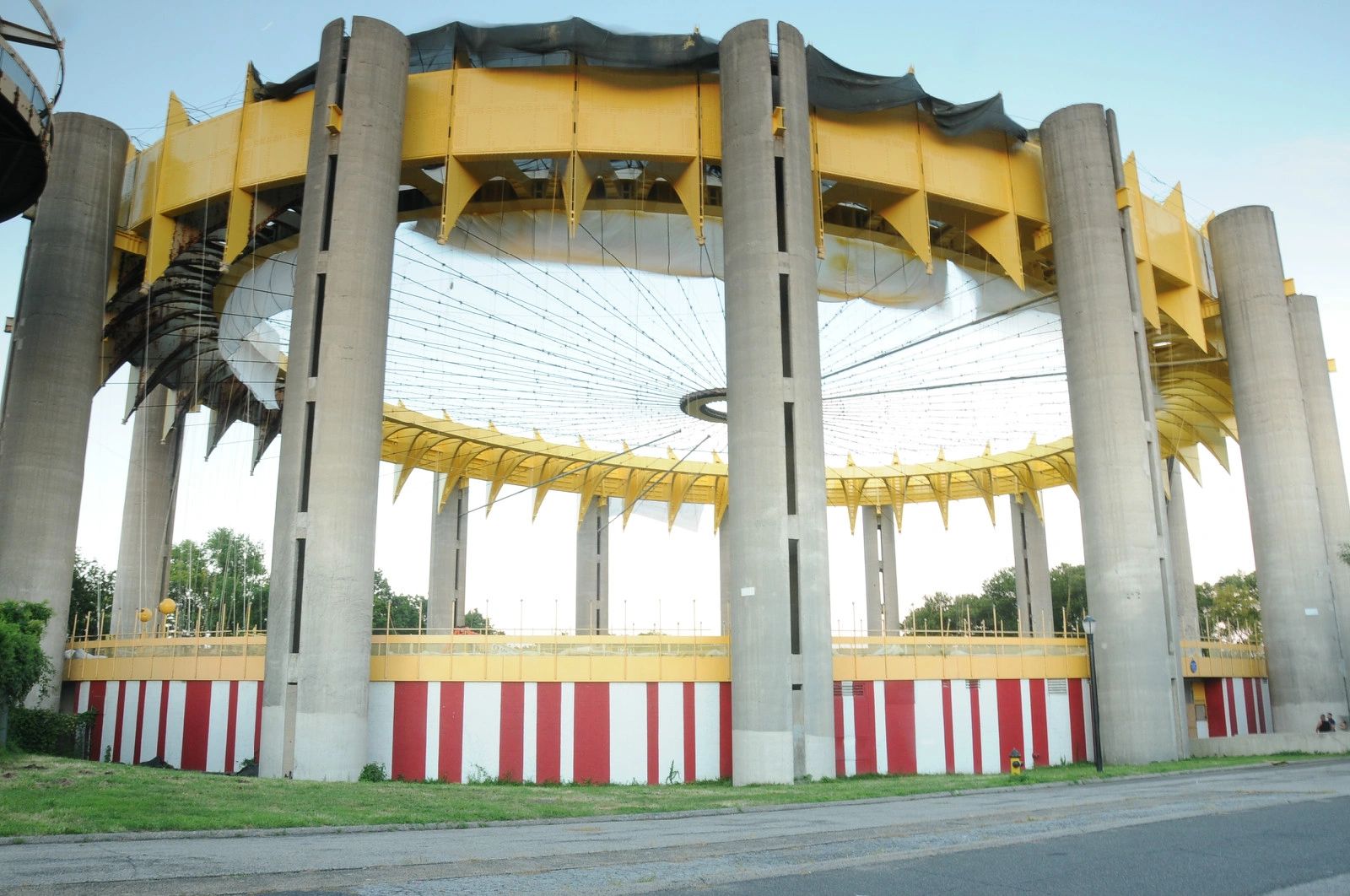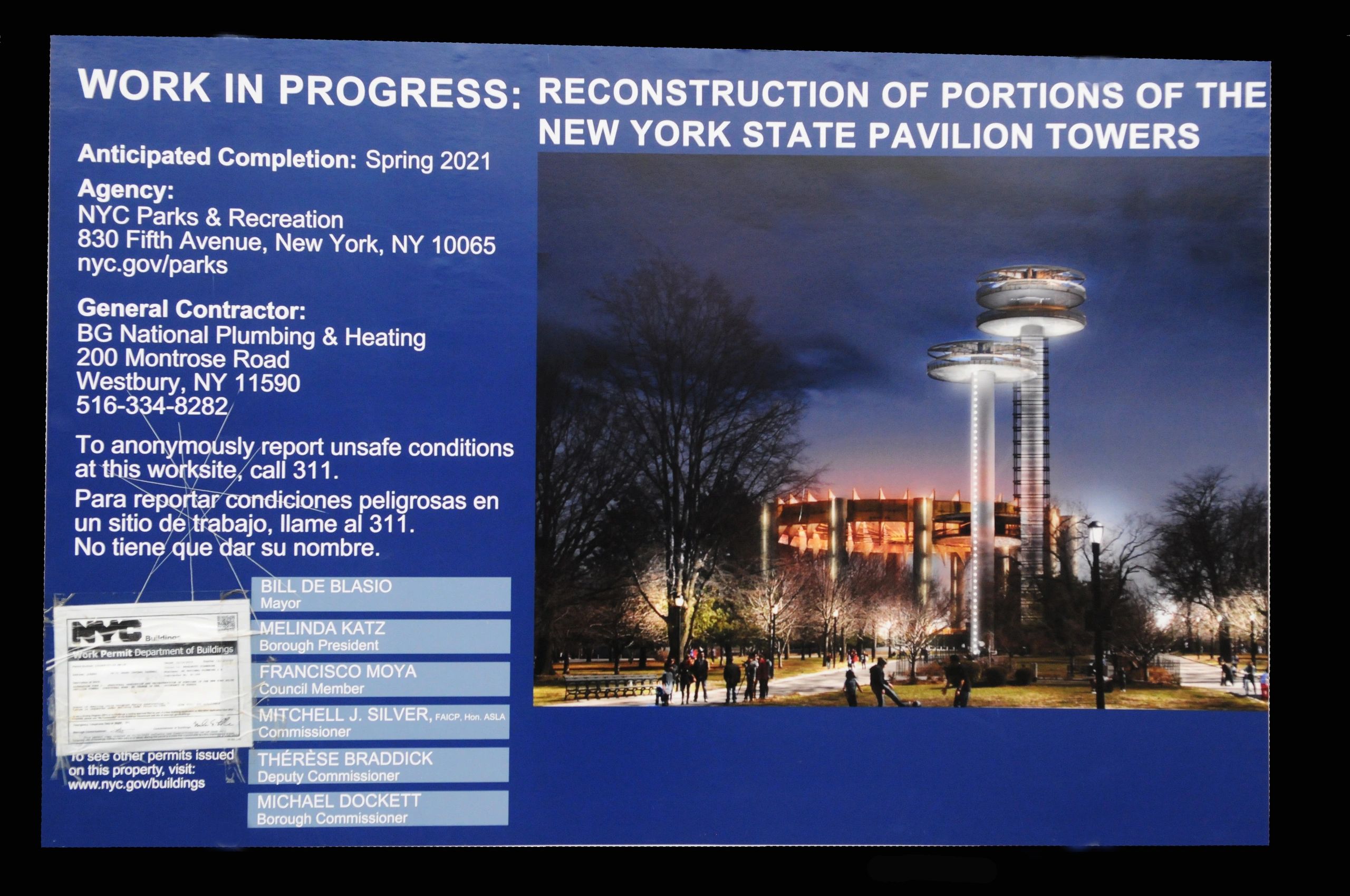 I don't know about you but I've had just about enough fun in the snow for this year !!!

Remember HURRICANE SANDY........that year, so did HAL and made sure SANDY got COAL in her stocking instead !!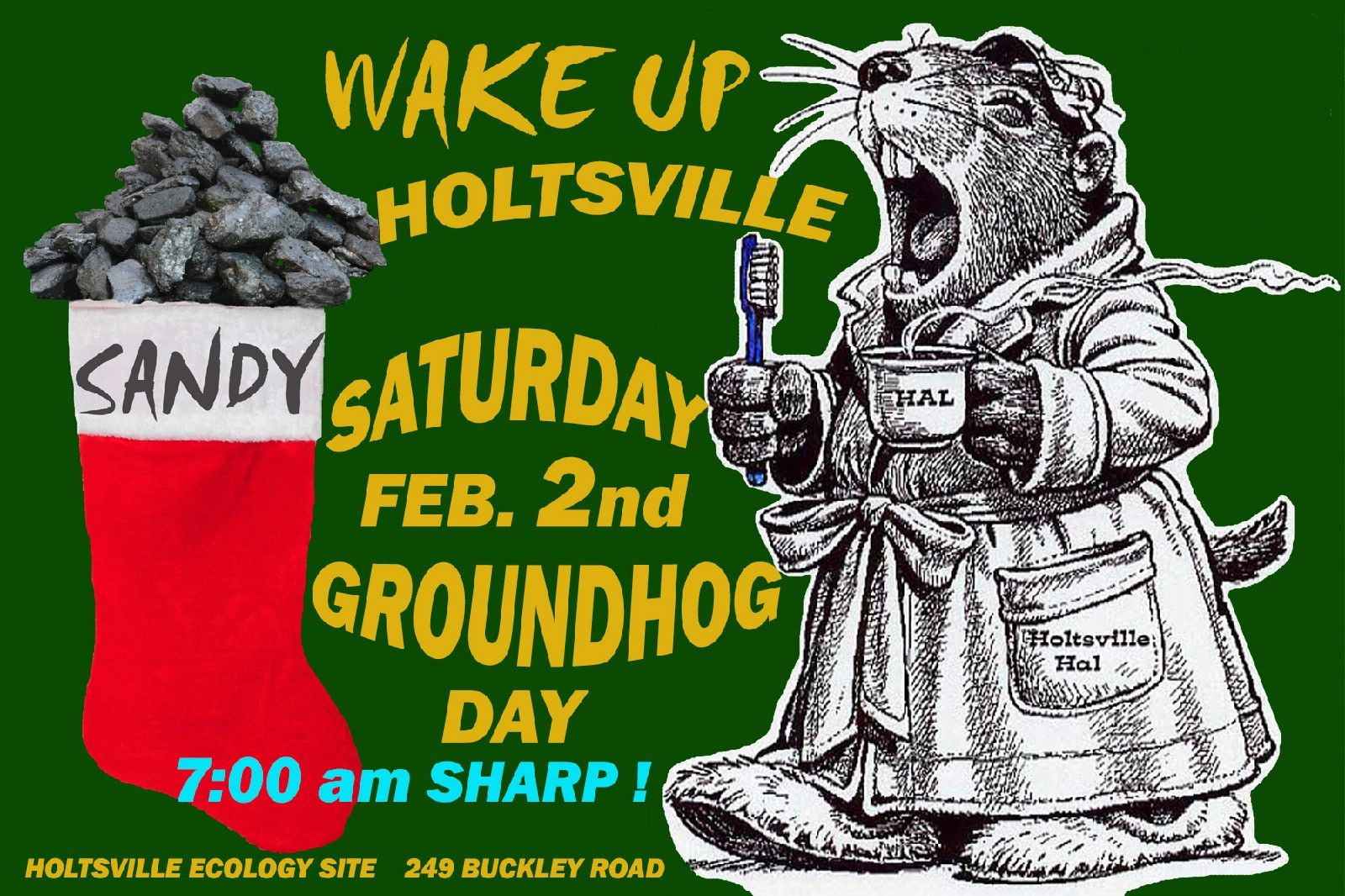 Ok kids note below that I've spelled the name of the bridge and the man it's named after two different ways.........The first is how it's spelled everywhere, and the second is the correct spelling of the Explorer it
is named after that has not 1 but 2 Z's in the last name ! Yes kids....where are the Good Proof Readers ??!
It would now cost toooo much to correct all the places it is spelled wrong they say so they aren't going to do it....They Say.........Anyone want to bet it does get done.....!!!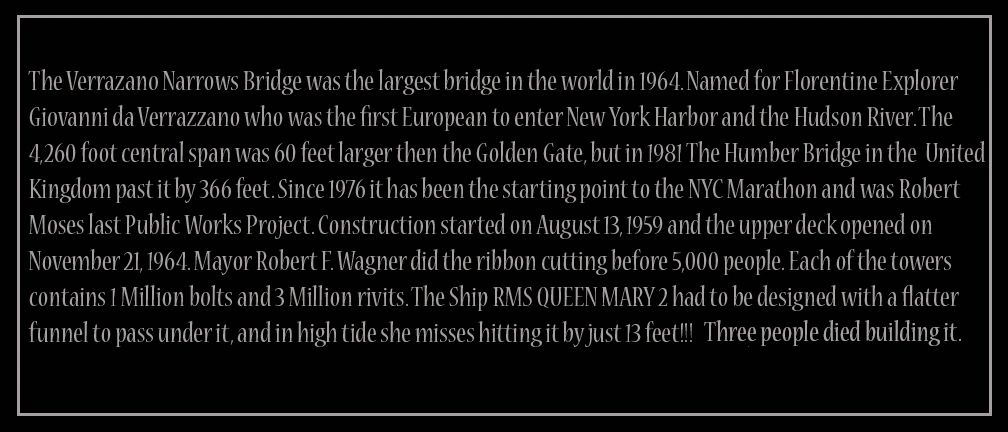 The Lowering of the Main Span referred to as Channel Span, onto a barge sitting in Newtown Creek below and ready to accept it with a four pillar frame it will eventually sit on started in day light and ended successfully as the sun went down. The chief engineer in charge would have liked it to happen all in sunlight but it took a little longer to get everything just right for this to go smoothly. In these photos the bridge IS descending, and it looked just like this, you could hardly see the movement but she was lowering over the several hours it took.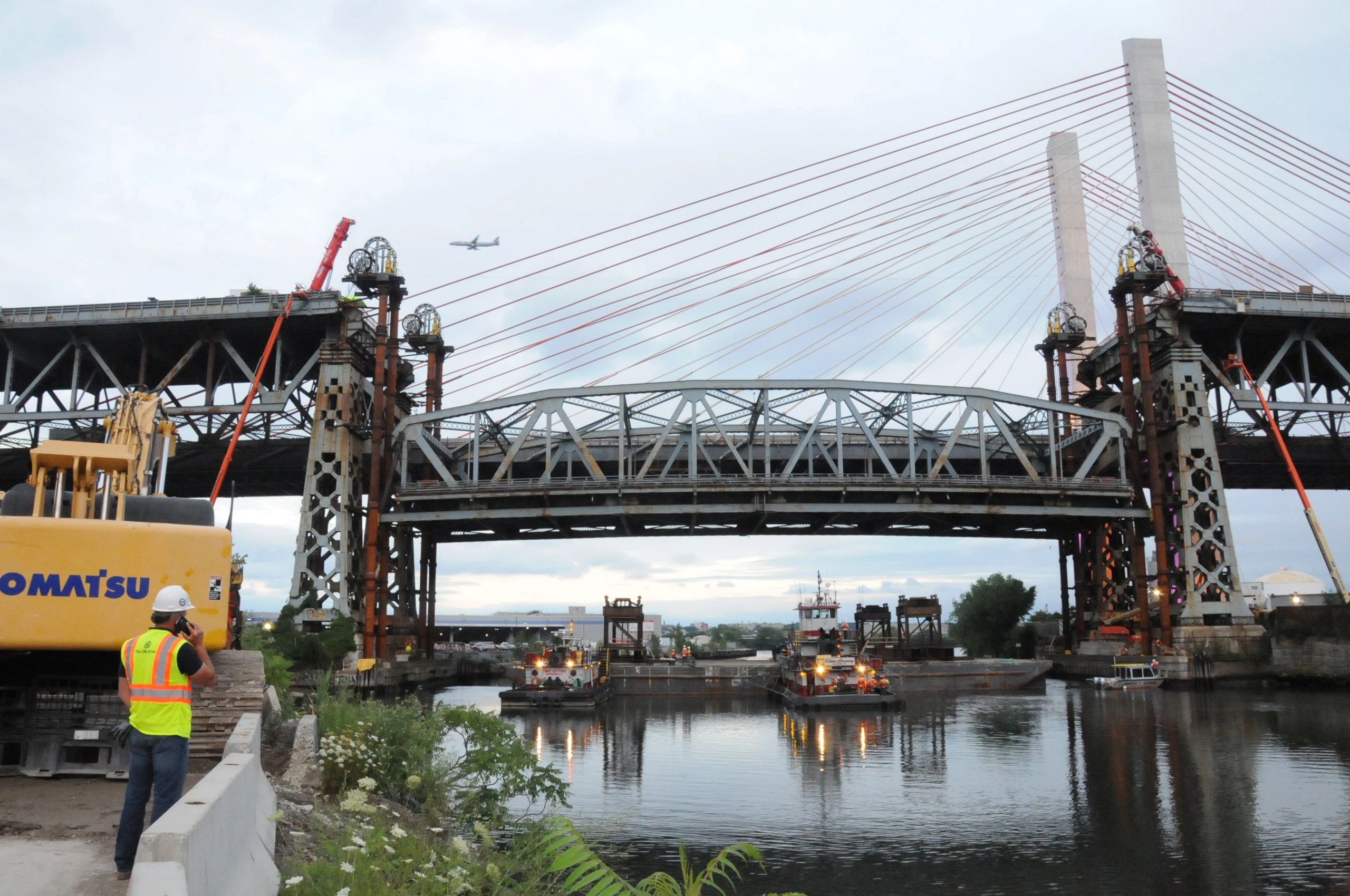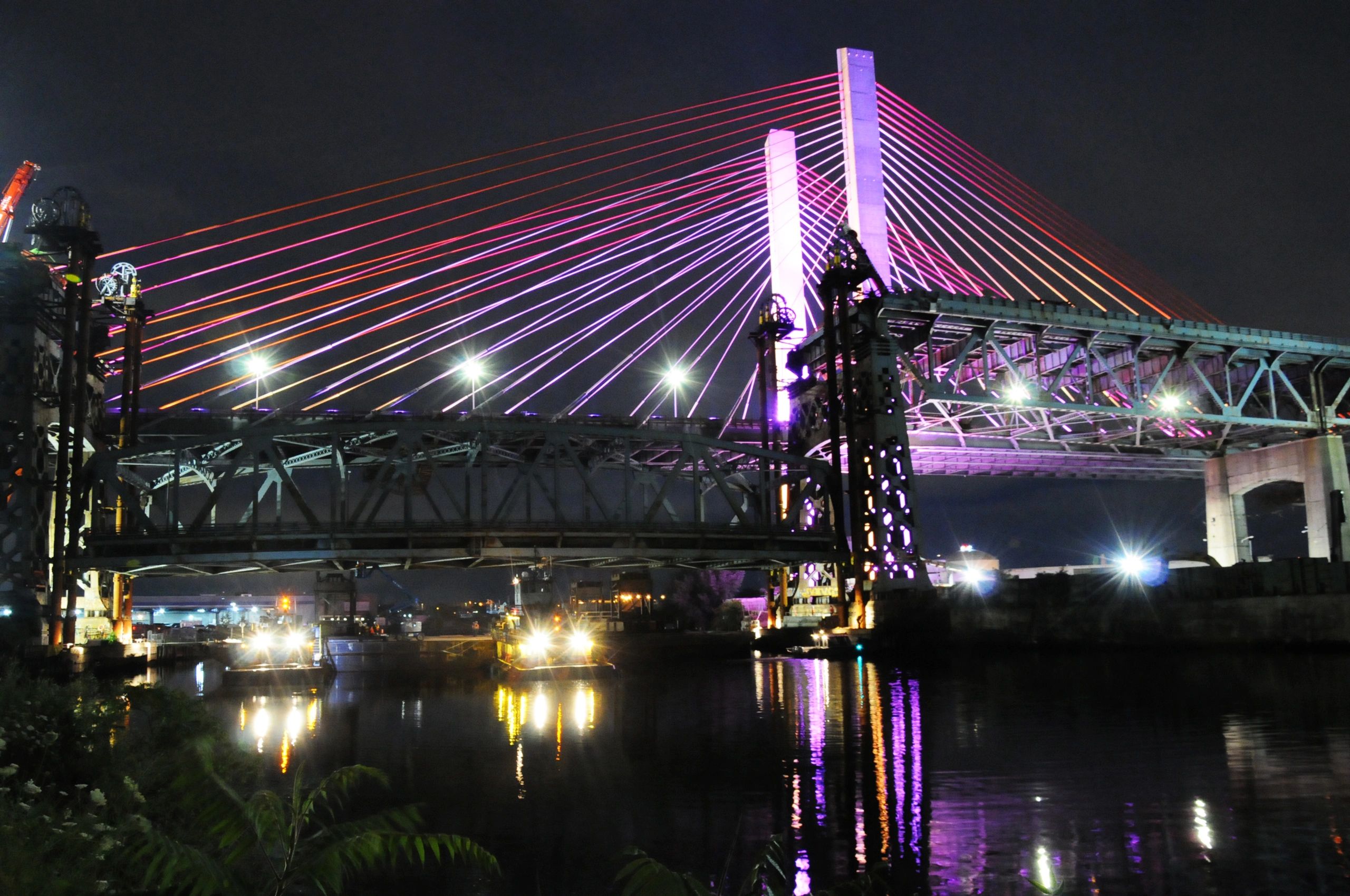 On evening of Tuesday July 25th, 2017 the original Main 125 foot, 5 Million pound span was slowly lowered onto a barge sitting below in Newtown Creek in the demolition process of the Original 1939 Meeker Avenue Bridge later in 1940 renamed after the Polish Military leader Tadusz Kosciuszko who fought in the American Revolutionary War. Seen here as it was being lowered taking hours at a speed almost unrecognizable to the eye.
A bird sitting on it....wouldn't have known he was descending below ! It will then travel to a New Jersey Recycling Center where it will be repurposed later. 100% recyclable ! The new span due to new weight and support technolgy is 35 feet lower now then the original one and cost 825 Million. By lowering the arch trucks will better maintain their speed and alleviate congestion. Phase 2 of the bridge to be finished in 2020. The original bridge was called in 1894 the Penny Bridge...because you paid 1 cent per foot to cross it. The final bridge will include a 20 foot wide walkway and bike way.
At 0800 hrs. Sunday morning, October 1, 2017 the original bridge fell to the ground by a perfect explosive group of charges set off first to the North side followed then to the South. Here is the first evening photo of the new bridge standing now alone with rubble to the right being lifted and hauled away so that the second Western span can be built with a new pedestrian walkway and bicycle path. Only the towers on both sides of the creek need to be dismantled now. The old bridge is completely recyclable and will one day become the material some where in a new life !

There are now 3 pieces of history that represent " 1776 " ...........two stand right here in New York .........What are they ?!


The Freedom Tower Represents the Year in United States History of July 4, 1776. The tower is Exactly 17 hundred and 76 feet tall !

The Statue of liberty female form that French sculptor Frederic Bartholdi created that was a gift from the French to the United States is based on Libertas the Roman goddess of Liberty. On the tablet that she holds is the date of American Declaration of Independence, July 4, 1776.
A broken chain lies at her feet and is hard to see from the ground. Standing 151 feet tall and 305 feet from the ground to the torch. The head of the statue was displayed in Paris in 1878 at the worlds fair there. She stands on Liberty Island, 14.714 acres and once called Bledloe's Island. In 1956 it was renamed by an act of Congress.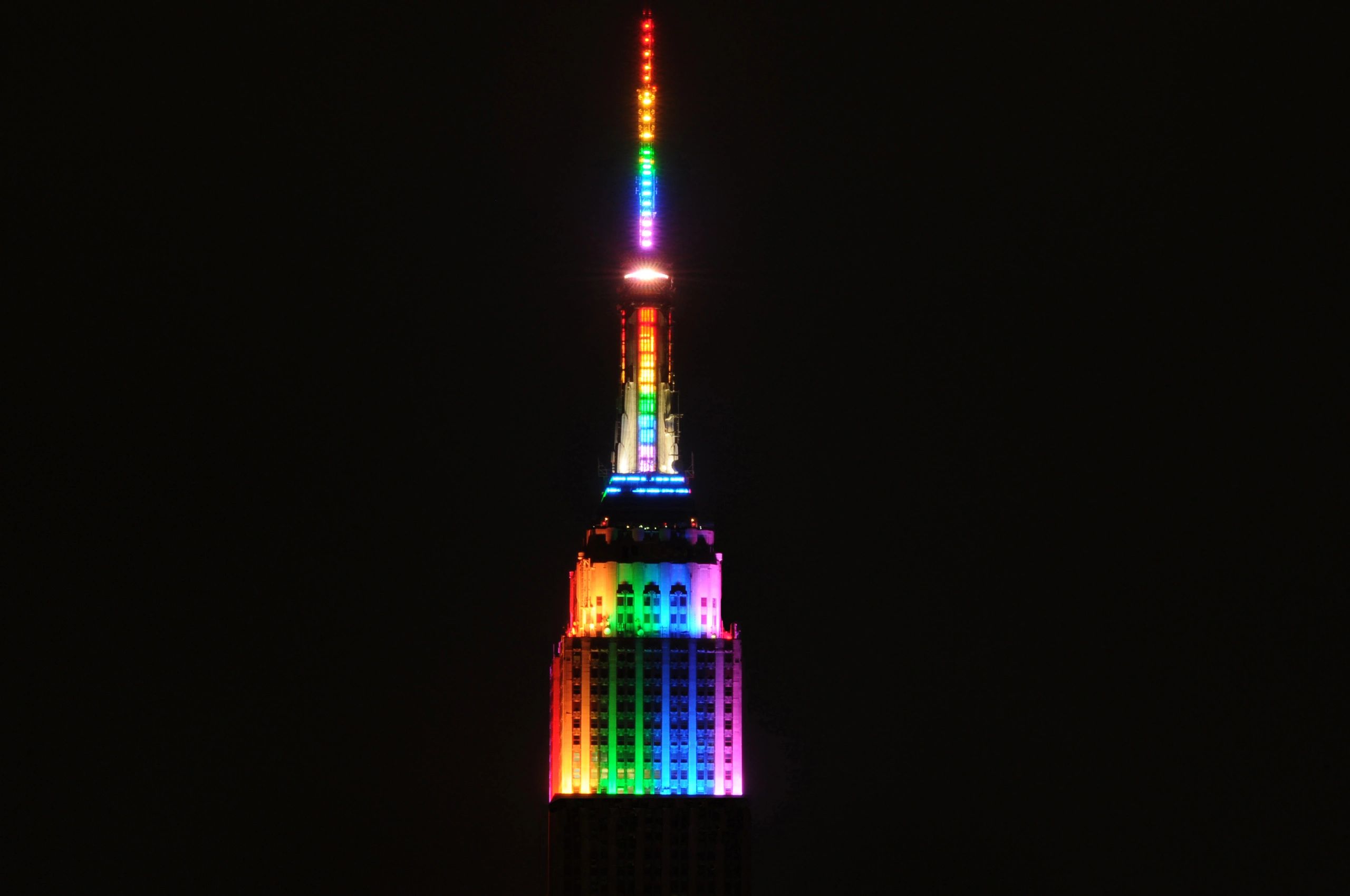 The Empire State Building was designed by Architect William Lamb and started contruction in 1920 and finished ahead of time in April 1931. It was officially open on May 1, 1931. Apparently at that time they must of decided to place an extension cord from the building all the way to Washington DC so that President Herbert Hoover could push a button there and turn on the lights for the first time........sigh. There are 6,500 windows, which makes the Windex company happy, and 1,860 stairs of which every year is a race up them to the top.......It stands 1,250 feet tall and add 205 feet for the antenna. On a clear day you can see 80 miles. It has it's very own Zip Code...how cool is that ?! The Empire State Building was the place to go......but lost it's glory when the World Trade Center was built. When they fell, it regained it's popularity.....but now that the Freedom Towers finished.....It seems apparent, The Empire State Building has added a consistant colorful light show, to promote various events and excite people. The light show from event to event has been really something to see. You can always tell when it's team scores.....the tower goes ballistic, with spinning lights etc. The lights are a great addition, that says.....I lost the crowds attention to the competition South of me before, and I'm not about to do it again after I got them back ! !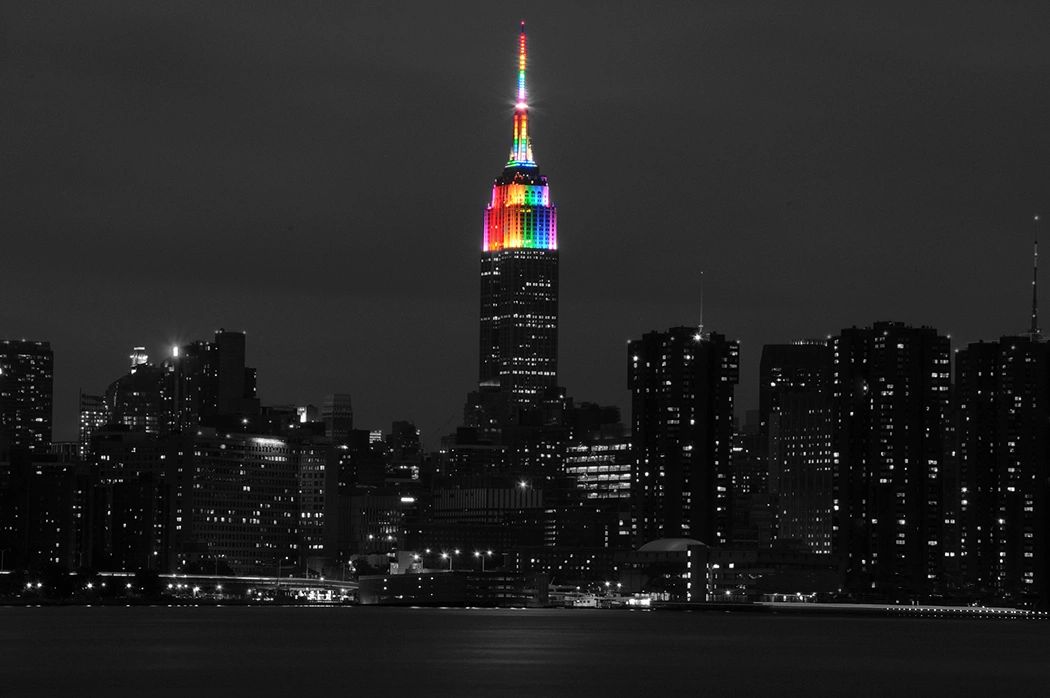 The Brooklyn Promenade offers a relaxing beautiful view of Downtown New York City. The view has recently been interrupted by a Hotel that was built by it, along the East River there, blocking out the view North towards the Brooklyn Bridge . But make no mistake if you've never visited this area....expect to wish you bought a lot more film to take photos...Lol ! My photos here started using film...a lot of it ! Around the clock...the views have no time limits.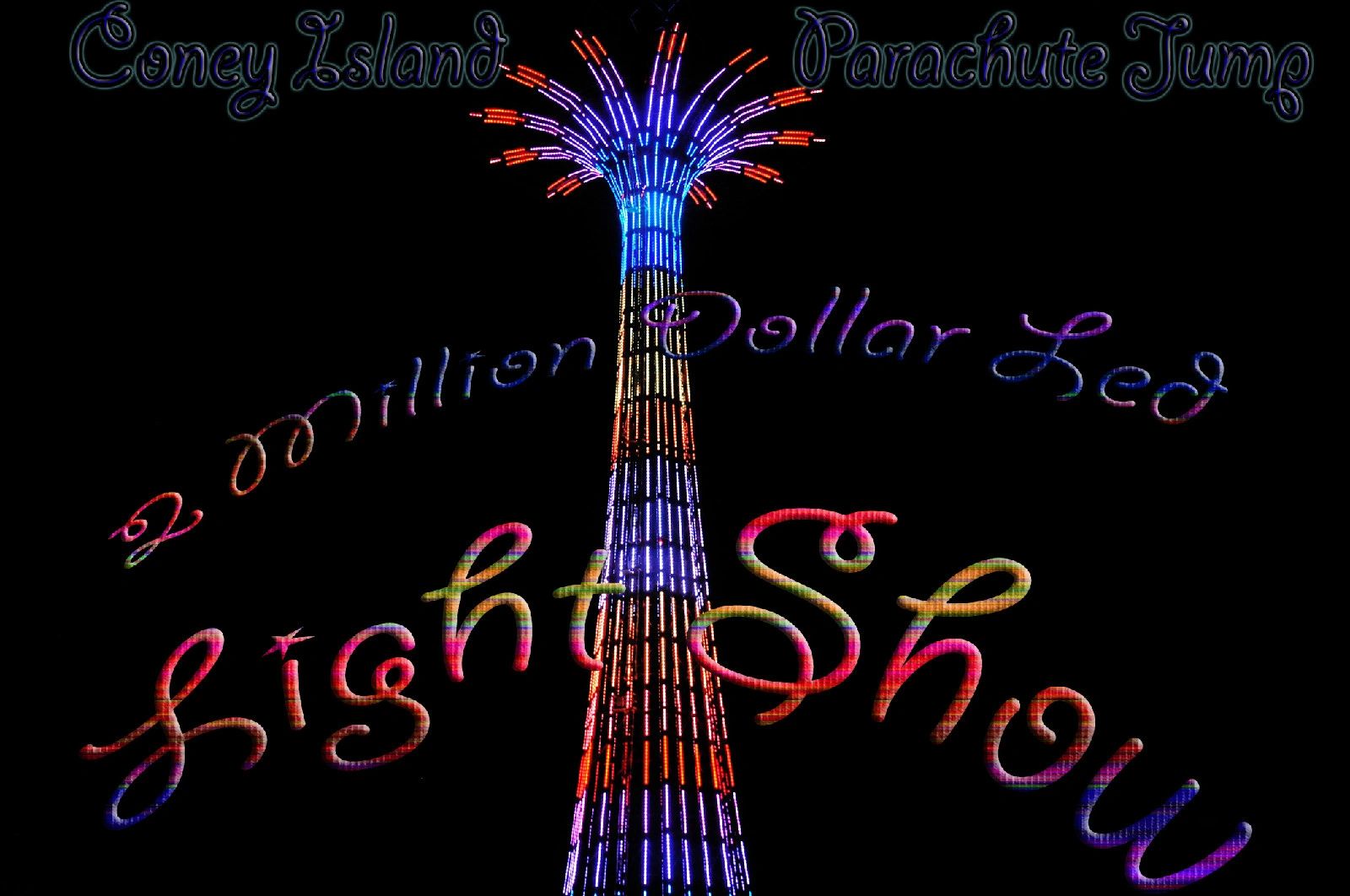 The 262 foot tall Parachute Jump was first seen at the 1939 New York Worlds Fair in Flushing Meadow Park, Queens. It originally had 450 lights on it. In 1941 it
was moved to the shore of Coney Island. In 1968 it stopped operating. On the
last year in office the Brooklyn Borough president, Marty
Markowitz
decided that
you could hardly see it , the lighting was so bad.
Sooooooo
he gave it new life. Did he ever !
It now has a few more lights......8,000 to be exact and they are LED, and can be
programmed on a computer to dance to the music. But in this past year the lights, really have come to life. On the first day of summer 2013 Marty threw the switch and the Parachute Jump was given a new life, that can be seen from outer space ! To actually restore the Jump Marty was told 20 Million. From the Belt Parkway or Outer Space you realize the Coney Island Parachute Jump has
taken your complete attention in a New Exciting Life of it's own.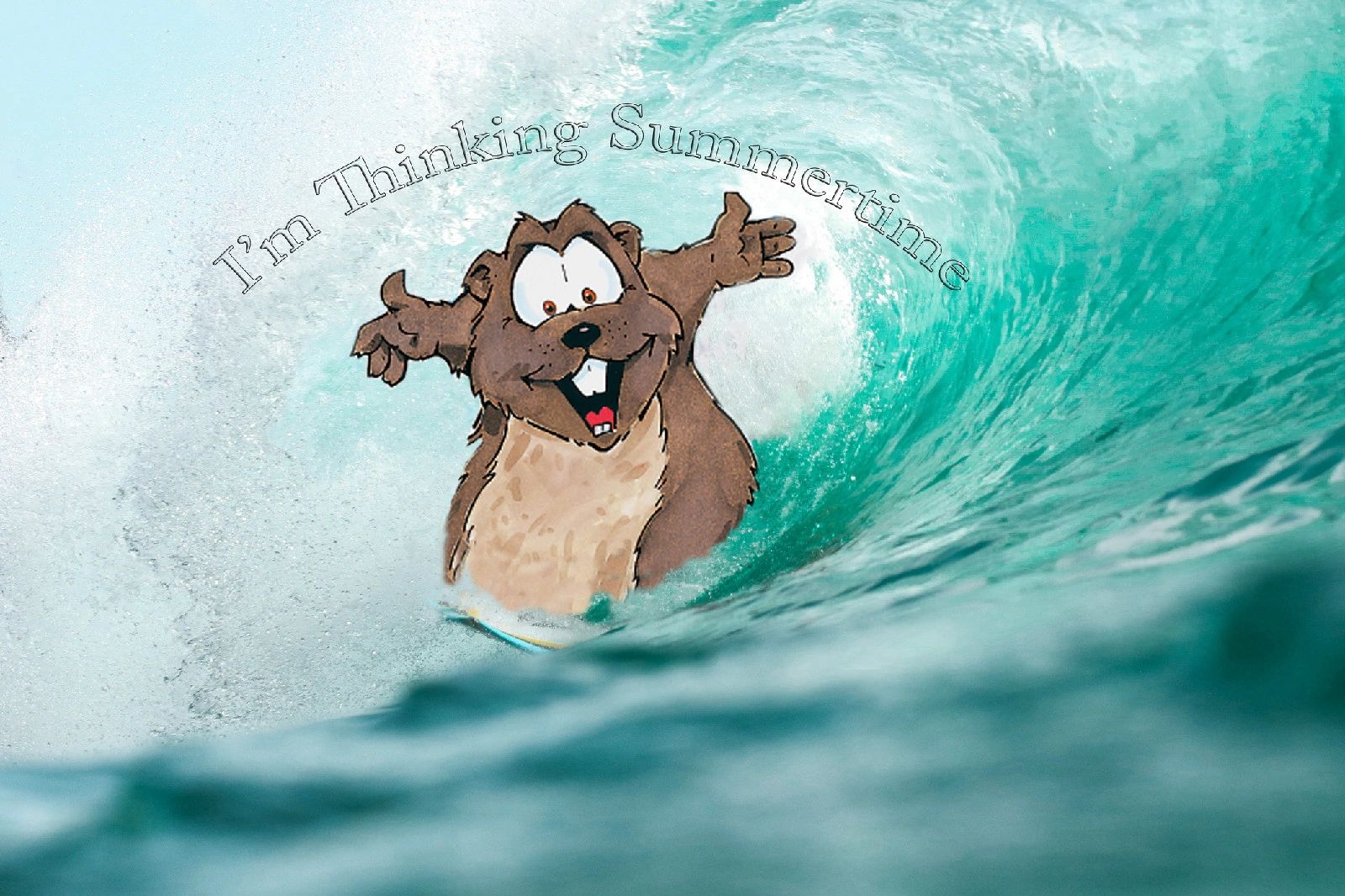 SSS

As Summer approaches so does the sightings of Seals on the Beaches and rocks. Some
things to know... FYI ....Seals do come to land to either rest, or while their Mom is out
rounding up food to feed them. Never bring a dog near a seal, they do not understand each other and will not get along. Never be at any time less then 50 feet away from a seal, or it will think you are there to harm them and can react. If a seal looks hurt, photograph it with your cell phone to best show rescuers what your seeing. Otherwise
most seals will return to the ocean eventually. Momma seal can see you, if you can't
spot her, and she wont come feed her young if your're standing around them so don't
stand around, let them be, after enjoying the short experience. Remember no wildlife
understands if your friend or foe, don't ever approach them !
Riverhead Foundation for the Marine Research and Preservation
Stranded Seals call …..631-369-9829
This seal was sleeping , his face hair on the side that was in the wet sand is matted.
He posed and we left....

The 170 ton, 262 foot tall Parachute Jump above stands as the last remant of the original Steeplechase
Park at Coney Island. This structure that was built by Naval Commander James H. Strong was one of many
created to train troops Parachuting as an alternative to planes being used. This one became the first for the public to experience the thrill of Parachuting and was erected in 1939 at the New York Worlds Fair as a ride in Queens, NY, Flushing Meadows Corona Park. After the Fair closed it was bought by the George C. Tilyou family and moved to Coney Islands Steelechase Park that opened in 1897. In 1980 it was placed on the National Register of Historical Places. In 1989 it became a City Landmark. Today with over 8,000 LED lights dancing by computer, it can be seen from as far as the space station orbiting the earth, and is when lit becomes a head turner of millions, miles around.


Deno's Wonder Wheel , was invented by Charles Herman and built by Eccentric Ferris Wheel Company in 1920. Originally called Dip-The Dip. In its 100 year history has a perfect saftey record. It's forged steel was created right on Coney Island Beach, 100% Bethleham Steel. It's 15 story Height is 150 feet tall, 200 Tons, and has 24 cars that hold 6 people each, 16 swinging and 8 stationary which holds a total of 144 people at one time. The wheel stopped Once.....on the day of the Great NYC Blackout in 1977 when the entire North East lost electricity. Everyone on the ride were brought down safely as the owners by Hand Cranked and rotated the massive wheel bringing each bucket of riders to ground level to exit. Over 35 MILLION rides since it was built and in 1989 it became a NYC Landmark. On June 7, 1983 Denos D Vourderis bought the wheel and restored it to perfection. Hence Dip-The-Dip became Deno's Wonder Wheel !


Coney Island and Astro Land, officially opens in April and the Cyclone completely having a make over and CitiField open for another exciting season !
Spring is Almost here get ready for a Great 2020 Summer !!
Hey kids....are you ready for this ?!.....Coney Island between 1884 to the 1930's had over......30 ROLLER COASTERS ! One of the Largest
was built in 1911 known as the Giant Racer with a beautiful white washed structure like the famous " Cyclone " which by the way on June 25, 2017 Celebrated it's 90th Anniversary !!!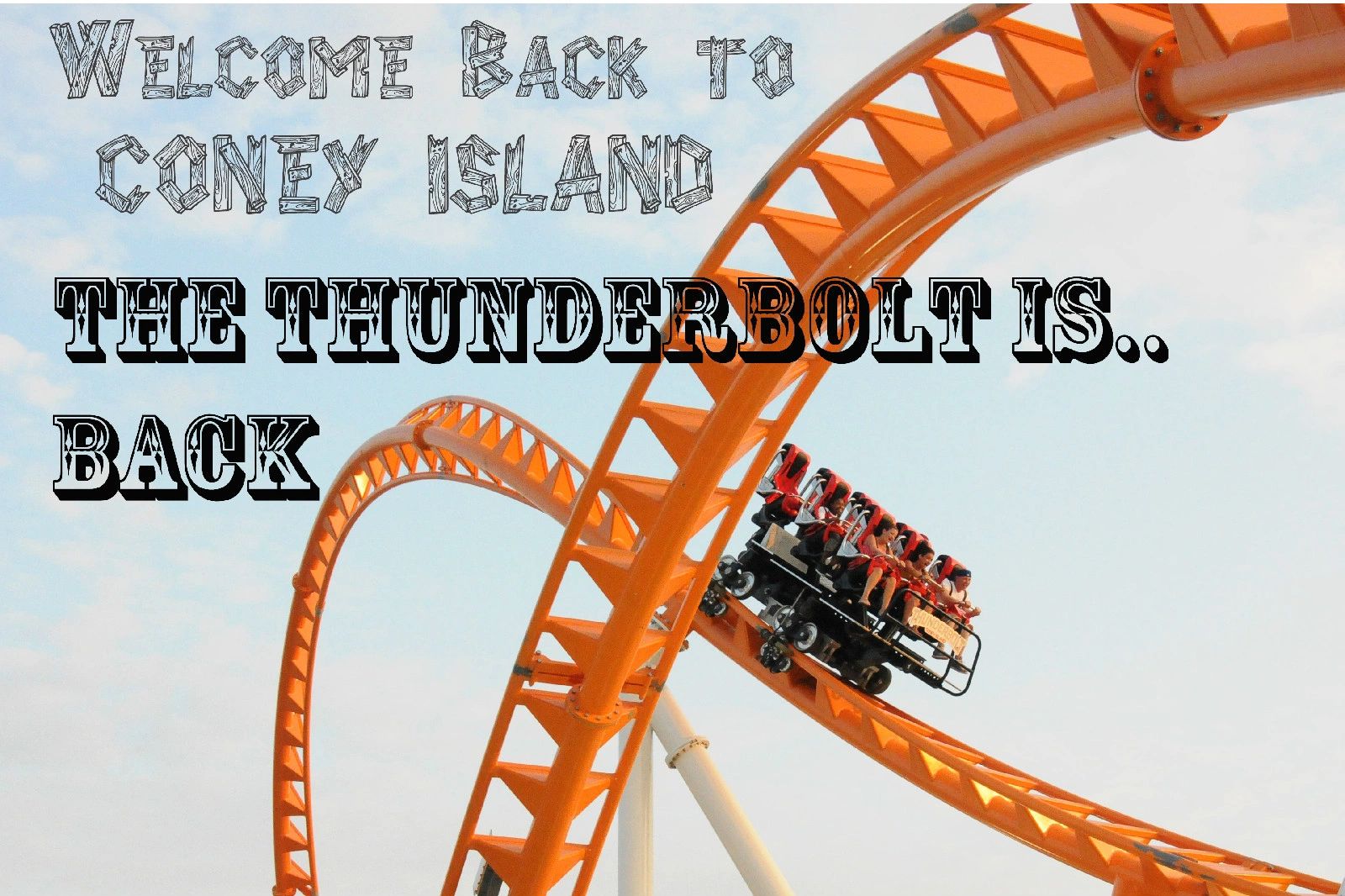 The " Blessing of the Rides " is at 11:00 AM April 5th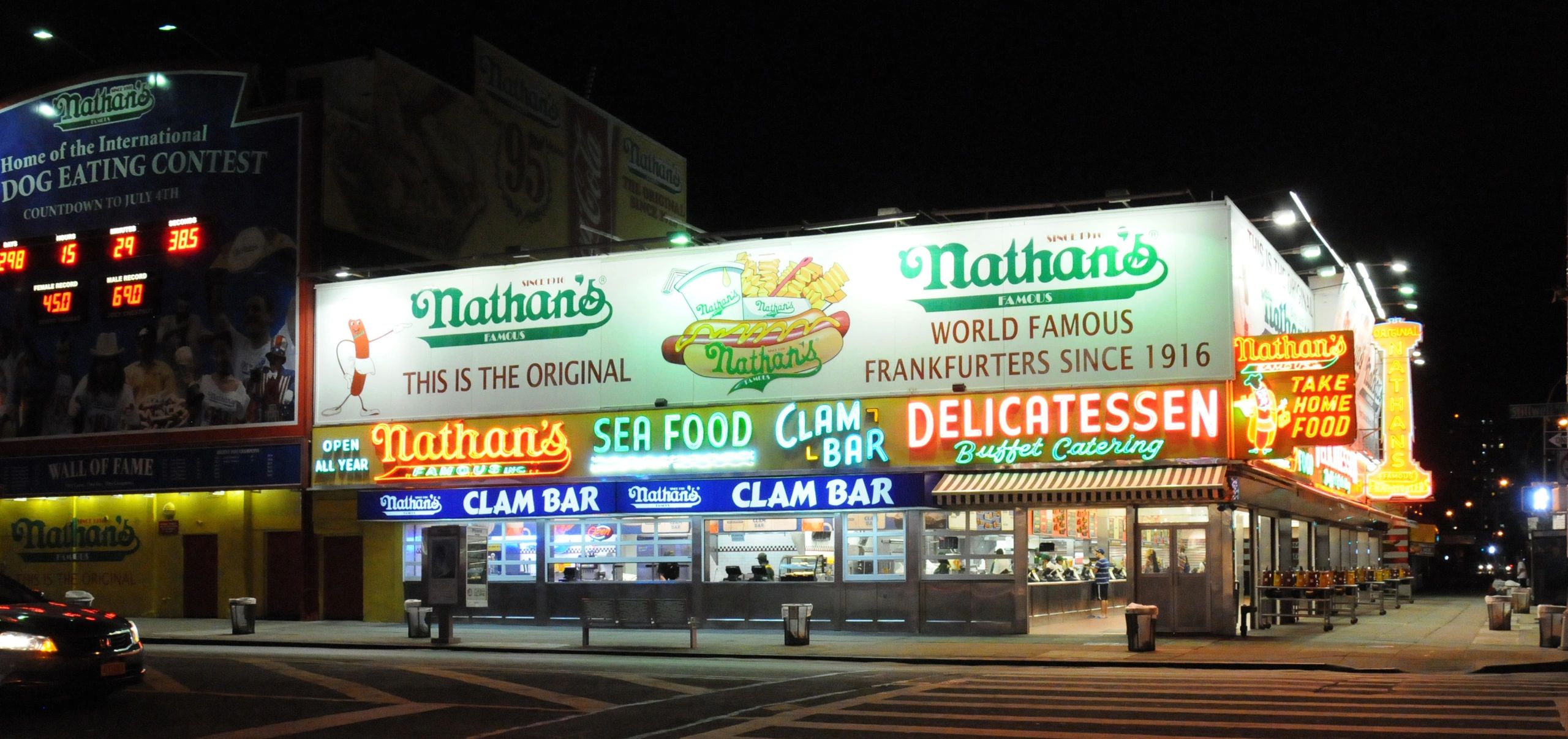 Nathan's was founded by the Polish immigrant Nathan Handwerker in 1916. He borrowed $300.00 from his friends Jimmy Durante and Eddie Cantor to open the stand and sold them for a whopping 5 Cents ! Now - $4.75 ! Cary Grant too was a regular customer. The second location and one I went to often was in Oceanside, Long Island on Long Beach Road. " Nathan's Famous Roadside Rest ". It even had a stage inside for performances and hundreds of motorcycles filled the street in front often. It was a block long ! Fast food....well almost....because every item like hot dogs , or hamburgers, soda, French fries had it's own line to get on so your family split up and bought a piece of the meal. Unfortunately Nathan's Roadside Rest was never labeled as an Historic monument to preserve it and on June 10-11th 1976 it was demolished.The third location was in Yonkers in 1965, and 4th Times Square,NYC. In 1987 Nathan sold his Nathan's to private investors. The Hot Dog eating contest started on July 4th 1916 by 4 immigrants in Coney Island. It was to settle an Argument, over who was most Patriotic ! In 2001 Takeru Kobayashi broke the World Record eating 50 in 10 minutes, and then went on to win 6 more years. The 2017 winner ...Joey Chestnut ate 72 hot dogs in 10 minutes. That's a total of 19,432 Calories and 9,358 fat calories or 10 Days worth of Nutrition enough to Hibernate with Hal for just 10 days without eating...Our Groundhog Holtsville Hal still has you beat Joey ! Well now, winning again, 74 eaten in the year 2018 is showing effort to beat Hal..but still have to keep trying. Trying Joey did because this year on July 4th 2020 Joey devoured 75 Nathans famous hotdogs, and won once again before NO public crowd, because of the Corona Virus the event was held at an undisclosed location but filmed and photographed by media who will bring those images to millions. 34 year old Miki Sudo for the women won with 48 1/2 hotdogs ! Beating her own expectations over the 41 she previously did. Nathans sold last year 700 Million hotdogs ! Yes Al Capone ate at Nathans...but George Washington never slept there....LOL !
Over 435 Million to date sold in now all 50 states and would wrap around the globe end to end ! Hot Dog now Remember Wetson's Hamburgers ?! Well in 1975 Nathan's acquired it ! Then there was in 1921 another Hamburger called White Castle in Wichita, Kanas...designed after the Chicago Water Tower that survived the Great Chicago Fire of 1871.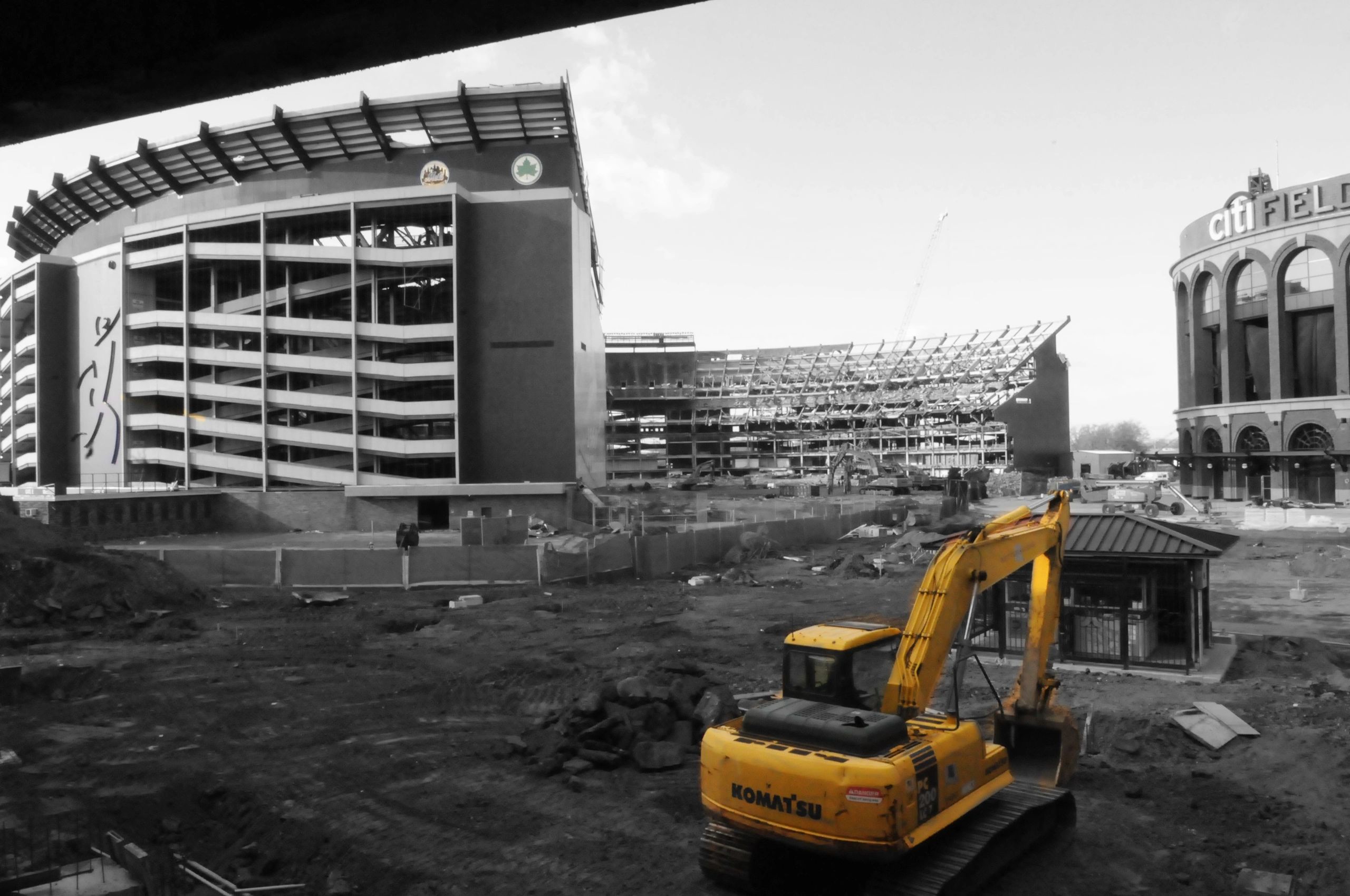 Shea Stadium named after William A. Shea the man most responsible for bringing National League baseball back to New York after the Dodgers and Giants left for California. It honored 45 seasons as the home to the New York Jets 1964 to 1983 and the New York Mets from 1964 to 2008. It was demolished in 2009 as seen here in my photo which now is the Citifield Parking lot.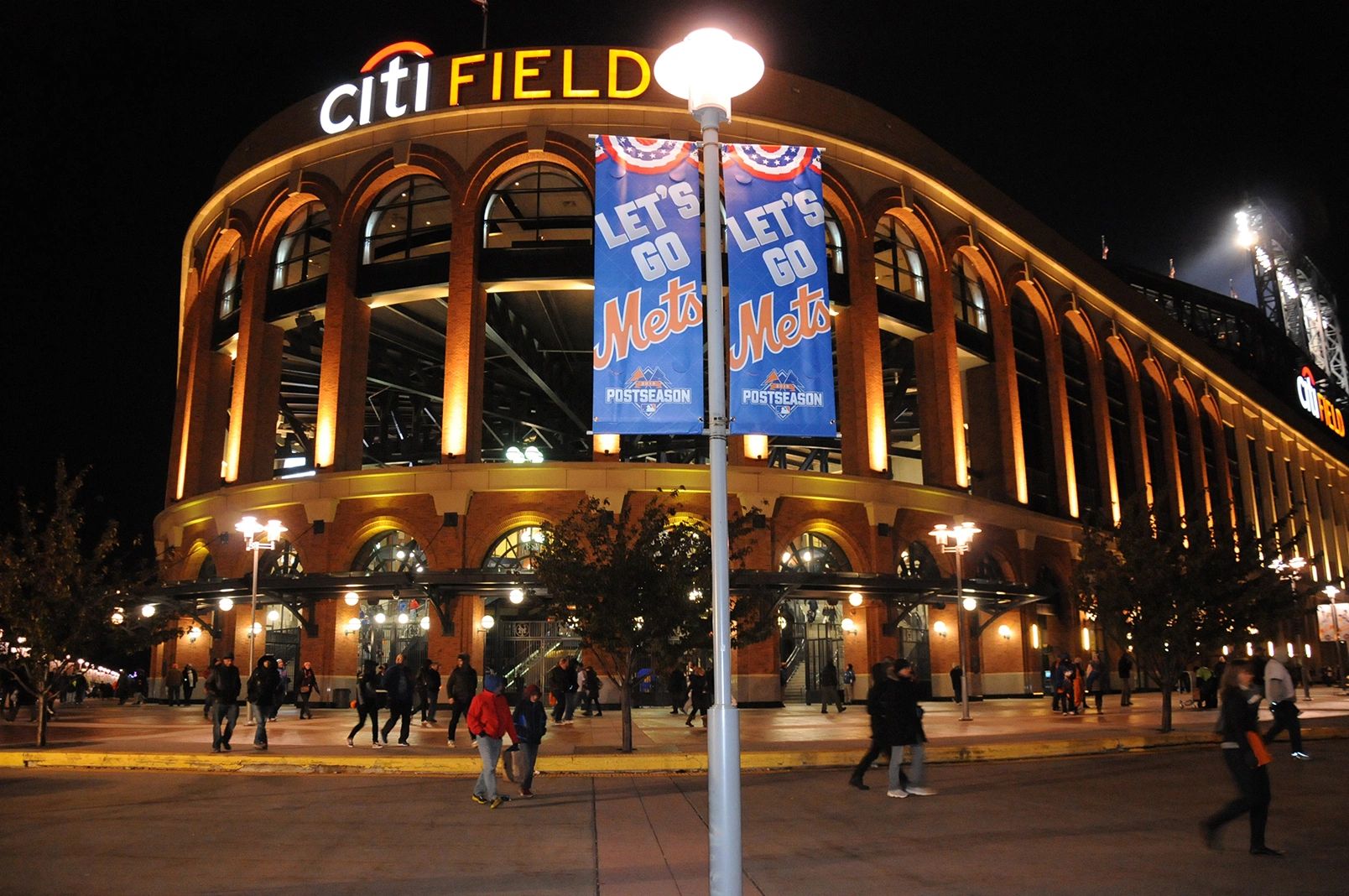 COREY JONAS WEBSTER Cornerback, PLAYED FOR THE NEW YORK GIANTS AND WON TWO SUPER BOWLS WITH HIS TEAM BOTH OVER THE NEW ENGLAND PATROITS . His college football days were in the State University of Louisiana. Here he sits more relaxed for me in Queens Corona Park .
NY Giants Football players, linebacker Antonio Durran Pierce and Tight end,wide receiver Jeremy Charles Shockey relaxed in Queens Corona Park.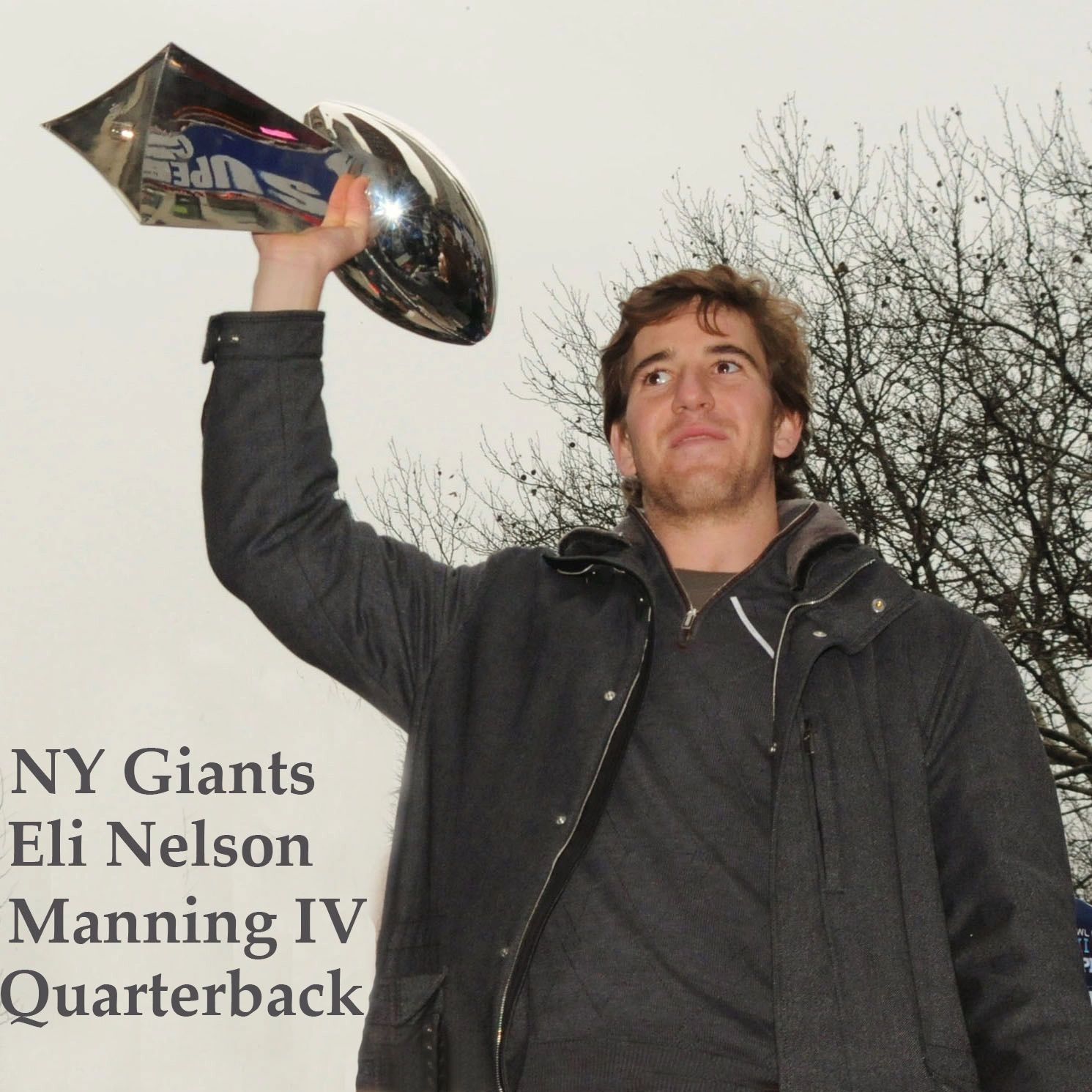 Jones Beach Ampitheater with over 11,000 seats once had a moat where the stage actually was sitting in Zacks Bay separated from the seating of just over 8,000 then. If you ate at Guy Lombardo's restruant in Freeport on the water you were taken over on Guy Lombardo's boat to the Amphitheater after to enjoy the show after dinner. The lobster dinner was great as I remember. The moat was removed after the first renovation adding more seats closer to the stage. Prior the shows start, Guy Lombardo's Orchestra would arrive by boat and play between the stage and the audience in that moat !